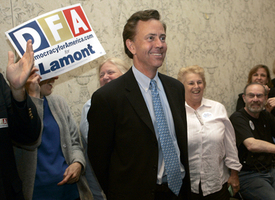 NewsAnalysis
When Sen. Joe Lieberman (D-Conn.) walks into the Connecticut AFL-CIO convention this week, his 84 percent pro-labor lifetime voting record will be his calling card. Yet, Connecticut's labor unions have taken a strong stand in opposition to the Bush administration's war on Iraq, which Lieberman unabashedly supports, and questions are sure to arise.
Lieberman is facing a primary challenge from Ned Lamont, a Greenwich businessman who passionately opposes the war. Lamont declared his candidacy three months ago. Very quickly the campaign took on the feel of a grassroots movement in a state with three swing House seats on the line.
Lamont's compelling commitment to universal health care and fully funded public education won immediate respect. He amazed everyone by garnering a third of the vote at the Democratic Party convention, double the requirement for a primary.
Resentment runs high at Lieberman for refusing to change his stand on Iraq. The most recent Quinnipiac Poll shows 63 percent of Connecticut voters believe it was wrong to go to war.
In Washington two weeks ago, Ned Lamont was a star at the Take Back America conference. "If Joe Lieberman doesn't want to stand up to President Bush, I will," he said to cheers at a packed fund-raiser. He said students at Bridgeport's Harding High School asked why $250 million a day is being spent in Iraq when we can't afford health care, clean energy and good schools. "Those are the choices we should make for a better America," said Lamont. "When the Democrats are clear and bold they win."
Progressives from all corners of the country, infuriated that their former vice presidential nominee is cozy with Bush, are looking to Lamont for hope. "This is a race for the soul of the Democratic Party," asserted Jim Dean of Democrats for America.
"This is not a time to be safe," Sharon Palmer, president of AFT Connecticut, the state's second largest AFL-CIO union, told the media last week, endorsing Lamont.
"More than $250 million a day is being diverted into the war in Iraq," said Palmer, "money that could have been used to improve public services in Connecticut. Ned Lamont understands this and will stand up to the Bush administration."
Connecticut is important in the national drive to change control of Congress. Three House races are on the target list of the Connecticut AFL-CIO and other organizations as places where incumbent Republicans can be defeated by Democrats. All three Democrats oppose the war and support health care for all.
In the 2nd Congressional District, former state Rep. Joe Courtney is challenging Republican incumbent Rob Simmons, a former CIA officer. In the 4th CD, Westport First Selectwoman Diane Farrell is challenging incumbent Republican Chris Shays, a rematch of a closely fought race in 2004. In the 5th CD, state Sen. Chris Murphy is challenging Republican Nancy Johnson, chair of the House health subcommittee that ushered through the controversial Medicaid prescription drug bill.
"With me at the top of the ticket we will elect all three Democrats," says Lamont. "This campaign is energizing new voters and inspiring older voters to come out."
Among the biggest enthusiasts is MoveOn.org, which has been raising funds and volunteers. In an online vote, 85 percent of Connecticut's MoveOn members selected Lamont.
Angry at Lieberman's refusal to support a filibuster to stop the nomination of Samuel Alito to the Supreme Court, the National Organization for Women Political Action Committee supports Lamont. "These are precarious times for women," says NOW/PAC. "We cannot be satisfied with a senator who votes for women much of the time, or even most of the time. We need courageous leaders who will protect and advance all of our rights all of the time."
While the Democratic primary is not until Aug. 8, both candidates are looking toward the general election and courting the independent vote.
Lieberman, worried that he could lose the primary, is considering switching to run as an independent, causing an uproar among some Democrats.
This week Lamont was endorsed by Lowell Weicker, Republican senator in the 1970s and '80s before losing his seat to Lieberman. Weicker then switched to A Connecticut Party and was elected governor.
The stakes are high in Connecticut. Activists can take heart that the grassroots base is organizing.