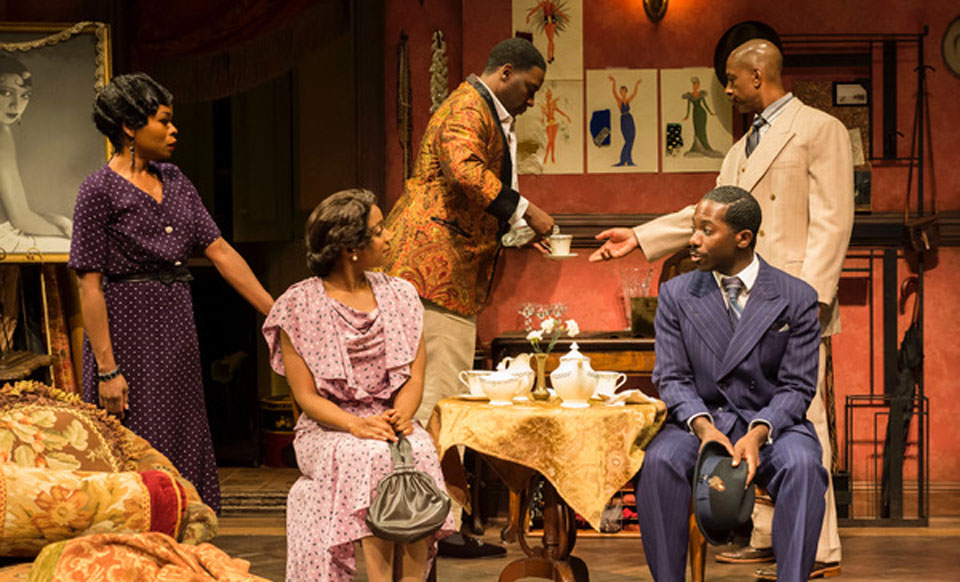 LOS ANGELES — Prolific playwright, journalist, novelist, arts and civic leader Pearl Cleage (pronounced "Cleg") is based in Atlanta, where she also served as a speechwriter for former Mayor Maynard Jackson, and later became his first press secretary. Her 1995 play Blues for an Alabama Sky scored a major career success and went on to be produced on Broadway and by numerous regional companies. It is a 20th-century classic rating high in the firmament of African-American theater along with works by Lorraine Hansberry, August Wilson, Dominique Morisseau, and a whole crop of more recent playwrights.
The play is currently enjoying a welcome revival at the Center Theatre Group's Mark Taper Forum in a handsome production directed by CTG's Associate Artist and Tony Award-winning actor Phylicia Rashad that opened April 13 and runs through May 8.
A recent book review in The Nation quoted a blurb saying the study was "a spirited account…that brings everybody and everything into the story." So it is with Cleage's Blues. Its five richly articulated characters inhabit the world of Harlem over the summer months of 1930. The playwright is nothing short of a magician who, through her finely drawn portraits, manages to draw the audience in to contemplate all the critical issues of the day. These include, among others, homosexuality and homophobia; the then emerging family planning movement with its founder, the offstage Margaret Sanger; racism with, again, the offstage presence of Marcus Garvey and Adam Clayton Powell, founder of Harlem's Abyssinian Baptist Church, which became the largest Protestant congregation in the country, and father of Congressman Adam Clayton Powell Jr.; the continuing power of religious dogma, and the countervailing presence of rebels against it; sexism, with strongly defined gender-based roles; Prohibition, ratified in 1919 and still legally in effect though widely flouted—heavy drinking is much in evidence throughout the play; gangsterism and crime. On top of which, the Great Depression has just set in, as of the previous October, and times are getting harder and harder for everyone by the day.
There is no stock character on stage. Each one is a sharply etched personality with their own traits, neuroses, limitations, needs, and aspirations, and the playwright pointedly gives us their full names. All are African-American.
Angel Allen (Nija Okoro) is a free-spirited Cotton Club singer who's been kicked around by life. She's full of talent but recently fired after she lashed out, from the stage, against a former lover who had once kept her in a well-furnished apartment but now mocked her from his front-row seat. Dependency on a man seems built into her character, though love for her is a transactional concept at best. She has her dreams, unrealistic though they may be, but joblessness, indigence, homelessness, and the bottle all conspire for the upper hand.
Angel moves in with her friend Guy Jacobs (Greg Alverez Reid), a costume designer at the Cotton Club who's also been fired, presumably owing to the slowdown in business, though he can continue making a little money by designing costumes for Harlem's famous drag balls. Openly queer (in 21st-century terms), he is anxiously waiting for his idol, the great African-American chanteuse and dancer Josephine Baker, to invite him to Paris as her chief costumier. "We are beautiful, aren't we?" Angel asks Guy, perhaps not entirely confident of the answer.
Delia Patterson (Kim Steele) is a prim, reserved activist, conservative dresses and tied-back hair, currently studying typing, who is trying to give the women of Harlem a choice about their future. She aims to make inroads at the Abyssinian Baptist Church, persuading them to support a family planning clinic that will help Black parents make informed decisions about the children they want to raise. The Garveyites charge her campaign as genocide against the Black population.
Sam Thomas (Joe Holt), 40, single, is a prominent physician, a rare African American in New York City's medical profession, who is either delivering babies or providing illegal abortions, out at the club most nights drinking and, in his own phrase, letting the good times roll. Seemingly self-destructive by his own habits, he harbors private yearnings that he suppresses with all his cool bravado.
Finally, we have Leland Cunningham (Dennis Pearson), a carpenter by trade ("Just like Jesus," quips Guy) recently arrived from Alabama, the titular good-looking stranger, fervently religious and manly, haunted by the wide-open skies of home. He has come to Harlem in the wake of the tragic childbirth death of his beloved wife Anna and their stillborn son. The name of the play suggests that in the end the force and weight of the "blues" will fall from his sky.
The lives and dreams of these three men and two women converge with amorous passion and conflict over social policy as the art and celebration of the Harlem Renaissance (another offstage presence, Langston Hughes, recently returned to Harlem) yield to the harsh realities of the Depression. Among them all, most have multiple identities—Black and gay, Black and feminist, healer and abortionist, rural and now out of place in the big city. Perhaps their salvation lies somewhere out in the world past 125th Street, the formal portal to Harlem.
Only Angel comes close to being something of a stereotypical figure—the down-and-out, self-absorbed, needy extrovert who is in fact no angel. In her somewhat later Noir-era incarnation, she will become the scheming, treacherous Evil Woman, but now she is mostly just pathetic. The axis of the play revolves around her fateful encounter with the Alabama widower desperate to remarry, start a new family, and father a new brood of Cunninghams. He even handcrafts an old-fashioned rocking chair for Angel, on which she can nurse them all as they come into the world.
The play is set in two acts on a single set (by John Iacovelli) depicting the adjacent Harlem apartments of Guy (where Angel is currently living) and Delia, Sam (or Doc), and Leland being frequent visitors. Wendell C. Carmichael is responsible for costume, wig and hair design, Elizabeth Harper for the lighting design, and Jeff Gardner for sound design, with much pre-show recorded music by many of the great African-American singers and musicians. Original musical composition is by Dontae Winslow. Casting is by Kim Coleman, and Michelle Blair is the production stage manager.
Blues for an Alabama Sky is a taut drama with tragic outcomes for some, and at least the promise of success for others. This ensemble of insightful actors, directed by that force of nature Phylicia Rashad, brought out the humor, the irony, the pathos, the joy, all that is human and universal, and all that is human and particular to personality, time, and place that are within and implied by the masterly, honed script. I only regretted that on opening night (April 13), Ms. Rashad was not invited to join the cast for the final bows. That audience would have gone wild for her. This is a lodestar in the catalog of African-American playwriting, and too seldom produced. It shouldn't be missed in this loving production.
Center Theatre Group continues to require masks, along with proof of full vaccination, and a government or education-issued ID. Booster shots are strongly recommended. More information regarding safety updates as well as audience vaccination, testing, and mask requirements is available at CenterTheatreGroup.org/Safety.
Blues for an Alabama Sky runs at the Mark Taper Forum through May 8, with performances Tues. through Fri. at 8 p.m., Sat. at 2:30 and 8 p.m., and Sun. at 1 and 6:30 p.m. (note exceptions when booking tickets). Tickets are on sale in person at the Center Theatre Group Box Office (at the Ahmanson Theatre at The Music Center, 135 N. Grand Ave.,  Los Angeles, by calling (213) 628-2772, and also at the company website.