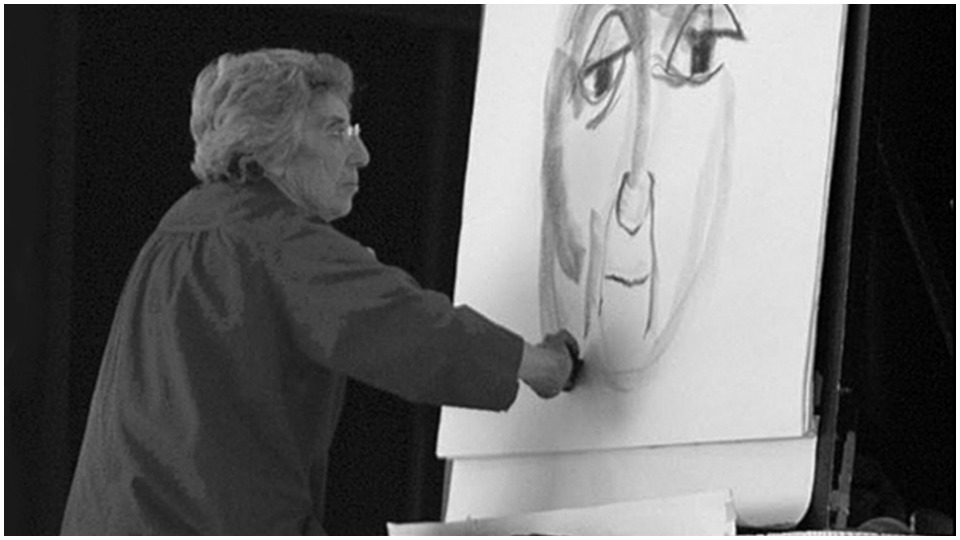 Editor's Note: People's World has just received news of the passing of artist Peggy Lipschutz at the age of 100. Over the decades, her art graced the pages of People's World and its predecessors, such as the Daily World. The interview below first appeared in the print edition of People's Weekly World in March 2006.
Peggy Lipschutz picked up a small brush and eyed an unfinished painting. She added a dab of color to the figure of an older woman sitting in thought, with an angel in the background.
The painting is one of several this Chicago artist-with-a-cause has been working on.
In one luminous painting, two women, faces lined with lifetimes of care and struggle, sit across a table in conversation. In another, a strong-featured older woman reads a letter as her gray-haired friend stands close.
"In these paintings of senior women, I wanted to show how important they are to each other, the friendship, support, love," Lipschutz told me on a recent winter day. "I painted them to show that seniors are alive and exciting, not dead people. You don't have to fade away because you're 80."
Why the angels? They are "really your alter ego, your higher self," she said. "It's important to listen to them. Sometimes they shout at you."
Lipschutz, certainly not fading away, is continuing to follow the angels that have called her to involvement, through her art, in just about every major social struggle in the Windy City for the past half century. Her "chalk-talks," combining swift strokes of colored chalk and profound political insights, are legendary in labor, peace and social justice circles.
As we walked through her tidy home last December, the sunlight cast a silver glow on decades of paintings lining her walls and crowding her attic studio. Opening storage boxes she pulled out an array of booklets, newsletters, flyers and posters recording a lifetime of art with a purpose.
First steps of lifetime path
Born in England in 1918, Lipschutz studied art as a young girl, and learned social awareness from her parents. Her father, a wool merchant, put out "a little anti-fascist paper." But he decided he could do more in the U.S. "My father came to this country to fight fascism," she said. "He saw Hitler long before most people."
Her family settled in New York. Lipschutz, age 19, went to work. It was before and during World War II when many jobs opened up to women for the first time. In one job, she edited and laid out training books for the Navy. She had to "explain simple machinery to guys who only had high school math." It started her on a lifetime path of using simple line drawings to deliver a message.
Friends invited her to come to Chicago to work with the Abraham Lincoln School for Social Science, a progressive school aimed at workers, especially the thousands of Black workers who had come up from the South, many with little formal schooling. "They hired me at around $1 an hour to do their publicity," she recalled. One project was a textbook, "Why Work For Nothing?"— a "beautiful simple explanation of Marx's theory of value for people who could barely read."
"I laid out this whole book and illustrated it — that was my first big cartooning job."
But when the House Un-American Activities Committee came to Chicago, rich people who had supported the school took their money elsewhere, and the school dissolved.
She went to work for a progressive print shop where, she said, "I learned more than I learned in art school."
In 1948, at a rally for Henry Wallace's Progressive Party presidential campaign, Lipschutz was to illustrate Wallace's 10-point program. "Somebody else can do the talking, I'll do the drawing," Lipschutz told the organizers. The talker didn't show up, so Peggy wound up doing her first chalk-talk.
Art in union halls, at PTAs
In the years that followed, she took her drawings with a message to union halls, PTAs and other organizations. Along the way she married and raised three children.
In 1960 she began working with musician Vivian Richman, drawing to songs. They started doing concerts at Jewish community centers, combining Jewish and American folk songs. "Then we really took off," doing concerts at schools and senior centers with themes of conflict resolution, equality and justice. "There was always a social content," she said.
It was hard work, researching topics, finding the right images and music, and dragging a big easel board around. To do this, she said, "You have to be an artist with a passion for something."
Lipschutz currently travels to public schools with musician Barbara Armstrong with a program about the Holocaust.
Seeing songs
Over the years Peggy and her "Songs You Can See" were part of the struggles of Chicago's Wisconsin Steel workers, the Harold Washington mayoral campaign and scores of others. When she joined the staff of Labor Today, at the center of the rank and file upsurge of the 1970s and '80s, her illustrations became, for a generation of labor activists, synonymous with the publication's message of labor unity, democracy and struggle.
One of that generation, Scott Marshall, calls Lipschutz "a Chicago institution in the labor movement and the people's movement." Marshall, now an activist in the Steelworkers retiree group SOAR and chair of the Communist Party's Labor Commission, recalls a "star-studded" concert in the early 1970s to raise money for Labor Today, where Peggy joined Studs Terkel and Pete Seeger on stage.
Marshall recalls, "Peggy had this big white artists' pad. She would do several drawings at a time, rip them off the pad and throw them on the floor. Those became treasures around town framed in people's homes and offices today."
Lipschutz has this advice for young people who want to combine arts with social struggles: "The thing is not to give up. Keep working."
"Your target is short-term changes but in the long term it has to be about putting more love into the world, making it more human, with more peace."