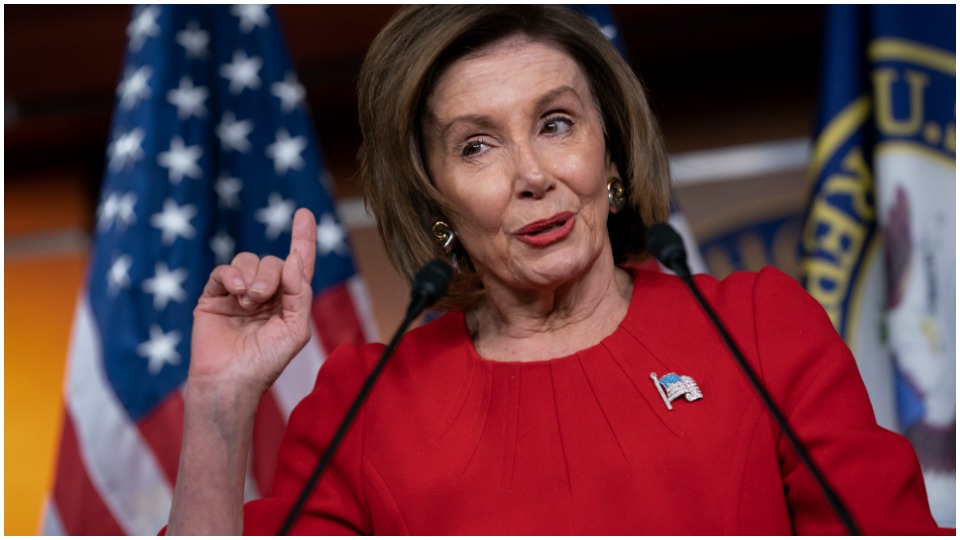 WASHINGTON—A mind-blowing week in the 54-day-old impeachment inquiry ended Sunday with President Donald Trump's bluff being called by House Speaker Nancy Pelosi when she invited him to testify under oath before Congress. The president said that even though he has "done nothing wrong" he was considering the offer so he could "get Congress back on focus."
"If he has information that is exculpatory, that means ex, taking away, culpable, blame, then we look forward to seeing it," Pelosi said Sunday on CBS's Face the Nation program. Trump "could come right before the committee and talk, speak all the truth that he wants if he wants," she said.
One of the many other bombshells exploding in the last several days was a charge Friday by Attorney General William Barr that the Democrats are sabotaging the executive branch of government. He accused "the left" of waging "war" against a "duly elected president."
Barr made the accusation at a meeting of the Federalist Society, a conservative legal organization that has helped Trump stack the federal courts with right-wing extremists.
Barr put forward his extra-constitutional theory that the executive branch has almost unlimited, essentially authoritarian, power to rule with congressional oversight limited to only legislative matters. The speech by the attorney general elicited calls for his impeachment from many lawyers and legal scholars.
Pelosi's invitation to the president and Barr's call for authoritarian rule in the U.S. came after several days of public testimony that had gone very badly for the president. Most of the president's Republican defenders have given up even trying to pretend Trump did not use his office to strongarm the Ukrainian president into investigating his political opponents. Their only defense is that the congressionally mandated security aid Trump was withholding from Ukraine eventually was released (only after the whistleblower complaint became public) or that Trump's criminal activity does not rise to the level of impeachment.
Trump's self-defense consists of a steady stream of tweets attacking the character or the ability of the many witnesses who have come forward to testify against him. Those who have come forward to Congress have defied orders from him that they not testify.
Administration officials in the White House and others close to the president who have defied congressional subpoenas have used those same orders from the president as cover for their refusal to obey Congress.
"If Donald Trump doesn't agree with what he's hearing, doesn't like what he's hearing, he shouldn't tweet," Democratic Senate Minority Leader Chuck Schumer told reporters. "He should come to the committee and testify under oath. And he should allow all those around him to come to the committee and testify under oath." He said the White House's insistence on blocking witnesses from cooperating means he is hiding something.
The House Intelligence Committee, meanwhile, will hear witnesses this week that are expected to further highlight Trump's role as the central figure in the conspiracy. Democrats see this as icing on the cake because the so-called transcript of Trump's July 25 phone call with Ukrainian President Zelensky, released by the White House itself, already proves, they say, both the conspiracy and Trump's leadership role in it.
Nevertheless, one of the most awaited witnesses this week is Gordon Sondland, the man who paid the Trump campaign a million dollars to land the job of ambassador to the European Union. According to extensive sworn testimony already heard by Congress, Sondland has had direct one-on-one talks with the president about the scandal. Others who have had such direct contact with the president have been blocked by Trump from testifying.
There was sworn testimony last week, that at least three people may have heard Trump and Sondland discuss the progress of the plot to get Ukraine to publicly announce the investigations. Key testimony has it that this was the case on a cell phone call to the president placed by Sondland at a sidewalk café in Kiev.
According to the Associated Press, Tim Morrison, an employee of the National Security Council, testified behind closed doors last week that Sondland and Trump spoke frequently between July 15 and Sept. 11. That period was precisely the period during which the security aid was being withheld from Ukraine. It was released on Sept. 11, two days after the whistleblower complaint became public.
According to Morrison, Sondland told a Ukrainian government representative that the aid might be released if Ukrainian leaders went public and announced the investigations Trump was looking for.
The Morrison testimony can put Sondland in more hot water than he already is. Morrison's testimony does not match what Sondland told Congress during his own closed-door testimony, already amended once by him.
Trump has reacted to this pretty much the way he has reacted to other embarrassing revelations. He said yesterday that he does not remember any such phone call and that he "barely knew" Sondland!
Many are saying, however, that this week Sondland may come forward with the full truth. He cannot help but notice what happened this week to Roger Stone, Trump's pal for 30 years, when he lied to Congress for the president. Stone was found guilty of seven felony counts and, like Michael Cohen, the lawyer who similarly lied to Congress for Trump, faces many years in prison.
Even Rudy Giuliani, Trump's lawyer, may be getting nervous about being thrown under the bus by the president. He told the press last week that he wasn't worried, however, about that happening because he had "insurance" that he could use to prevent the president from turning on him.
Public testimony will also come this week from Laura Cooper, a deputy assistant secretary of defense, David Hale, a State Department official, and Fiona Hall, an National Security Council staffer who is an "expert" on Russia.
Among Trump's tweets last week was an attack on Marie Yavonovitch, the former U.S. ambassador to Ukraine, removed from her post because she would not go along with Trump's extortion and bribery scheme. He attacked her with tweets while she was actually testifying, leading many Democrats to say that the president, by doing so, was engaging in witness intimidation, itself an impeachable offense.
In another tweet the president even called Jennifer Williams, an aide to Vice President Mike Pence, who also testified last week, a "never Trumper."
Although most of Trump's tweets last week were the usual lies and distortions, one had a ring of truth: In that tweet he wrote: "That is very bad for our Country, and not what the Founders had in mind!!!!"
AP contributed to this story.