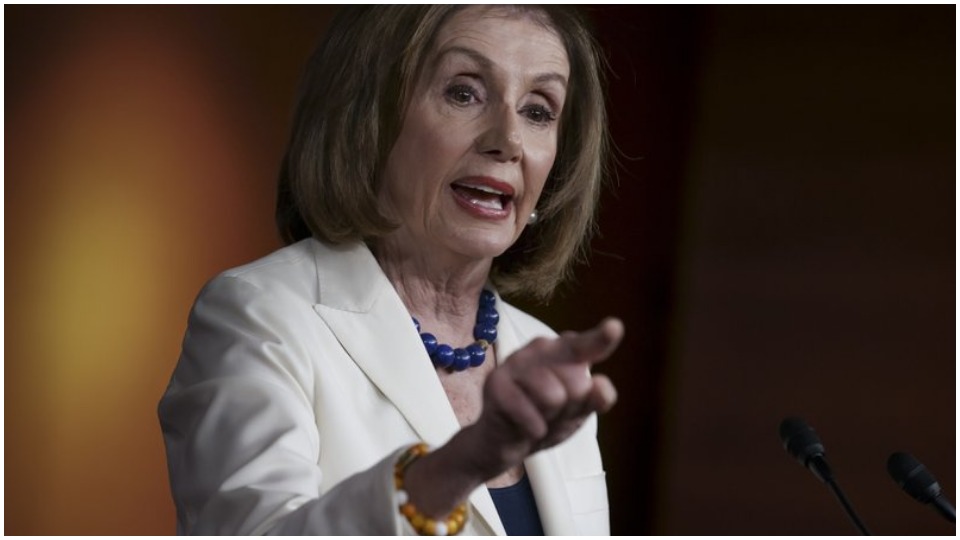 In an historic address to the nation this morning, House Speaker Nancy Pelosi declared that the Congress of the United States is moving forward for the fourth time in the nation's history to impeach the president of the United States.
Her announcement was a rejection of the argument mounted yesterday before the Judiciary Committee by the Republican witness, constitutional lawyer Jonathan Turley. Turley did not argue that the impeachment inquiry itself was improper but that impeachment had to "marinate" with the public until it overwhelmingly accepted the idea. In his argument, which was more of a word salad than a legal thesis, he said more witnesses had to come forward—ignoring completely that presidential obstruction has prevented that from happening.
At a press conference after her historic announcement this morning, Pelosi rejected even the idea of waiting for court cases that would rule on whether it was legal for Trump to block certain witnesses from testifying. Those court cases, she said, "are part of the obstruction of Congress and we will not be part of that attempt to go around the constitutionally mandated power of Congress."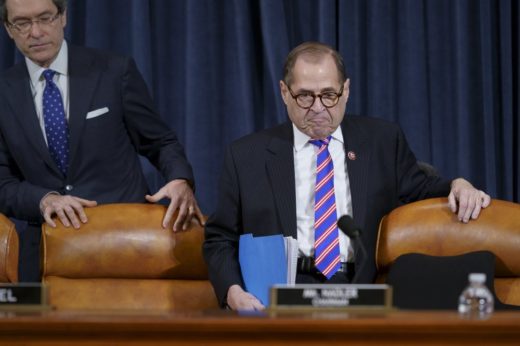 In her statement given at 9 a.m. eastern time this morning Pelosi clearly laid out, in simple terms, the reasons for her move. She called upon Judiciary Committee Chairman Jerry Nadler to draw up articles of impeachment that, in effect, would include more than just the narrow issue of the president's pressure on Ukraine to help him manipulate the 2020 election results. She said essentially that Trump has failed to faithfully execute the laws, that he has violated the constitutional prohibitions against election manipulation, and that he has obstructed Congress and obstructed justice.
Pelosi made it clear that she takes no joy in calling for impeachment and removal of the president.
"The president leaves us no choice but to act," she said. "Sadly, but with confidence and humility, with allegiance to our founders and a heart full of love for America, today I am asking our chairman to proceed with articles of impeachment."
She zeroed in on President Trump's outrageous claims about presidential power granted in Article 2 of the Constitution.
"The president's actions have seriously violated the Constitution—especially when he says and acts upon the belief Article 2 says 'I can do whatever I want.'"
"No," she declared. "The president abused his power for his own personal political benefit at the expense of our national security."
She called the attention of the nation to the part of Article 2 that says the president must faithfully execute the laws of the nation and declared that President Trump failed to do this when he ignored a bi-partisan congressional law granting almost $400 million in security aid to Ukraine.
It is not just holding up congressionally-approved security aid to Ukraine where Trump has failed to execute the law, of course. The long list of circumventing the law by the president includes diverting congressionally-designated funds for other matters into building his Mexican border wall, paying for cages for children, and his violation of U.S. immigration law by denying asylum applicants the right to legal procedures at the border. Labor law too requires the government to support collective bargaining rights and here the president turned the National Labor Relations Board, a creation of that law, into its opposite—a corporate-controlled union buster.
At a follow-up press conference held shortly afterward, Pelosi was pressed by the media on whether she is dividing the country. "Trump is the one who is doing that," she said. "We take no joy in doing this. We took an oath. If we did not act on this, we should amend the constitution and remove impeachment because we will allow any future president to do whatever they want. This is being done in a profound, respectful way. What would you have us say? We took an oath of office but—No! We must defend democracy and the oath of office we took."
At the end of her press conference, Pelosi responded angrily to a reporter who asked her whether she was calling for impeachment out of "hatred for the president."
"I hate no one," she shot back. "I don't hate the president. I was brought up as a Catholic and taught not to hate. I think the president is a coward when he does nothing to save our children from gun violence, but that is an issue for the election.
"Impeachment has to do with more than just the election and politics, it has to do with saving the constitution and for that, we took an oath we must keep."