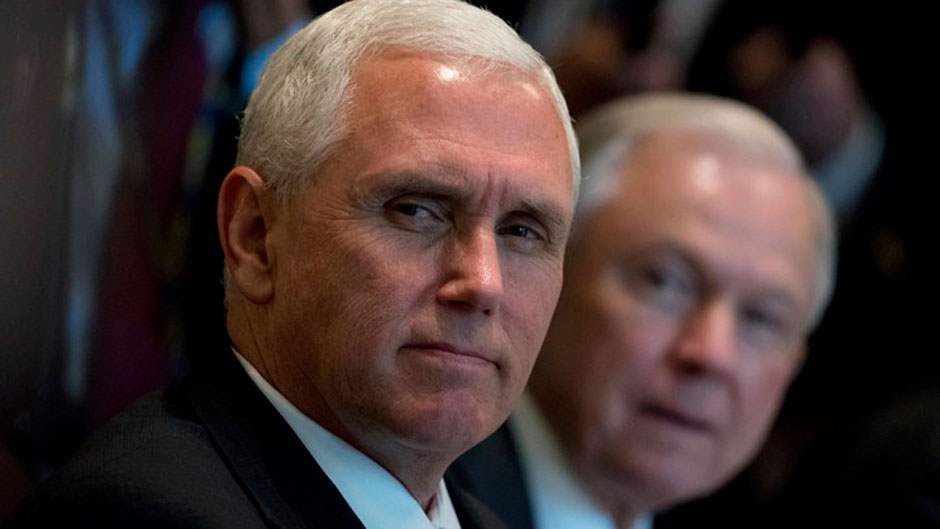 WASHINGTON—It's not the "vast right-wing conspiracy" Hillary Clinton once railed against, but the employees – and clients – of uber-lobbyist Paul Manafort show the extent of right-wing ties stretching across the Atlantic Ocean.
And though he isn't a Manafort client or fixer, you can add GOP President Donald Trump's vice president, Mike Pence, to the mix, too. He owes his current job to Paul Manafort.
Manafort was Trump's campaign manager during the key period in 2016 when top Trump officials and confidantes met with Russians who were trying to fix the 2016 presidential election in the Manhattan mogul's favor.
But before that, Manafort was a fixer, propagandist and virtual campaign manager for then-Ukrainian President Viktor Yanukovych – and he illegally hid that work from the Justice Department and hid his millions in earnings from the IRS.
Yanukovych heads one of two leading parties which have been battling over Ukraine for a decade. His organization, the Party of the Regions, is pro-Russian and also his own personal fiefdom.
The opposition, headed now by Yulia Timoshenko, a former prime minister whom Yanukovych briefly jailed, is known for its right-wing ties, its pro-U.S. slant – and its past anti-Semitism, a virulent disease in Ukraine.
The Justice Department documents said Yanukovych paid Manafort two million Euros, then equivalent to $2.5 million. Yanukovych is widely considered to be a corrupt puppet of Russian President Vladimir Putin, who ordered Russia's pro-Trump interference in the election.
Manafort pleaded guilty to two counts covering such crimes on September 14 in federal court in Alexandria, Va., across the Potomac from Washington – and agreed to sing to Special Counsel Robert Mueller, who's probing the 2016 Trump campaign's contacts – or worse – with the Russians.
But in lobbying for Yanukovych, Manafort set up a dummy PR firm, the Hapsburg Group – named after the dynasty that ran the old Austro-Hungarian empire.
Manafort planned for the PR firm to "appear to be providing their independent assessments of Government of Ukraine actions, when in fact they were paid lobbyists for Ukraine," the prosecutors' statement of information – in essence what they planned to prove and what Manafort admitted to — said.
Manafort recruited three former European leaders for the PR firm to make the case both here and on the other side of the Atlantic:
Alfred Gusenbauer, a former short-term right-wing Chancellor of Austria. After leaving that political post, Gusenbauer spent his time in "paid consulting work for autocratic regimes," the Washington Post reported earlier this year. That work, including for Manafort, wasn't Gusenbauer's only shady deal: He shows up in the Panama Papers, the trove of documents about off-shore tax havens for the rich, politicians and their aides, as a board member of one such tax haven in Malta.
In addition to lobbying lawmakers for Manafort's Hapsburg Group – and for Yanukovych – Gusenbauer also funneled money to:
Romano Prodi, the sole non-right-winger in the crowd. The former Italian prime minister, an economist by trade, was not a multi-millionaire. Prodi told the New York Times he got the money from the Austrian and didn't know it really came from Manafort, or from Yanukovych.
Former Polish President Aleksander Kwasniewski. Longtime co-leader, with his late brother – who was Poland's prime minister – of the now-ruling Law and Justice Party, Kwasniewski became a Manafort operative with the Hapsburg Group.
But he had another particularly important link to work. Records from the European Parliament show that when the Ukrainian conflict was turning into a chaotic mess in 2013-14, the Parliament named two special envoys to probe and work with the Ukrainians. Kwasniewski was one.
The two heads of the European section of a Parliamentary Cooperation Committee were to meet with lawmakers from the Verknova Rada, the Ukrainian parliament.
The U.S. contacts for Manafort's three top recruits included Rep. Edward Royce, R-Calif., chair of the House Foreign Affairs Committee, Rep. Robert Aderholt, R-Ala., and Rep. Tom Marino, R-Pa.
Marino became infamous several months ago when he was forced to withdraw his nomination as Trump's drug czar after revelations that in 2017 he pushed through a law weakening federal enforcement against opioid distributors and manufacturers – after getting $100,000 in campaign contributions from the drug makers.
Royce has been a prime congressional mover of sanctions against Russia for its actions in Ukraine.
And Pence? Well, that's a direct Manafort tie to Trump – not Ukraine — without all the go-betweens.
Trump originally planned to name then-Gov. Chris Christie, R-N.J., as his running mate. Manafort inserted Pence, then the governor of Indiana who was going down the tubes politically after companies and conventions fled the state due to Pence's anti-LGBTQ law.
"Manafort had arranged for Trump to meet with his first choice for the job on July 13: Pence," Yahoo News reported." Afterward, the plan was for Trump and Pence to fly back to New York together and a formal announcement would be made, a campaign source said of Manafort's thinking. Set on changing Trump's mind, he concocted a story that Trump's plane had mechanical problems," forcing Trump to stay overnight in Indianapolis with the Pences. That clinched it.
"Other than softening the Republican Party's stance on Russian thuggery in the Ukraine" – the new language in the 2016 Trump-written GOP platform – "and maneuvering Mike Pence into the vice presidency, Manafort didn't do much in the short time he managed the president's campaign, except possibly commit some crimes," the Yahoo analysis pointed out.