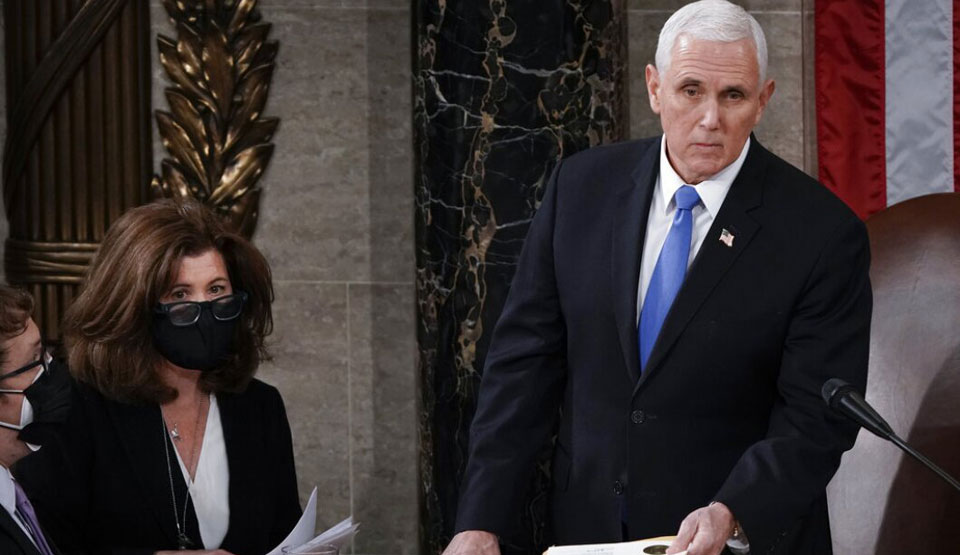 WASHINGTON—Former Vice President Pence refused to get into a car driven by Trump Secret Service agents because he believed they were going to kidnap him during the Jan. 6 insurrection at the Capitol.
Every day, as we get closer to public hearings planned by the Jan. 6 committee investigating the coup, tapes and more tapes of coup-related lies by the GOP Republican House leader continue to emerge.
With open hearings looming as early as May, more details are emerging about the planning of Donald Trump's coup attempt and the former president's involvement in everything, including the planned abduction of his own vice president to hold up the certification of Joe Biden's win.
At the center of the emerging evidence are two figures: Former Vice President Mike Pence and House Minority Leader Kevin McCarthy, R-Calif., who confidently, and swaggeringly, expects to become Speaker after a GOP takeover of the House he hopes will happen this November.
The House Select Committee investigating the coup plan, the invasion, and the insurrection has yet to decide whether to call Pence. McCarthy has stonewalled the panel.
Even before it began, McCarthy tried strangling the committee by naming rabid Trumpite Republicans to it, as is a leader's usual prerogative for such special panels. Those lawmakers could be counted on for disruption. House Speaker Nancy Pelosi, D-Calif., thwarted that move.
Names Cheney and Kinsinger
She named Reps. Liz Cheney, R-Wyom., and Adam Kinzinger, R-Ill., to the panel. Both were among the 10 House Republicans who defied the party's majority and voted to impeach Trump for instigating the invasion and insurrection. All 222 voting Democrats approved impeachment.
The impeachment is the context for McCarthy's taped, and leaked, Jan. 10, 2021 phone call with others. "The only discussion I would have with him is that I think this (impeachment) will pass, and it would be my recommendation you should resign," McCarthy told Cheney in the recording. He first lied, saying he never made the statement, but then the tape surfaced.
The timing of the disclosures and the pending hearings are important. The committee's mandate ends on Jan. 3, at the end of this Congress. If the Trumpite-dominated Republicans win House control this fall, as pundits predict, they'll kill the panel and investigate President Joe Biden and his family, instead.
Pence thwarted the coup try twice, first by publicly refusing Trump's demand that he single-handedly reject electoral votes from the key swing states of Arizona, Pennsylvania, Wisconsin, Michigan, Nevada, and Georgia, as well as New Mexico.
Pence's rejection would have led to one of two scenarios. The first would be to deprive Democratic nominee Joe Biden of his Electoral College majority, throwing the selection of the president into the U.S. House. There, votes would be cast on a one-state, one-vote basis, and the Republicans control 26 House delegations, a majority.
The second scenario would have sent the certifications back to those seven states. In the first six, the Republican-run and gerrymandered legislatures could send new "certifications" back to Congress, showing Trump won.
Pence bluntly told the right-wing Federalist Society in February that he could not, and would not, stop the Electoral College vote count. His statement there reacted to Trump's reiterated lies about "fraud," that the swing state votes were fraudulent, and that Pence could have stopped it.
"President Trump is wrong. I had no right to overturn the election," Pence told the Federalists. "The presidency belongs to the American people and the American people alone. And frankly, there is no idea more un-American than the notion that any one person could choose the American president."
The invasion disrupted the vote count and Pence's Secret Service detail hustled him out of the U.S. Senate chamber and into an underground garage. Then agents tried to get Pence and his family to get into an armored limo to be taken to a more secure location. Pence refused.
The VP suspected, said committee member Rep. Jamie Raskin, D-Md., a constitutional law professor on leave, that Pence's security detail was taking orders from agency brass under Trump's thumb. The agents would have kept Pence under wraps, preventing the count from resuming. When Pence was whisked out of the chamber at the Capitol he refused to get into a car driven by those agents, fearing he would be kidnapped and prevented from doing his job that day, which was to certify the election for Joe Biden.
Under Article II of the Constitution, the vice president opens the ballots and presides over the vote count. He—and senators–finally did, after an hours-long disruption.
Pence's statement and his reason for it are going to be one focus of the panel's hearings, starting in May, Raskin told an audience at Georgetown University. That statement was "chilling," Raskin said there and, later, on NBC News.
Pence: "I'm not getting in that car."
As previously reported by The Washington Examiner, a right-wing paper, and The Washington Post, Pence told his lead Secret Service agent, Tim Giebels: "I'm not leaving the Capitol. I trust you, Tim, but you're not driving the car. If I get in that vehicle, you guys are taking off. I'm not getting in the car."
The Post also reported, in a subsequent book covering Trump's coup try, that Pence's national security advisor, Keith Kellogg, bluntly told a Secret Service overseer Pence wasn't getting in the limo.
"Leave him where he's at. He's got a job to do. I know you guys too well. You'll fly him to Alaska if you have a chance," Kellogg said.
Pence's refusal to enter the limo is "what I think are the six most chilling words of this entire thing I've seen so far: 'I'm not getting in that car,'" Raskin said. Pence feared he'd be unable to order the electoral count to resume. Pence made that point to the Federalists, too.
"I'm doing what the Constitution says, even though I may not like the results," Pence told the group, quoting the late Supreme Court Justice Antonin Scalia, a right-wing icon.
But while Pence now downplays the danger of January 6, McCarthy was taped telling Cheney he would advise Trump to quit following the failed insurrection—and now lying about it. McCarthy later flew to see Trump at his Mar-A-Lago estate, kowtowing to the ex-Oval Office occupant.
McCarthy now dodges admitting what he said, despite the tape.  "McCarthy was over Trump until he wasn't when he realized he needed him. This picture literally resurrected Trump's political life. Thanks, Kev," Kinzinger tweeted.
But that wasn't McCarthy's only view of January 6 that he's lying about.
Rep. Jaime Herrera Beutler, R-Wash., a member of the House GOP leadership, testified she directly heard McCarthy have a one-on-one conversation pleading with Trump to call off the insurrectionists.
The invaders, toting Confederate flags and armed with spears, shields, protective gear, bear spray, and mace, pillaged the Capitol, injured more than 140 defending police officers—plus five who died in ensuing days–threatened to hang Pence from a scaffold they erected on its lawn and left lawmakers, aides, family members and reporters running or hiding for their lives.
McCarthy flatly denies he asked Trump to call off the invasion. In an echo of the Watergate scandal, the White House phone records about his call, and others, have vanished. But lying about that call is not McCarthy's first falsehood. In a prior interview with a Los Angeles Jewish group, Rep. Adam Schiff, D-Calif., described another McCarthy lie, in 2010.
The two were on a red-eye flight back to D.C. before that year's off-year election, with McCarthy confidently predicting, as he is this year, a GOP House sweep. Schiff disagreed, saying the Democrats would emerge with a majority.
When they debarked in D.C., McCarthy strode into a press conference, Schiff said, related his own prediction—and then said Schiff agreed with him, a lie. Schiff confronted McCarthy the next day on the House floor. McCarthy's reply: "That's politics."