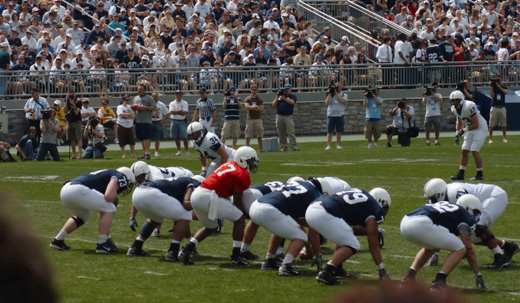 CNN reports that high-ranking officials at Penn State are accused of having kept a secret file containing allegations that Jerry Sandusky was acting inappropriately. CNN obtained a copy of court documents that said, "The file was created, maintained and possessed by Gary Schultz."
Gary Schultz was the vice president for finance and business at Penn State, who also oversaw the college's police department. Schultz along with former athletic director Tim Curley are charged with perjury and failure to report abuse in the scandal that rocked the legendary university's football program and its equally legendary coach, Joe Paterno.
Sandusky was Paterno's assistant coach and is now on trial for multiple criminal charges related to serial sexual abuse of boys he met through his charity. Sandusky denies the charges.
The motion filed by the attorney general accuses Pennsylvania State University officials of keeping a file with previously unknown details about the child sex abuse allegations against Sandusky. The attorney generals office claims the officials also withheld subpoenaed evidence.
CNN's Susan Candiotti reports that the document brings up questions about what exactly school officials knew about allegations against Sandusky, when they knew it and what they told authorities during their investigation.
The secret file is sure to bolster critics who charge the university covered up the abuse in order to protect its beloved – and highly profitable – football program.
Writing last year after Sandusky's arrest, sports columnist Dave Zirin said, "It could have been stopped, but it wasn't because the image of Joe Paterno Nittany Lion Football was deemed more important than the children at risk." writes.
Zirin said it was a case of putting profits and profile before children and decency. "It's connected to the Bowl Championship Series, 'conference realignment' and all the ways in which college football has morphed over the last generation into a multi-billion dollar big business. This isn't about Sandusky. This is about a culture that says the football team must be defended at all costs: a culture where the sexual assault of a 10-year-old is reported to Paterno before the police."
Photo: Penn State Nittany Lions quarterback Daryll Clark takes the snap during a 2009 game at State College, Pa. (ianturton/CC)