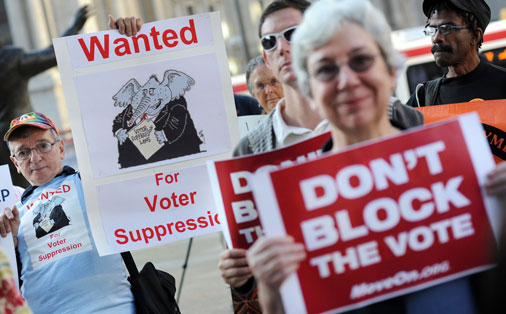 HARRISBURG, Pa. – The Pennsylvania AFL-CIO is pushing a huge online petition demanding the GOP-run state legislature repeal the state's "voter ID" law, as a case challenging the law in the state's highest court continues.
In its petition, announced the first week of July, labor federation cites a new study, taken from state data that, for the first time, details the disproportionate impact of the voter ID law on minorities, students, women, and the elderly. It then urges voters to sign the petition demanding the law's repeal.
The Pennsylvania law is part of a national radical right drive to eject voters who oppose the business-right wing-GOP extremist agenda. Pennsylvania's law is one of 81 anti-voting laws introduced in 31 states since the 2010 GOP state election sweep, according to the large online civil rights group colorofchange.org.
Pennsylvania enacted its voter ID statute before the 2012 election, but the state's Commonwealth Court, its highest, set it aside for last fall's vote, saying the state did not have enough time to reach everyone who needed ID. Starting July 15, the challenge to the law was again in court and unions were again campaigning against the law.
The state is still trying to educate voters and get ID into their hands, state AFL-CIO spokesperson Mike Johnson said in a blog on the federation's website. But an analysis of state records, by statistician Bernard Sisken, shows Pennsylvania's voter ID law – even with all the information and registration efforts – would still throw 670,000 voters off the rolls.
"According to this new analysis, over ten percent of African-Americans and Hispanics who are registered to vote do not have a valid state-issued photo ID, compared to less than 5.5 percent of white non-Hispanic voters," said Johnson, a data analyst for the state AFL-CIO. "Democrats are more likely to be disenfranchised (7.36 percent) than Republicans (4.52 percent)."
More than 11 percent of Pennsylvania voters who are either age 18-22 or age 80-89 lack valid ID, Sisken reported. "For voters over age 90 that rate goes up to over 40 percent. In contrast, only 3.2 percent of voters aged 50-69 do not have a valid photo ID."
Besides outright disenfranchisement, the Pennsylvania voter ID law would make it extremely difficult for low-income voters to register and prove their right to vote, said Sisken. Voters would have to travel between 25 minutes and two and a half hours to sites that issue the voter IDs, he found. Round trips could be up to 142 miles.
"It is hard to believe that it is a coincidence the politicians who forced this law through are the ones whose re-election would benefit by the way this law would disenfranchise minorities, young voters, and the elderly," Johnson said.
Photo: Pennsylvanians protest the Voter ID law. AP