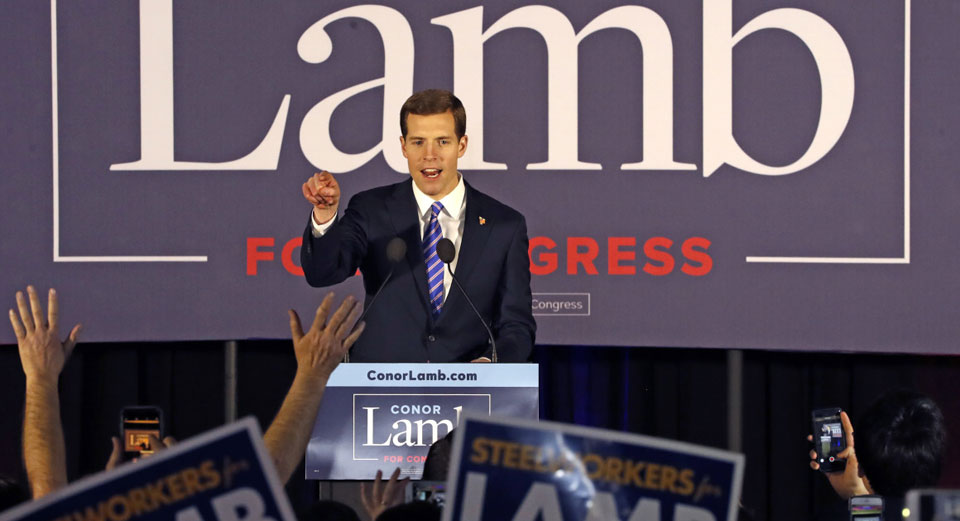 PHILADELPHIA—In Pennsylvania's election on Nov. 6, the big deal is in the middle of the ballot, thanks to the Pennsylvania Supreme Court.
In the top two races, Democratic Gov. Tom Wolf and U.S. Sen. Bob Casey are expected to easily beat GOP challengers – with the added bonus that Casey's foe, GOP Rep. Lou Barletta, gave up his House seat to run. State Sen. Scott Wagner (R) opposes Wolf.
Casey is so safe that even though he was unopposed in the May 15 primary, he polled more votes than Barletta and the other Republican running, combined.
Barletta first made himself infamous as Mayor of Hazleton for his anti-immigrant and anti-Latino rhetoric and legislation. He pushed through ordinances, later ruled unconstitutional, banning building owners from renting homes and apartments to undocumented people and banning businesses from employing them, on pain of losing city contracts.
Wolf's re-election is important because he and lawmakers elected this year and in 2020 will redraw U.S. House district lines, determining whether the Keystone State, a classic swing state, treats all its residents – including workers and minorities – equally and fairly in voting for Congress for the following decade.
Down the ballot, the heavily GOP-gerrymandered state legislature – in a classic "purple" state where right-wing white nationalist Republican Donald Trump barely beat Democratic nominee Hillary Clinton two years ago – hasn't done so.
And, despite wins by four Democratic Socialists in Democratic state legislative primaries earlier this year, including two each in the Pittsburgh and Philadelphia areas, the General Assembly in Harrisburg is expected to stay heavily Republican, and anti-worker. The GOP controls the State Senate 33-16 and the House 120-79. Wolf vetoes stopped Republican anti-worker schemes.
That leaves the races in the middle: The 18 U.S. House seats. As in other swing states, the GOP won in its 2010 mid-term landslide, Pennsylvania Republican lawmakers creatively drew district lines the next year to maximize the number of Republicans (13) while jamming or isolating Democrats. Dems got five.
That ratio held until Conor Lamb (D), a veteran with unabashed pro-union views and huge support from organized labor – particularly the Steelworkers and the Mine Workers – narrowly won a special election early this year in a district Trump had carried by 20 percentage points. Now the delegation is 12-6 GOP.
Then the court stepped in.
Responding to a lawsuit by several progressive groups, the justices threw out the old congressional district lines as an illegal gerrymander that violated the state constitution's right to freedom of association by penalizing voters – particularly minorities – for being Democrats.
The justices told the GOP-run legislature to try again but warned that if they flunked, the court would draw its own lines. They did, and it did – and now six Pennsylvania U.S. House seats are up for grabs. Lamb is one of them, facing GOP Rep. Keith Rothfus, but in a much more Democratic district.
The other five seats, two of them open, are or were Republican-held, but the redrawn lines make them competitive – and make Pennsylvania one of several states, along with Virginia and California, that national Democrats count on to provide most of the 23 extra U.S. House seats they need to retake control on Capitol Hill from anti-worker Republicans. Key features include:
FIRST DISTRICT: GOP Rep. Brian Fitzpatrick of the new 1st District – he used to represent the 8th – has an unusual distinction nationwide: AFL-CIO support. He's the only Pennsylvania GOP U.S. House hopeful with it. Sounding like a Democrat, Fitzpatrick "wants to use government to help people who play by the rules. He contrasts this image with" his foe, Democrat Scott Wallace, his campaign platform says. Fitzpatrick calls Wallace "a dishonest and eccentric billionaire who has cheated on his taxes."
The final polls in the race show a tie: 47 percent Fitzpatrick, 46 percent Wallace, with a 4.7-point margin of error.
The race is not cheap: As of the final campaign finance reports at the end of September, Fitzpatrick had raised $2.98 million and spent $1.93 million of it. Wallace, one of the top self-funders in House races nationwide, had raised and spent more than three times as much. Outside groups had spent $1.8 million for each candidate or against his foe.
FIFTH DISTRICT: Attorney Mary Kay Scanlan (D) is expected to win the new, open 5th District over former prosecutor Pearl Kim (R), thus breaking the all-male hold on the Keystone State's House delegation. The new district, made up of parts of three former districts, voted for Clinton by 28 percentage points in 2016. Clinton carried the section of the old 5th District, which makes up most of the new 5th, by 2.3 percent, so the redrawn district has the biggest shift in the state.
17th DISTRICT: Lamb (D), who won that famous special election with heavy labor support and an openly pro-union platform early this year, faces Rothfus (R) in the new Pittsburgh-area 17th District, which is much more Democratic than the one Lamb won. Trump carried that old district by 20 percentage points in 2016, but Ballotpedia recalculations show Trump would have carried the new district by 2.5 percent.
Unions have been trying out new campaign techniques to reach their members and make sure they vote – besides the reliable and frequent labor walks and door-knocking in Philadelphia, its suburbs and Allegheny County (Pittsburgh).
The Philadelphia Inquirer reported CWA kicked-off a statewide political boot camp in Hershey in October to educate members about wage inequality and other issues. The Teachers (AFT), who are particularly strong in Philly and Pittsburgh, got three national staffers to come in to work on the midterms, not one. They're hitting the cities and their suburbs. The Pennsylvania Education Association, an NEA affiliate stronger in rural areas, had 150 teachers knock on 41,000 doors. And Unite Here sent its members to their worksite, armed with voter data, to get their colleagues to commit to vote.
"People are realizing that the bill of goods that they were sold two years ago was a lie," CWA District 2-13 President Ed Mooney, told the paper. Mooney's district includes Maryland and D.C., too, but there was nothing about those races on its website.
Meanwhile, in the U.S. Senate race, Casey and Barletta are polar opposites. Casey, a former governor, is an outspoken foe of Trump. Barletta showed his anti-Hispanic anti-immigrant colors before Trump even appeared on the national scene.
Their attitudes also showed in the latest key vote, on Trump's nomination of U.S. appellate judge Brett Kavanaugh, a right winger with a strong anti-worker record, to the U.S. Supreme Court. The Senate OK'd Cavanaugh on a virtual party-line vote. Casey specifically cited Kavanaugh's anti-worker rulings in opposing him.
"Judge Kavanaugh's confirmation further stacks the Supreme Court in favor of corporate special interests who already have far too much power. This is now a Supreme Court by and for the corporate right. As a result, workers, those with pre-existing conditions, individuals with disabilities and ordinary Americans seeking their day in court are more likely to be deprived of equal justice under law," he said.
In his campaign website adds that Casey "knows too many families have been left behind and is committed to bringing good jobs to Pennsylvania and to raising wages."
As a House member, Barletta did not have a chance to vote for Kavanaugh. But he said on the campaign trail that he applauded the GOP senators "for confirming Justice Brett Kavanaugh in the face of unprecedented partisan attacks." He also said the GOP stood up "against shameful threats and smear tactics" by Democrats, Casey included.
Virtually the only issue the two agree upon is opposing unfair so-called "free trade" treaties that cost U.S. workers, particularly Pennsylvania steelworkers, jobs.