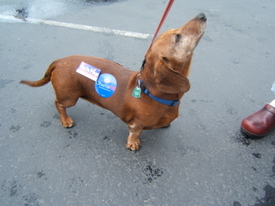 Forks, population 3,193, "logging capital of the world," is located in the far northwest corner of Washington State on the Olympic Peninsula. The town is famous for its towering conifers, loggers, mushrooms, steelhead trout, and salal harvested for the florist industry by immigrant workers from Mexico and Central America. Oh yes, and the rain. Last year 132 inches fell, 11 feet.
But the sun shined on the "Old Time Fourth of July Parade" up main street in Forks this past Friday, July 4.

The entire town turned out to watch the floats, the logging trucks, and the antique cars. Riding in a cedar dugout canoe mounted on wheels was Queen Chelsea Jackson of the Quileute tribe from nearby Lapush. She sat regally on her throne surrounded by her court.
This year, a multi-racial contingent marched with "Barack Obama for President" placards. They were warmly greeted by the crowds. The hit was Buster, a Dachshund with attitude, who trotted along with "Obama for President" lapel badges stuck to his sides.
Later, the Obamans drove east around Lake Crescent to Port Angeles to join another Fourth of July Parade. The crowds were bigger and even more pro-Obama. As we marched, an enthusiast shouted, "Change America! Vote Obama November 4th. Eight years of Bush. We've had enough! Send him back to Texas. Cheney too."
People applauded, gave us thumbs up and V for victory salutes and shouted back, "Right on!"
Sylvia Hancock of Jamestown weeks ago told us her goal was to mobilize 100 people to carry her 100 Obama signs in the July 4th parades. "We reached our goal. I didn't have a single sign left," she told me. "Makah Days is coming up August 23," she said, referring to the annual festival of the Makah tribe in Neah Bay located on Cape Flattery. We'll be there for Obama.