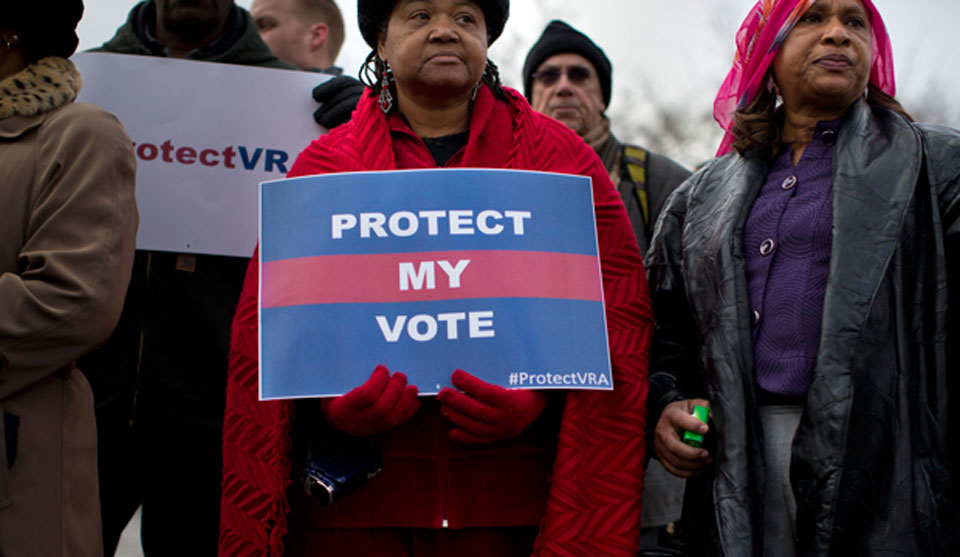 Mass marches, candlelight vigils, voter registration, and phone banking are key features of more than 250 events from coast to coast to mark the anniversary of the Jan. 6, 2021 insurrection at the U.S. Capitol—and to show widespread opposition to voter repression and to the white nationalists who invaded, seeking a coup d'etat to keep Republican Donald Trump in the Oval Office.
The top aim of the marches and other demonstrations is also to marshal mass support for Senate passage of the Freedom To Vote Act, a measure to roll back most, if not all, GOP voter repression measures enacted in dozens of states.
The marches and vigils come after Senate Majority Leader Charles Schumer, D-N.Y, announced lawmakers would take up the measure, crafted by "swing vote" Sen. Joe Manchin, D-W. Va., and try to pass it before the mid-January federal holiday honoring Dr. Martin Luther King's birthday.
"The Senate must advance systemic democracy reforms to repair our republic or else the events of that day will not be an aberration–they will be the new norm," Schumer said in a letter to all Senate Democrats. "the fight for the ballot is as old as the republic."
But if the House-passed Freedom To Vote Act—Manchin's measure– fails, Schumer said, he'll try to eliminate the Senate filibuster rule to let it go through. But Manchin and Sen. Kyrsten Sinema, D-Ariz., stand in the way of that idea, too, along with all 50 Republicans in the evenly split Senate.
So the point of the marches, vigils, voter registration drives, and more is to get lawmakers to move and to restore and strengthen U.S. voting rights. That means pressure on the Senate in particular.
"Since the insurrection, lawmakers in multiple states have made it easier for partisan Republican officials to overturn election results, made it unnecessarily hard to vote, drawn maps that don't fairly represent the diverse population of their states, obstructed the January 6 commission in Congress, and so much more," said MoveOn, one of the lead sponsors of all the actions.
Meanwhile, the GOP is "treating the insurrectionists like heroes and echoing lies and disinformation about the 2020 election. This January 6, 2022, we need to show up and defend the values, country, and democracy we believe in." A complete list of nationwide events, including signup forms, is at https://www.mobilize.us/defend-democracy/event/431014/. Some of the events include:
Chicago will see one evening vigil starting at 4:30 pm, at the Federal Building in the Loop, and another, from noon to 1:30 pm, at West 103rd Street and South Western Avenue in the Beverly neighborhood. At least another five rallies are planned for the Chicago suburbs.
"We will add Chicago's voice to demand the Senate and president do whatever is necessary to pass the Freedom to Vote Act and the John Lewis Voting Rights Advancement Act in January to protect our country from the anti-democratic and right-wing forces that are threatening to destroy our freedom to elect our leaders and to have a government that will address the critical issues that we face, including the climate crisis, immigrant justice, abortion access, racial justice, and an economy that works for the many and not the few. #RiseUpSpeakOut #SinceJan6" the Loop rally organizers say.
The St. Louis event, starting at 3:30 pm, will target Sen. Josh Hawley, R-Mo., who became notorious last January 6 for both leading the Senate effort to deny Democratic presidential nominee Joe Biden the electoral votes he needed to win—and for giving an incendiary speech to the invaders, then raising his fist in solidarity with them, beforehand.
"One year later, the same faction that attacked our country on January 6th is hard at work silencing our voices by restricting our freedom to vote, attacking fair voting districts, and quietly preparing future attempts to sabotage free and fair elections and with it our democracy," the St. Louis organizers say.
"Right here in the show-me state, Missouri Sen. Josh Hawley played a key role in encouraging the events of Jan. 6 and Missouri lawmakers are returning to Jefferson City to take up legislation that would undermine our freedom to vote," they warn.
Other march sponsors include Workers Circle in New York City. The Big Apple has events in all five boroughs. And the Women's March hosts a phone bank to reach voters in three states, including swing state Arizona.
New York's events include one planned to attract city officials and political leaders at Carl Schurz Park near Gracie Mansion, the mayor's residence. Another parade of political leaders—or video statements from them—highlights the Minnesota rally at the state capitol in St. Paul.
Some other New York events are at Verdi Square on Manhattan's Upper West Side, the Queens Public Library in Flushing,  and a "Candlelight Vigil for Democracy & Against White Supremacy" at Bell Tower Park in the Bronx.
Some events have specific targets and/or causes. For example, besides Hawley, events are scheduled in front of four offices of three House GOP lawmakers: A "People vs David Schweikert" demonstration in Scottsdale, Ariz., at the office of Rep. Andy Harris of Maryland, and one each at the Brooklyn and Staten Island offices of Rep. Nicole Malliotakis, R-N.Y.,
All three were among the overwhelming GOP House majority who kowtowed to Trump and voted to overturn the results of the 2020 election.
There will be an evening candlelight vigil in D.C. But in an indication D.C. organizers still are leery of the menace of the rightists and white nationalists, that rally's exact location is hidden unless people sign up individually.
A "Defend Democracy January 6th-Zoom Phone Bank " from 4 pm-6 pm will be run in Los Angeles, with more events scheduled there.
Indivisible ReSisters of Walnut Creek, Calif., hosts an evening candlelight vigil in the East Bay area, while San Franciscans concentrate on voter registration, especially among Asian-Americans. And Rep. Barbara Lee, D-Calif., posted a YouTube link for anyone who couldn't physically join in at ly/BarbaraLee010622events
Organizers in Phoenix, including the League of Women Voters, Mi Familia Vota, the state AFL-CIO, and the Service Employees, say their event would be a "peace at the polls" vigil. Phoenix was the site of more intimidation when the GOP-run legislature authorized a phony and problem-ridden post-election recount of Maricopa County's votes.
An angry Trumpite mob surrounded counting headquarters in an arena. Ironically, the pro-Trump firm hired to recount those ballots wound up increasing Biden's narrow margin in Arizona.
"As the anniversary of the January 6 coup attempt approaches, this coalition of non-partisan democracy defenders calls on the public to stand with us to assure Peace at the Polls and the survival of American democracy,"  the Phoenix organizers say.
"Throughout 2022, we will speak up and stand up in response to both the Jan. 6 insurrection at our nation's Capitol and the growing call to violence against our democracy."
Besides the Phoenix vigil, and marching elsewhere, the Service Employees on January 5 announced another form of pro-voting rights pressure: Joining with coalition allies to force sunlight onto corporate contributors who back the GOP's white nationalist and coup supporters.
The aim is to shame firms, especially stop using pension fund money they collect from unionists for corporate purposes that smash workers' interests—such as backing coup backers and against civil rights.
News reports and independent analyses of campaign spending reveal many firms which initially stopped giving to Trumpite Republicans after last January 6 either quietly resumed doing so or funnel funds to House and Senate GOP campaign finance committees (PACs) which in turn dole out the cash to the party's candidates, including extreme right-wingers like Maryland's Harris.
Those corporations' "investors need to know and their consumers need to know" how and to whom the firms distribute campaign cash, Alfonso Mayfield, president of the union's Florida Public Service Employees affiliate, told a zoom press conference.
"They have proclaimed" they're for equal rights, diversity, and voting rights "but secretly funded" political front groups that work against those causes, Mayfield said of the companies. The union's vehicle will be shareholder resolutions.
That leaves the filibuster and Schumer seems set on ending it.
The founders, he wrote, "explicitly rejected supermajority requirements for legislation, having learned firsthand of such a requirement's defects under the Articles of Confederation. The weaponization of rules once meant to short-circuit obstruction" means the filibuster has been hijacked to guarantee obstruction…If the right to vote is the cornerstone of our democracy, then how can we in good conscience allow for a situation in which the Republican Party can debate and pass voter suppression laws at the State level with only a simple majority vote, but not allow the Senate to do the same?'