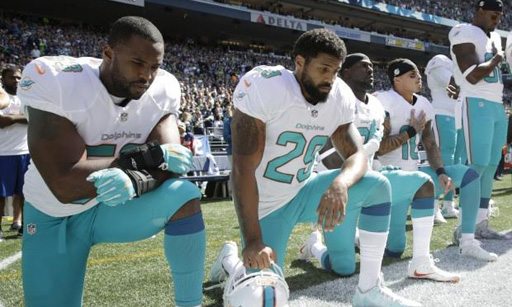 As we head into the second week of the NFL season, Colin Kaepernick's continued refusal to stand for the national anthem in protest of racial injustice and police violence against African Americans has drawn more athletes into the dialogue about race and policing.
Players from six different professional teams showed their solidarity with Kaepernick and agreement with his message in different ways. "So far, at least 19 athletes have sat, knelt, or raised fists during or right after the national anthem since Kaepernick sat before a preseason game on August 26," Mother Jones reporter Edwin Rios noted in a September 12 article.
Denver Broncos' linebacker Brandon Davis as well as 4 members of the Miami Dolphins took knees during the national anthem before their games on Thursday and Sunday respectively. Patriots tight end Martellus Bennett and safety Devin McCourty as well as LA Rams defensive end Robert Quinn and wide receiver Kenny Britt all remained standing, but held up their fists.
The largest scale responses were by the Seattle Seahawks and the Kansas City Chiefs, all members of which stood during the national anthem with their arms linked in unity (with Marcus Peters of the Chiefs raising his fist).
These players, however they chose to do so, have brought the conversation about police brutality and the treatment of people of color in this country to a mass audience. Several did so on the anniversary of the 9/11 attacks.
In a video message, Seahawks wide receiver Doug Baldwin explained his team's decision, saying, "We are a team comprised of individuals with diverse backgrounds, and as a team we have chosen to stand and interlock arms in unity. We honor those who have fought for the freedoms we cherish and we stand to ensure the riches of freedom and the security of justice for all people.
"Progress can and will be made if we stand together."
Kaepernick's influence spreads
The group of people standing, or sitting, or kneeling in solidarity with Kaepernick is growing, in professional and amateur and college sports.
High school football players from Washington State to Virginia have taken knees during the national anthem at their games, some of which have been disciplined as a result.
Mike Oppong, a junior at Doherty Memorial High School in Worcester, Mass., took a knee and was suspended by his coach for one game. According to the Grio, Oppong said "I'm standing up for the injustice [sic] that happens to black people every day, not just cops killing black people… we are disrespected and mistreated everywhere we go on a daily basis because of our skin color and I'm sick of it."
On September 4, star soccer player Megan Rapinoe, member of the Seattle Reign and US women's Olympic team, knelt in solidarity before her team's game against the Chicago Red Stars.
Rapinoe told espnW's Julie Foudy that she was "disgusted" with how Kaepernick has been treated simply because he spoke his mind.
"It is overtly racist: 'Stay in your place, black man.' Just didn't feel right to me. We need a more substantive conversation around race relations and the way people of color are treated."
Rapinoe, an openly gay athlete, added her own perspective on the struggle for justice, saying "I have stood with my hand over my heart during the national anthem and felt like I haven't had my liberties protected, so I can absolutely sympathize with that feeling."
Photo: AP