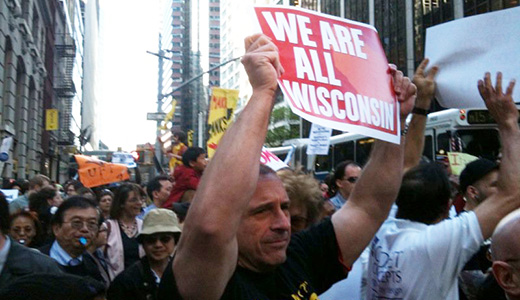 NEW YORK – Wall Street was taken over by people's power on Thursday. And that message came through loud and clear.
An outpouring of 10,000 New Yorkers swept into lower Manhattan to demand that Wall Street and the big billionaires pay their fair share. Dozens of labor unions, community organizations, peace groups and many individuals were united in putting the blame for the economic crisis on those who created it, and in opposing New York Mayor Michael Bloomberg's punitive budget. They were outraged by Bloomberg's proposals to close two dozen firehouses, slash vital services such as community centers and homeless services, and lay off over 4,000 teachers.
The United Federation of Teachers NYC pulled out all the stops, with teachers flowing down the "streets of gold," joining thousands of other New Yorkers holding signs reading "Make Banks Pay" "Education is a Right" and "No Cuts."
Michael Mulgrew, president of the UFT, said, "Rather than lay off teachers and slash vital services for kids and seniors, Mayor Bloomberg needs to take another look at those who have been letting the working poor and the middle class make all the sacrifices."
The May 12 demonstration began with eight feeder marches organized by various parts of the broad people's movement around issues like jobs, peace, public education, transportation and immigrant rights. They marched from locations around lower Manhattan to converge on Wall Street where on-the-street teach-ins were conducted on how the economy works, the solution to thee jobs crisis, our militarized economy and more.
The Wall Street action was the culmination of a week of actions around New York City. Activists organized 80 local pickets, direct actions and rallies at banks and corporate offices, and in public venues to build visibility for the issues.
Organizers spread the word for the demonstration using Facebook and Twitter, publishing short videos of New Yorkers stating why they were going to march and what is at stake with the fight over the city budget.
Among the marchers were City Council member Robert Jackson, who heads the Education Committee, the Rev. Al Sharpton and City Comptroller John Liu.
"It seems as if our teachers, our cops and our firefighters are being blamed for our ongoing financial problems, and that's essentially what this rally is about," said Liu.
Participants who marched with Veterans for Peace voiced their displeasure with spending on wars and tax breaks for the rich. "The banks are using money for the wars, and we need jobs, housing," said one. "The money is being thrown away on these wars" and "Tax the rich, get the money from where it is so everybody else doesn't have to suffer these cuts" were some of the angry sentiments of the marchers.
The march and rally, which beforehand had seemed rather loosely organized, turned out to be one of the most effective this reporter has ever participated in. It was pretty amazing! There were well over 40 community, peace and other organizations involved along with the UFT, Communications Workers Locals 1104 and1180 and many other unions.
The outpouring showed that Mayor Michael Bloomberg has really caught the ire of working families in the city with his draconian budget slashing plan. Time and again New Yorkers point out that while he cries crocodile tears, he has never once opened his mouth in favor of extending the "millionaires' tax" that would continue to bring in several billion dollars a year of needed funds to the city.
Libero Della Piana contributed to this article.
Photo: The people take over Wall Street, May 12. PW/Gabe Falsetta
Video: onmay12.org