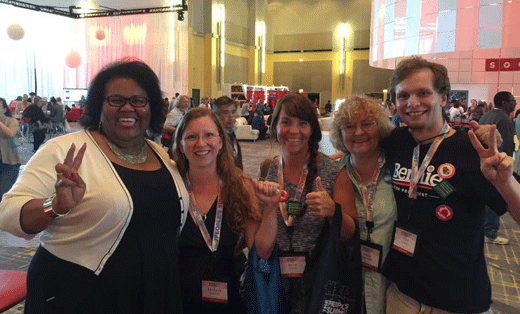 CHICAGO – More than 3,000 progressive and community leaders and activists who backed Vermont Sen. Bernie Sanders in the primaries gathered here this weekend at the People's Summit to affirm their intention to keep their movements going through and after the November elections.
The thrust of their argument was that although it is important that Donald Trump and the Republicans suffer a massive defeat it is equally critical that their movements continue to grow. Their approach was probably best summed up by Frances Fox Piven, professor of political science at the City University of New York Graduate Center, when she addressed a plenary session titled "Understanding Our Movement Moment."
"Yes, we have to elect Hillary Clinton to defeat Donald Trump, she said, "but we can't let electoral politics swallow up the movements. There are Democratic presidents who did great things – Johnson and Kennedy for civil rights, Franklin Roosevelt for workers rights, and this can happen again, but those presidents did those great things because of mass movements that made them do those things."
The kinds of movements she was talking about were among those represented at the conference, among them activists in the Fight for $15, Medicare for All, students fighting for relief of piled up debt, people fighting voter disenfranchisement, movements for criminal law and prison reform and many others. The conference was put together by many groups that had backed Sanders, including National Nurses United, Peoples Action, Presente, United Students Against Sweatshops, 350.org, Million Hoodies, Physicians for a National Health Program, Progressive Democrats of America, the United States Student Association and Democratic Socialists of Americas.
Conference goers also heard about the importance of fighting against the neo-liberal approach to foreign policy during remarks by Tulsi Gabbard, the Hawaii congresswoman who had quit her position on the Democratic National Committee so she could campaign for Sanders.
Gabbard, a veteran and Meritorious Service Medal awardee, demanded that the U.S. end what she called its "disastrous policy of going overseas to overthrow governments it does not like.
"By trying to overthrow the Syrian dictator Assad we have made things worse for the people of Syria and this has caused the deaths of more than 400,000 of them and the worst refugee crisis ever. Even if we ever succeeded," she added, Syria would be turned over to ISIS and then see extermination of all political opponents, of people of other faiths and of LGBTQ people.
"And for us here at home, we will never be able to realize healthcare for all, $15 an hour and the social and economic justice we fight for, as long as these military adventures like the ones in Iraq, Afghanistan, Libya and Syria drain our federal budget. Stop the regime change, stop the wars and rebuild America," she declared, bringing the thousands gathered to their feet in sustained applause.
PW Video: Representative Tulsi Gabbard a Hawaii Democrat, told three thousand people gathered at the People's Summit in Chicago that the U.S. must end its policy of regime change in Syria. Earchiel Johnson | PW. Article continues after video.
"There is a movement of millions now," declared RoseAnne De Moro, executive director of National Nurses United, "that rejects neo-liberal foreign policy and austerity policy for the people here at home. We reject a society that has as its norm the idea that if it doesn't make money it has no value."
DeMoro's union was an early backer and major booster of the Sanders campaign for the presidency. "To us a free society and security means Medicare for All, $15 an hour, free college education, a government that takes climate change seriously and a Wall Street that pays its fair share, " De Moro declared. Although there were many union members in attendance, National Nurses United was the only major national union represented at the conference. The AFL-CIO announced this week that it is backing Hillary Clinton for the presidency.
Jesus "Chuy" Garcia, Commissioner from Cook County welcomed the gathering to Chicago, adding his voice to those who called for a continued movement to fight for what he called a "Peoples Agenda. "Garcia had backed Sanders in the primary. He brought the house to its feet with his declaration that "Illinois will never become a right to work (for less) state" and when he vowed to continue the fight against the policies of Chicago's current Mayor Rahm Emanuel who he described as a "champion of the rich and an opponent of the needs of this city's working people and poor people."
Garcia noted in his remarks that more work has to be done to bring minorities and their communities into the coalitions that were involved in the Sanders campaign. "Eventually, more and more Latinos and African Americans responded, especially when the Sanders campaign did more outreach, but this is an important goal for all our movements in the future," he said.
John Nichols, the well known pro-labor columnist for The Nation, brought the crowd to its feet when he said, "In addition to the economic struggle, given the horrific killing of 49 of our gay brothers and sisters in Orlando, we must double down and add to the economic struggle in these elections the struggle against hate. This election is about more than just economics. We cannot permit the election of Donald Trump, the hater," he said to the cheers of the crowd.
Nichols made a pitch for thinking big rather than small when it comes to the issues. "And we can't give up," he said. "Eugene V. Debs ran as a socialist for the presidency in 1900 and again in 1904, and in 1908, and in 1912 and in 1920. And he never won……… But by the 1930's you saw much of his platform in the campaign waged by Roosevelt, and he was elected and we got the New Deal which incorporated some of those big things the socialist candidate had pushed for."
John Bachtell, chair of the CPUSA, attended the conference. He noted that a gathering of thousands committed to build an ongoing progressive movement is a "positive development that we want to see," but added that, "there is no contradiction between building this movement and seeing to it that Clinton defeats Trump in a landslide. A victory for the Republicans would only make all the goals of the groups gathered here much more difficult to achieve. We need to build the movements, but in the immediate period, we must make sure Trump is defeated in a landslide."
Photo: Sheilah Garland-Olaniran/Facebook