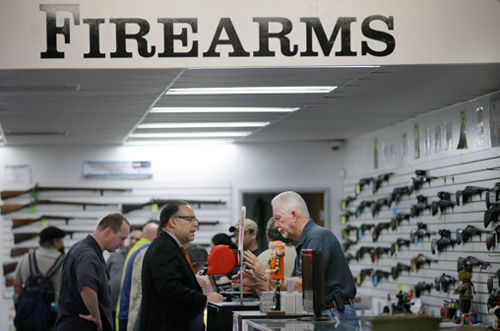 As of December 14 it has been three years since the Sandy Hook mass shooting shook the country. On that day, in 2012, Adam Lanza, armed with semiautomatic weapons and multiple rounds of ammunition, shot through Sandy Hook Elementary school in Newton, Connecticut, and ultimately took the lives of six staff members, his mother, himself, and 20 children.
When the mass shooting occurred, the White House assembled a task force and introduced an ambitious set of proposals designed to decrease gun violence. These proposals touched on four key fields: law enforcement, the availability of dangerous firearms and ammunition, school safety and mental health. President Obama recommended requiring criminal background checks for all gun sales; reinstating the assault weapons ban; restoring a 10-round limit on ammunition magazines; eliminating armor-piercing bullets; providing mental health services in schools; allocating funds to hire more police officers; and instituting a federal gun trafficking statute, along with other polices.
Yet, since those proposals were put forth shortly after Sandy Hook, Congress has only passed one piece of gun control legislation — to renew an expiring ban on plastic firearms that can evade airport detection machines. Despite this, states are doing what Congress is refusing to: as many as 39 states have passed at least 117 new pieces of legislation that make gun laws more strict, according to the Law Center to Prevent Gun Violence.
In recent weeks there have been two mass shootings that have put the debate of gun regulation back on the forefront. The San Bernardino California shooting, in which Syed Rizwan Farook and Tashfeen Malik killed 14 co-workers and injured 21, and the attack on the Planned Parenthood clinic in Colorado by Robert Lewis Dear, where three people died and nine others were wounded, have renewed the spark of the debate.
The families of the Sandy Hook tragedy recently wrote an op-ed in USA Today in which they stated, "Comparisons to past massacres are now automatic when news breaks of the latest mass shooting: How many more dead? How many weeks or months has it been since a shooting with a higher body count?… [O]ur country continues to prove itself incapable of keeping deadly weapons out of the wrong hands…" NBC News reported that since Sandy Hook at least 555 children under the age of 12 have been shot to death, which would add up to a child dying at the hands of gun violence every other day. A recent study compiled by the United Nations stated that the United States has more gun related homicides than any other developed country.
People's World recently went out and asked people if they were for stricter gun regulation and why or why not. Watch the video to see what some of them had to say.
Photo: In this Dec. 9 photo, a sales associate shows a pistol at Bullseye Sport gun shop in Riverside, Calif. The massacre at Sandy Hook elementary school in which a mentally disturbed young man killed 26 children and teachers galvanized calls across the nation for tighter gun controls. But in the three years since, many states have moved in the opposite direction, embracing the National Rifle Association's response that more "good guys with guns" are what's needed. Jae C. Hong | AP