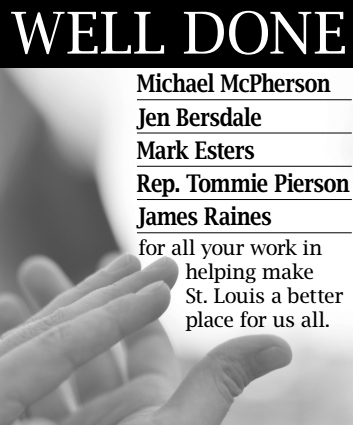 ST. LOUIS –  On Saturday, May 2, the Missouri/Kansas Friends of the People's World hosted the 23rd Annual Hershel Walker 'Peace and Justice' Awards breakfast to recognize outstanding leaders and activists, and their work towards creating a more just and equitable society.
A diverse crowd of 120 union, community, peace and faith leaders joined together at 9:30 a.m., at the Communication Workers of America, Local 6300, union hall for a morning filled with conversations and solidarity. Walking through the entrance one couldn't help but notice how animated and invigorated the crowd was.
"This is an awards ceremony for activists," said Nicholas James, a Service Employees International Union collective bargaining rep. "This is amazing. Usually, only famous people get awards. That we take the time to recognize the everyday, ordinary people struggling to change our world is what makes this Awards Breakfast so special."
At 10:00 am, Holly Roe, a community activist and CWA Local 6355 shop steward, welcomed everyone. She gave special thanks to Rebecca Bolte for making the breakfast program booklets; Missouri State Reps. Tommie Pierson, Karla May and Sharon Pace; and the granddaughters of Hershel Walker, Ms. Evette Shannon and Ms. Trina Albright, who brought photos, newspaper clippings and other memorabilia related to Hershel Walker's life as a Communist Party, union and community activist.
"I love the spirit in this room," asserted Rev. Scott Marks, founder of the Connecticut Center for a New Economy and New Haven Rising, as he took the stage to deliver the keynote address amid applause.
"I am truly honored and excited to be here today. This is such a great, diverse crowd. We're all here, leaders from community, union and faith organizations. Give yourselves a round of applause." He continued, "This is what America truly looks like."
Speaking on a wide range of topics, from community organizing to the recent tragedy in Baltimore, recounting the civil rights movement of the past, and drawing lessons from history to strengthen the current fight for social justice, Rev. Marks shared years of wisdom and experience with the eager and captivated audience.
"Now this is the type of speech that everyone needs to hear," commented Brittany Scott, a fast food worker and member of the local "Fight for $15 and a Union" campaign.
"We have come too far to stop now," Marks continued, "and when you see young people get out into the streets remember that they do so because they have to. It has been 47 years since we've seen this type of activism. Baltimore and Ferguson – we cannot let these injustices continue."
Rev. Marks closing remarks came as the room rose chanting energized by this radical preacher's spirit and the fights yet to be won.
At 11:15 a.m. Roe took to the stage and began the awards presentation ceremony.
Receiving the 2015 Hershel Walker 'Peace and Justice' Awards were:
– Michael McPherson, co-chair of the Ferguson Don't Shoot Coalition, and Executive Director of Veterans for Peace
– Jen Bersdale, executive director, Missouri Health Care for All
– Mark Esters, president, Coalition of Black Trade Unionists St. Louis Chapter, and CWA 6355-Missouri State Workers Union lead organizer.
– Rep. Tommie Pierson (D-69), pastor at Greater Saint Marks Church (in Ferguson), and retired United Auto Workers Union member.
– James Raines (posthumously), CWA 6355-Missouri State Workers Union organizer, and Peoples' World staff reporter.
In a beautiful moment of remembrance, Mark Esters, recounted the amazing life and work of James Raines. A tireless advocate for the working class and a gifted people's reporter, James touched the lives of thousands through his impressive career fighting for a better world. Esters presented his family with the 'Peace and Justice' award as well as a Missouri House Resolution submitted by State Rep. Clem Smith honouring Raines' life, work, and dedication to public service. James is survived by his wife, Wendy, daughter, Emmaline; and parents, Jim and Sue.
As this year's breakfast came to a close, Rasheen Aldridge, director of Young Activists United-St. Louis and the youngest member of the Ferguson Commission, delivered the closing remarks.
He thanked everyone for attending and said, "In order to win we must become stronger. We have to support each other. We have to build a powerful labor-community based movement for change."
As friends said their farewells, it was easy to see written on each of their faces the powerful movement chant: "United we stand, divided we fall."
Members of the Service Employees International Union, local 1 and Health Care, the St. Louis chapter of the Coalition of Black Trade Unionists, the St. Louis Organizing Committee for "$15 and a Union," Missouri Health Care for All, Jobs with Justice, the International Union of Operating Engineers, local 148, the Communication Workers' Union of America locals 6300 and 6355, the St. Louis Workers' Education Society, the Laborers' Local 110, Missourians for Alternative to the Death Penalty, Young Activists United-St. Louis, among many others attended the Awards Breakfast.
In all, over $8,000 was raised for the People's World.
Photo: PW