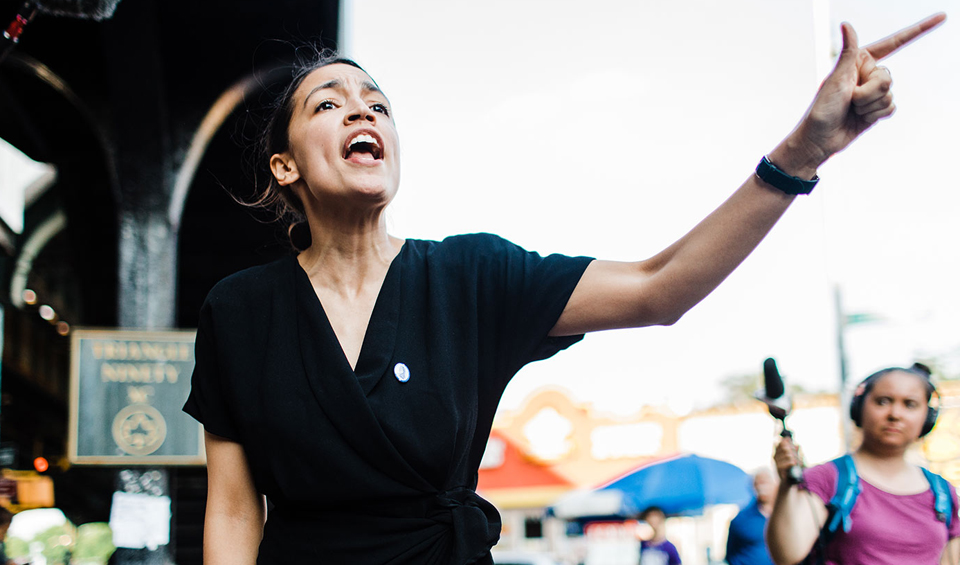 NEW YORK—On Tuesday's Democratic primary election for New York's 14th Congressional District, Alexandria Ocasio-Cortez accomplished a nearly impossible task: She defeated her heavily overfunded incumbent opponent. With practically all votes counted, the bartender-turned-socialist-candidate trounced high ranking, ten-term incumbent and Queens Democratic Party Chair Rep. Joseph Crowley 58 percent to 42 percent, even though he outspent her more than 10 to 1.
"This race is about people versus money," she boldly proclaimed. "We've got people, they've got money."
Bronx-born and the daughter of Puerto Rican parents—her mother was born on the island, her father in the South Bronx—28-year-old Ocasio-Cortez began her campaign with the statement, "Women like me aren't supposed to run for office." Throughout the primary, she artfully mixed democratic demands for national and working class representation with a constant trumpeting of her democratic socialist platform.
One slogan on her campaign literature was "Una de las nuestras" ("One of us"), a clear appeal to the district's majority Latino population. Furthermore, she repeatedly upheld her humble working class origins. Ocasio-Cortez is also an unabashed member of the Democratic Socialists of America and was an organizer for Bernie Sanders' presidential campaign, both of which helped inform her platform.
Ocasio-Cortez's victory was buoyed by a perfect storm of Crowley's lack of primary challengers, the district's demographics, her platform, and an incredible ground game. Since it was his first primary challenge since 2004, some analysts likened this election to a boxing match of a fighter who had not entered the ring for a very long time.
At this point, the 14th District—which spans from the southeastern and eastern portion of the Bronx to part of north-central Queens—is half Latino, 16 percent Asian, and 12 percent Black, but only 18 percent white, making it thoroughly ripe for nationally oppressed representation.
Her platform—including Medicare for All, housing as a human right, federal jobs guarantees for the unemployed, gun control and criminal rights reform, free college tuition, campaign finance reform, and the abolition of ICE—was well-received by primary day voters. She presented voters with a visionary program for change rather than another defensive campaign aimed at holding the line. Indeed, her campaign ads and literature did not mention Trump.
As for her brand of socialism, Ocasio-Cortez says it is all about "democratic participation" and "economic, social, and racial dignity."
"To me," she explained in a recent interview, socialism "is about direct representation and people actually having power and stake over their economic and social wellness…it means guarantee[ing] a basic level of dignity."
Her strong messaging was matched by an overwhelming ground game. Virtually every cell phone and house phone in the district was called, thousands of doors were knocked on, and multitudes of subway riders were greeted by campaign workers and the candidate herself. In the last weeks and days of the race, endorsements and hundreds of volunteers poured in. Crowley was a virtual no-show in the Bronx, and an actual no-show at debates.
The district is ranked by the Cook Political Report as D+29, meaning it votes 29 percent more Democratic than the country as a whole. Thus, Ocasio-Cortez is practically guaranteed victory in November, which will make her the youngest woman and the youngest Latina to ever be elected to the U.S. House of Representatives.
Unseating Crowley also has made her an instant national media star, with interviews on CBS, CNN, several MSNBC programs, and coverage in The New York Times, Washington Post, Time, and the like. Insurgent candidates will learn from her incredible ability to succinctly answer interview questions in only 15 to 20 seconds, a fact duly noted by Mika Brzezinski on MSNBC's "Morning Joe" the day following the election.
Ocasio-Cortez was endorsed by a range of progressive organizations, including Black Lives Matter, Brand New Congress, Democracy for America, MoveOn, Our Revolution, and Justice Democrats. She credits the latter organization with a convincing push for her to become a candidate soon after she returned from protesting the Dakota Access Pipeline near the Standing Rock Indian Reservation in North Dakota.
Her victory earned applause from Bernie Sanders, who said: "She took on the entire local Democratic establishment in her district and won a very strong victory. She demonstrated once again what progressive grassroots politics can do."
To his credit, Crowley was endorsed by a slew of elected officials and trade unions as well as liberal and progressive organizations such as Moms Demand Action for Gun Sense in America, NARAL, Planned Parenthood, the Sierra Club, and the Working Families Party of New York. However, as the years have worn on, his increase in funding from Wall Street sources has coincided with a decidedly centrist voting record, and the district has become more advanced than he.
He also had the backing of the New York State AFL-CIO, whose president Mario Cilento had praised what he called Crowley's "proven record of standing up for the middle class." Ocasio-Cortez, however, claimed she was the real "labor candidate" in the race.
Ocasio-Cortez's win is being seen by many as a milestone in terms of the progressive left's advance in the Democratic Party and a success of inside-outside organizing. Speaking to supporters after the poll results were announced, she said, "This is the beginning, because the message that we sent the world tonight is that it's not OK to put donors before your community."
She continued: "You have given this country hope, you have given this country proof that when you knock on your neighbor's door, when you come to them with love, when you let them know that no matter your stance, you are there for them—we can make change."