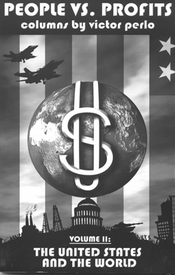 NEW YORK — "People vs. Profits, Volume II: The United States and the World," a collection of columns by Communist economist Victor Perlo (1912-1999), won a Notable Mention in the reference category of the 2007 Eric Hoffer Awards for short prose and independent books.
The columns, originally published in the People's Weekly World and its predecessor newspapers, describe practices of U.S. corporations and government, including profit motives behind wars, free trade agreements and U.S. diplomatic measures.
Ellen Perlo, Victor's widow, told the World that she is glad the book was honored because she wants more people to read it. "If we could get more people to read it, they would understand what is happening, why, and that there are things they can do about it," she said.
"I think that Vic's peculiar, profound insight on what was happening and what was going to happen — and the sources behind it — were very important. Times have shown that he had amazing foresight."
The Eric Hoffer Award was started in honor of Hoffer, the well known longshoreman-cum-philosopher, to "to honor freethinking writers and independent books of exceptional merit," according to the award committee's mission statement.
"The commercial environment for today's writers has all but crushed the circulation of ideas," the statement continues. "Many of the top literary prizes will not even consider independent books or previously unpublished prose, choosing instead to become the marketing arms of large presses."
Ellen Perlo said, "We read many things that analyze what's happening, but in each of Vic's columns, he not only analyzed and explained, but he gave a solution. That's something you don't get much."
The book is available from International Publishers by phone at (212) 366-9816 or by e-mail at service@intpubnyc.com.
dmargolis @pww.org