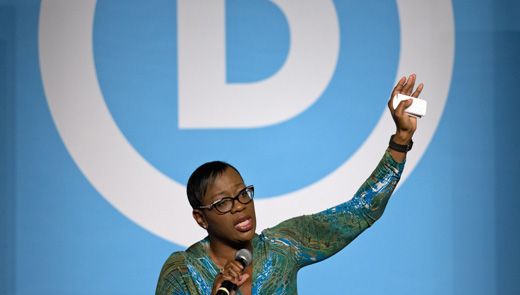 This article is part of a series on the Democratic National Convention.
Former Bernie Sanders organizer, Jackrabbit Pollack, opened "The People's Convention" last Saturday to a crowd of enthusiastic activists at the historic Arch Street Friends Meeting House in downtown Philadelphia. Held two days prior to the opening of the 2016 Democratic National Convention, the event was "an attempt to reclaim our democracy," according to its convention program.
The immediate business at hand, as explained by Pollack, was approval of a "People's Platform," but Pollack also stated that the day was structured to accomplish several other important, interactive goals, namely to help build relationships and to strategize about the future of the movement.
"So many people I talk to have the mistaken idea that electoral politics aren't important," Pollack said. "To the contrary, direct action must be combined with electoral politics to bring about real change." To that end, Pollack implored the participants, "I'm begging you. Do not drop out after the election."
The People's Platform was comprised of five planks: Creating Real Democracy; Racial Justice; Climate Justice; Economic Justice; and Healthcare is a Human Right.
The Racial Justice plank highlighted areas of "systemic inequality" and the "intersectionality of experience, oppressions, and possibilities across the platform as a whole," including in the areas of the criminal justice system, education, economic justice, voting rights access and reparations.
But as with other planks, it was explained that the platform was a living document open to input and personal experience from the day's participants. Thus, in one of the sessions someone spoke to her work getting bail for clients, emphasizing that the 8th amendment says that excessive bail shall not be imposed. Another woman spoke to an epidemic in certain parts of the country of racial profiling of Black mothers whose children are taken from them in one way or another.
A highlight of the day was the appearance of former Ohio State Sen. and Bernie Sanders surrogate, Nina Turner. Stressing the influence of the Sanders "insurgent campaign" on "the most democratic platform the DNC has ever had," and recognizing the value of the substantive work of the People's Convention, she said, "This is about endurance. This is about 2017, 18, 19 and 20. We have to stick together and not tear each other down. There is nothing we cannot do."
Like Nina Turner, Green Party candidate, Jill Stein, spoke to thunderous applause in the afternoon plenary session. And while many of those present expressed a strong sentiment for Stein, some speakers from the floor emphasized that maximum unity is required to defeat Trump in November and that a Trump presidency would represent a huge setback to building the progressive movement for people's needs.
Another pronounced tone of the People's Convention was expressed by Robert Caldwell, a CWA state employee from Texas. He told the People's World that as he sees it, the role of the left is to build a strong movement in the streets against the ultra-right in order to fight the neo-liberal agenda, including the TPP. The People's Convention, in its closing, crowded session of 800 people, echoed this sentiment by the longest, loudest cheer of the day, "Stop the TPP!"
Photo: State Sen. Nina Turner of Ohio was a featured participant at the Peoples Covention in Philadelphia last Saturday. | AP