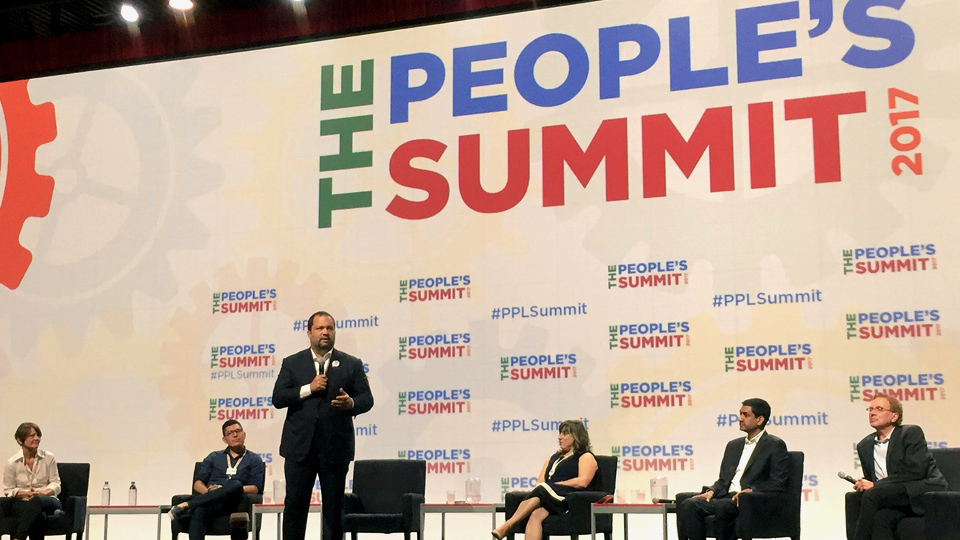 CHICAGO—On the final day of the People's Summit in here June 11 the panel Electoral Politics: Beyond Neo-Liberalism and Trumpism brought together progressive elected officials and candidates to discuss how people can "seize power in this country," as the moderator, The Nation editor, John Nichols, put it.
Long Island elementary school teacher, New York State United Teachers member, and state assembly member-elect Christine Pellegrino was on the panel as well as Carlos Ramirez Rosa, a 25-year-old activist with the Illinois Coalition for Immigrant and Refugee Rights. Rosa serves on Chicago's City Council.
The panel also included California congressional candidate Dotty Nygard, a nurse who brought National Nurses United into her hospital; the anti-war California Rep. Ro Khanna; and the former president of the NAACP, Ben Jealous, who is running for governor of Maryland.
A Bernie Sanders delegate at the 2016 Democratic National Convention, Pellegrino won Long Island's 9th Assembly District, which, as Nichols reminded the audience, had "voted by 23 points for Donald Trump and that had never in modern times elected a Democrat."
"Much less a women," added Pellegrino.
On the Saturday afternoon panel Beyond Betsy: Organizing for Education Justice, Pellegrino said seeing her two daughters overworked by the corporate testing model was "really the impetus for why I ran," promising to advocate for kids, teachers, and labor "in a way that has never really happened before." Issues of privatization, retaliation against teachers who speak out, a looming teacher shortage in New York, and a drive toward automating the teaching profession, all driven by "billionaires that have their hand in our education funding," are also problems Pellegrino seeks to combat.
Carlos Ramirez Rosa "was just a 24-year-old community organizer," a queer Latinx and "the son of working-class immigrants," when he was encouraged to run by fellow activists. Reclaim Chicago, a group of working people volunteering for his campaign, were instrumental in his election.
"I am fighting to make Chicago a truly sanctuary city, that no one is being deported by our police," Ramirez Rosa said. "I'm only going to accomplish that because of the power that undocumented Chicagoans are building." Comparing the people to water –"We're life," he said – who struggle to break through the dam of capitalism that holds their power back, Ramirez Rosa said, "My job is to enter that system through the cracks, not to prop up the dam, but to report back to the drops of water."
Once in office, Ramirez Rosa started United Neighbors of the 35th Ward, 109 people that keep the pressure on to end racist policing, to save our planet, to fight against austerity, to tax the rich, and to fight for affordable housing. "Going against mayor 1% (Democratic Mayor Rahm Emanuel) is scary," he said "but I sleep good at night because I know that I got people behind me … and they're organized to make sure that I never forget that."
Nurse's advocacy "does not stop at the bedside," said National Nurses United rank-and-filer Dotty Nygard. "We advocate for so much more." Nygard is an emergency room nurse at Sutter Health in Sacramento, Calif. She noted that nurses see how "social issues, environmental issues, economic issues" all impact patients. "Their health, their well being is influenced by all of these components that do bombard them," said Nygard.
"We have a horrible homelessness problem. We need to make sure healthcare is a right for everyone. We need to make sure that we can have access to clean water, clean air, a robust job opportunity" and "good living wages." Nygard said "the only way to get there is … to remove big money out of politics" and through "a transparent elections process."
Nichols introduced Ro Khanna as the Democrat who said "if you're not for single-payer you're not a Democrat." He also pointed out Ro Khanna was the first anti-Iraq War Democrat to defeat a pro-Iraq War incumbent.
"My grandfather had spent four years in jail during Gandhi's independence movement in the 1940's and I thought we needed a more just foreign policy," said Ro Khanna, explaining his motivations to run for office. Ro Khanna has opposed not just the war in Iraq, but U.S. interventions in Libya, Syria, Yemen, "and to our policy of regime change in Ukraine." He believes we need "a progressive foreign policy vision, not just because it's the right thing for our country, but it's the right thing for people around the world."
Ro Khanna's district is Pakistani-American, Indian-American, Chinese-American, Latino-American, and African-American, as well as white. "It's beautiful," he said. "That's the future of America."
Ben Jealous addressed the audience by opening with a discussion of his personal history and it's connection to the fight against racism.
"My father's family has lived in the northern mountains of New Hampshire for generations," while "my mom's family is from Virginia," he said. "Tomorrow is the 50th anniversary of Loving versus Virginia, and they're marriage 50 years ago was against the law." Loving Day, celebrated on June 12 each year.
During the primary race, Jealous worked "to back the candidate who could beat Donald Trump," introducing Sanders to audiences all over the country. He related the story of visiting the Ozarks, where "backstage," he recalled, "I pop my head out, and the greatest diversity I see in the room is that 20 percent of the men in the room are in deer hunting camouflage."
After introducing Sanders Bernie, Jealous said he listened to the cheers go up as the candidate said, "We will win the Fight for $15," and "healthcare for all!" but as it got "to that place where Bernie would call for the police to stop killing unarmed Black men and women," Jealous' anxiety grew. "If it were any more tepid in the Ozarks" during the "dead sprint across this country trying to make sure Bernie won, I knew I would be a little off in a way you can't afford to be."
But when Bernie made the call "the cheers were just as loud in the Ozarks to stop the killing of unarmed civilians by the police as they were in Chicago, as they were in Detroit."
"If you spend half an hour talking to folks about their needs and how you're going to address them … when you ask them to be an ally to somebody else, they're ready to do it," Jealous told the audience. "You know, the Democratic Party is good at this thing called identity politics," but "when it gets to working class white men we haven't had much to say … since we brought Wall Street into our Party."
"Unlikely voters are always the poorest voters in our cities, in our community," Jealous noted, and the voters in west Baltimore were "waiting for the same conversation that the brothers in the Ozarks were waiting for. "How are we going to bring jobs back? How are we going to make things again? How are we going to make it possible for our kids to go to school?' "
"We do that, and we will win," Jealous said.
"You think you can do that in Maryland?" asked Nichols.
Jealous ran down the numbers. "Maryland – Bernie won 36 percent of the vote. This will be a three to eight way race. All I got to do is get to 40 percent, and we've won the primary." In "a state that's 2-1 Democrats to Republicans if we give folks a reason to turnout … there's no way that in 2019, Maryland has a Republican governor."
"This is not about me becoming governor. This is about making it possible for our families, and our movements – the women's rights movement, the civil rights movement, the labor movement, the LGBT equality movement – all of our movements being able to govern."
"Will everyone please stand up," said the moderator. "In a few years you're going to want this photo," he said after snapping a picture of the panel with a cheering crowd behind them. "Because this is a photo of the future of our politics!"