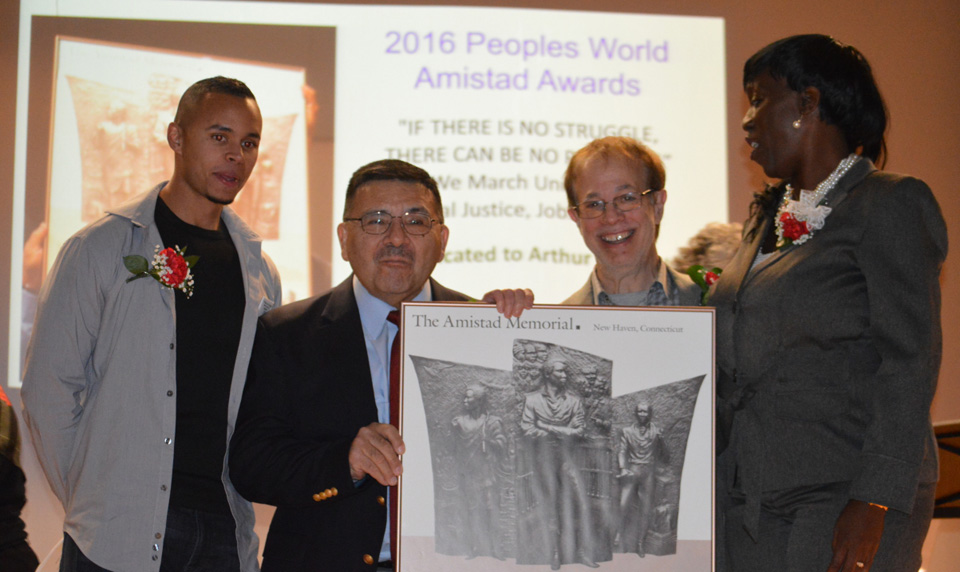 NEW HAVEN, CONN. – A large, diverse, and enthusiastic turnout of labor and community leaders and activists from around Connecticut pledged at the People's World Amistad Awards, held on Dec. 4, to resist and stand in solidarity against all Trump administration attacks on people's needs and the planet.
During the call to action, nearly everyone in the auditorium raised their hand to signify they had participated in at least one of the rallies, marches, and protests that have taken place since election day. Many had taken part in the national Fight for $15 actions in Hartford and in a rally at Yale University with hundreds of UNITE HERE union members and community supporters calling for a future with good jobs in their contract fight.
Hosted by the Connecticut People's World Committee, the Amistad Awards are presented annually to three local allies who, as a group or as individuals, personify courage, vision, and unity for a better world.
Held at Wexler-Grant Community School in New Haven, this year's ceremony was dedicated to the legacy of labor leader Art Perry who helped develop the Amistad Awards and was himself a recipient in 2009. Art's son, Joshua Perry, expressed appreciation on behalf of the family. This year's theme, "If there is no struggle, there can be no progress," was taken from one of Art's favorite Frederick Douglass quotes.
Awardees for 2016 included: Alder Jeanette Morrison who co-led the successful effort to fund the rebuilding of the Dixwell Community House youth center located next to Wexler-Grant School; Juan Brito, Chilean author, musician, school social worker, and Hartford Federation of Teachers union member; and Dan Livingston, labor attorney and lifelong union and progressive activist.
The event opened with the civil rights song, "Woke up this morning with my mind stayed on freedom," led by Ice the Beef Youth Choir. The Neighborhood Music School Premiere Jazz Quintet, a group of talented high school musicians led by Jeff Fuller, performed a special selection in honor of each awardee.
The awards, which consist of a large, framed poster of the Amistad statue in front of New Haven City Hall, were presented by Alder Dolores Colón, a leader of UNITE HERE Local 34 at Yale. Colón was an Amistad recipient in 2003.
Morrison, vice president of the New Haven Board of Alders, was visibly moved when youth from New Elm City Dream / YCL thanked her for her leadership and for including them as decisions were made about the new youth center. It is scheduled for completion in 2018 thanks to $15.5 million in funding secured through the State of Connecticut.
As part of the labor-community majority on the Board, Morrison helped win many successes in the struggles for good jobs, youth, community safety, and bringing supports and services to neighborhoods. A member of AFSCME Local 2663, she has worked for the Department of Children and Families for 23 years and is an adjunct professor at Gateway Community College.
Brito, who was forced to leave his home country of Chile in 1973 when he opposed the Pinochet dictatorship, spoke of the need for a large organizing effort to move and educate those who voted for Trump, saying that "liars can't play with the poor."
In 1975, he participated in the Chile solidarity movement in Hartford and, with his wife Rebecca, performed songs at many events. In 1988, he represented the Hartford Federation of Teachers as an international observer for the plebiscite that finally ended Pinochet's dictatorship. In accepting the award, he thanked everyone who supported his educational and political campaigns.
Livingston spoke of clarity, peril, and solidarity in response to Trump and the current political crisis. He emphasized the need to acknowledge and overcome "the contradiction of exclusion being used to divide us and weaken our ability to address the contradiction of unchecked corporate power." He called for "defending each other when we are attacked, and working with each other to move forward," concluding, "it will not be easy. But with clarity of vision, with recognition of the peril we face, and with true solidarity, we will come out stronger together."
Livingston represents many public and private sector unions and state workers. He helped secure groundbreaking pension and healthcare benefits for domestic partners before same-sex marriage was won. He works with many coalitions of community and progressive organizations fighting for social justice.
In the middle of the afternoon program, Kit Salazar-Smith called on her co-emcee Lisa Bergmann who announced that the Army Corps of Engineers had just determined that the Dakota Access Pipe Line would have to be re-routed away from Standing Rock Sioux land. The audience erupted into applause and a standing ovation.
In her call to action, Joelle Fishman, chair of the Connecticut Communist Party, led the audience in an updated version of the chant, "An injury to one is an injury to all." Special solidarity callouts were included for immigrants and Muslims targeted by Trump's rhetoric, the Native American activists fighting at Standing Rock, "young African American and Latino sisters and brothers," women, seniors, and union members.
Presented on the occasion of the 97th anniversary of the CPUSA, the 2016 Amistad Awards were dedicated to building solidarity against the politics of hate, bigotry, and division. They were meant to showcase the possibility of winning victories along the road toward a more sustainable, equal, and peaceful future.
Fishman asked everyone to join hands and pledge to be "the firewall of resistance" against the Trump agenda. "In the spirit of Art Perry," Fishman said, "we will organize, organize, organize for a future of people and nature before profits."
Attendees concluded the event by filling out postcards calling on Connecticut elected officials to act against the heightened bigotry and bullying that have appeared since the election, and also to support raising the minimum wage in Connecticut to $15 an hour, a campaign Art Perry had helped lead.