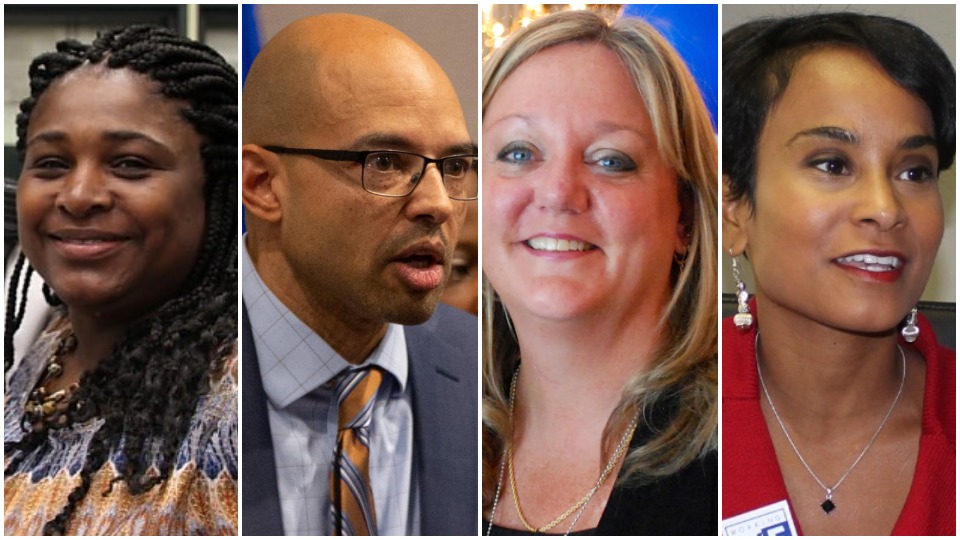 NEW HAVEN, Conn.—From the moment the dramatic African drumming and slide show of the marches, rallies, car caravans, strikes, and election campaigns began, it was certain this would be an extraordinary and uplifting People's World Amistad Awards program.
Transformed from a large in-person statewide annual event into a virtual concert and awards, the program, "United for the World We Want—Celebrating Resilience, Solidarity, and Vision," was held "in tribute to essential workers and all workers regardless of immigration status during the pandemic, the rise of the movement for Black lives, and the voter upsurge for democratic rights."
The four awardees, each reflecting consistent and powerful organizing for worker rights, equality, and social justice, inspired participants with their live remarks as they received the large framed Amistad poster. The famed BODOMA Garifuna Culture Band, meanwhile, kept the spirit going with musical entertainment
Barbara Vereen, Unite Here staff director of Local 34 and the Black Leadership Group, told of her journey from witnessing a strike at the Winchester plant as a child growing up in the projects, to her first sit-down action at a nursing home with 1199, to community organizing to stop gentrification of her neighborhood, to getting a good union job at Yale and becoming a union leader while raising her three sons.
Vereen stressed her work in training new leaders. "I am part of the Unite Here Black Leadership Group," said Vereen. "Not only are people who look like me in the room, but we are bringing more Black people in our union into leadership because our lives matter. We want to move people forward, we want equity in this country."
Vereen received the award from two former awardees, Ken Suzuki and, by video, Rev. Scott Marks, speaking from the front lines in Georgia where he is leading a large team of Unite Here members. They are informing voters of their rights in the runoff election that will determine control of the U.S. Senate.
"My car is already packed," Vereen said in conclusion. "From here I am driving down to Georgia to campaign for the two U.S. Senate seats and finish the victory of defeating Trump." She called upon participants to make calls to Georgia as she knocks on doors.
Rob Baril, president of SEIU District 1199 New England, received his award from State Rep. Robyn Porter, a former awardee also speaking by video from Georgia as part of the Unite Here team. Baril described 2020 both as an awful year from the pandemic to police killings to the economy, and also as the best of years, from the movements in response to the killings of Black lives, to the 80 million voters who rejected hate and embraced hope in the presidential election.
"Movements have to be born of hope," he said. "I find that hope in the work of our members in home care, in group homes, nursing homes, hospitals who give from their heart every single day."
Even as 20 of his union members and 20 family members died from COVID-19, yet "housekeepers, direct care workers, nurses, doctors, labeled as essential but treated as expendable, continue to make sure patients get the best care and make sure bosses understand they want nothing less than protections and make sure elected officials understand that Black and brown lives matter and that all health care workers lives matter."
"Those are the seeds that will blossom into the flower of the movement that can change our state, change our country and change the world," said Baril.
Jan Hochadel, president of AFT Connecticut and executive vice president of the Connecticut AFL-CIO, received the Award from former awardee Shellye Davis, who serves with her on the AFT executive board. Davis said, "Jan offered leadership with grace under fire" and "fearlessness and courage" during the pandemic.
Hochadel shared the extreme challenges that her union, which represents educators, health care workers, and public workers has confronted during the pandemic, including a successful strike at Backus Hospital for protective gear and worker safety.
"We are fighting the good fight because we have amazing members," said Hochadel. "This pandemic has made our national crises of health, the economy, and inequities impossible to ignore.
"We can't go back to taking health care workers for granted. We must have a health care system that removes profits and is based on the needs of the community, not shareholders," she said, continuing, "We can't go back to austerity. How about a progressive tax structure so the lowest paid workers are not bearing the burden of keeping the economy going?
"The way things used to be are not good enough," said Hochadel, citing institutional racism in voting and all aspects of life, and calling on participants to "be part of a social movement that refuses that normal and demands change and justice. We can win that fight," she concluded.
Hartford Councilwoman Wildaliz Bermudez, Working Families Party, received the Amistad Award from State Rep. Edwin Vargas, a former awardee who knew Bermudez since she was a little girl when she and her siblings were defendants in the landmark Sheff v O'Neill lawsuit to desegregate Hartford public schools.
Bermudez spoke of life lessons. She began by telling of her father who came to Hartford from Puerto Rico as a young man with nothing. She recalled as a six-year-old testifying on the need for bilingual education and more school resources, which showed her the power of her voice. She learned to stand up to adversity while working on policy at Hartford City Hall after college and realizing that as a woman of color she was receiving half the salary she should have gotten. Her work in the nonprofit sector for social justice taught her to organize marches and rallies. In 2015 she ran for City Council "to fight for those in our community and many who are voiceless and invisible."
Bermudez credited the work of her team with winning a fund for families facing deportation, the first such municipal fund in Connecticut. "Our most recent win this November was passing one of most progressive ordinances for a civilian police review board."
"We can change the world through our actions. Our voice matters. Our deeds matter," said Bermudez. "Be bold. Seize the moment."
A highlight of the afternoon was messages from four Communist Party members saluting the organization's 101st anniversary, the occasion on which the Amistad Awards are held. "I learned so much from the elders who are now gone and we are the elders," said Patricia Highsmith, advising the young folks to get involved and learn.
Georgina Fuentes recalled how her mother had joined the Communist Party when they responded to police abuse of her brother. "I love the equality," she said, "and now my kid is the third generation!" introducing Genesis, who shared excitement at attending their first rally to defend the vote in the presidential election.
"This is our moment," said Jaime Myers-McPhail. "We must bring forward more leaders and more solidarity and fight to take back what belongs to us, the working and oppressed people. The Communist Party helps make it possible for us to do just that."
YCL member Manuel Camacho presented a poem in English and Spanish written for the occasion, "Unity for All."
"These are revolutionary times. They are not times to give in and give up. They are good trouble times. So we refuse to go back to the way things were," said Joelle Fishman, chair of the Connecticut Communist Party USA, in the call to action.
"Be active in your union. Organize a union if you don't have one. Be active in community organizations. Be one of many who are joining the Communist Party as those who will not rest until freedom is won," she said, concluding that "the People's World Amistad Awards salutes all freedom fighters as we recommit to fight together for the world we want."
Emcees Lisa Bergmann and Ben McManus kept the program moving flawlessly and with enthusiasm. Comments in the chat on Zoom also helped create a sense of community.
BODOMA Garifuna Culture Band opened the program with one drum and dance selection and closed with a 20-minute segment from their spectacular performance at the Awards in 2014. The band is from Bronx, N.Y., and has their roots in the Garifuna community of Honduras.
The proceeds from the 86-page program book will benefit the award-winning People's World online newspaper. "Thank you, People's World, for posting over 800 stories to help win this election and dump Trump!" said Bergmann.
Click on fullscreen view option in bottom right corner to open full view.