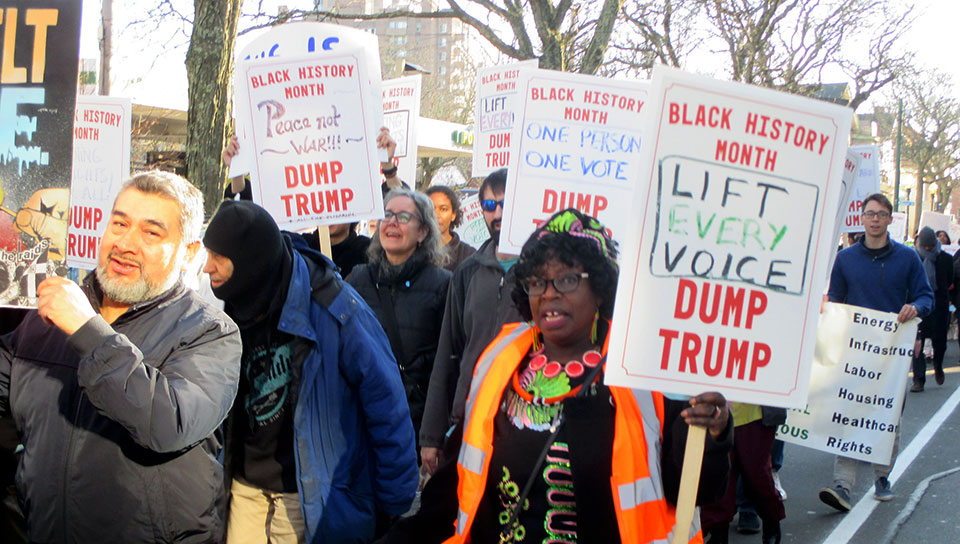 NEW HAVEN, Conn.—As the 55th anniversary of Bloody Sunday in Selma, Ala., brings the historic fight for voting rights to the fore, a movement is sweeping the country today to overcome white supremacist laws aimed at suppressing the Black vote and votes of people of color and low-income people in the 2020 elections.
"Dump Trump" was the theme of this year's Black History Month unity march and motorcade through New Haven's Dwight neighborhood on the 46th People's World African American History celebration highlighting the historic and present-day fight for voting rights of disenfranchised Black voters and voters of color.
Led by a group of youth from Ice the Beef carrying a poster of their member Tyrick Keyes, who was killed by gun violence three years ago, the multi-racial marchers included members of the Board of Alders, union members, New Haven Rising, climate justice, and peace activists.
Most walked through the streets from the People's Center to Troup School carrying signs and chanting "Dump Trump" and "Voting Rights are Worth the Fight." Those who could not walk followed the marchers in a caravan of decorated cars as neighbors came out to wave support.
Youth talent was a highlight from Kompozure's rendition of "Ol' Man River," to the presentations by students grades 8 to 12 who entered artwork and essays on the theme "Harriet Tubman and the Right to Vote." Students' posters depicted voter suppression and the fight for the democratic right to vote.
In her first-place essay, high school student Adrian Huq, imagining that Harriet Tubman would push hard against disenfranchisement, concluded, "As a young person, I can make a difference for freedom and equality this year by encouraging all my peers to get registered to vote and then show up to vote in the fall since my peers are either18 or will soon be."
In a stirring 1963 Student Nonviolent Coordinating Committee (SNCC) video, African-American youth and elders in Mississippi including Fannie Lou Hamer told the stories of how their lives were threatened, some were killed, and jobs were lost for trying to register to vote.
Brian Steinberg of Hartford told how he responded to the call for youth to come to Mississippi and assist with voter registration in 1964 after three young civil rights workers, Michael Schwerner, James Cheney, and Andrew Goodman, were murdered. Steinberg credited the strategy of SNCC director Bob Moses, featured in the video, with broadening the struggle by building coalitions and inviting young people from the North who then told their families and classmates what they saw.
"Now," he said to applause, "Mississippi has the largest number of Black elected officials in the country and radical community activist Chokwe Antar Lumumba is the mayor of Jackson."
Barbara Vereen, a leader with Unite Here Local 34, said the courage of those freedom fighters is inspiring current organizing to flip Florida from Red to Blue in 2020. Union members are already traveling to Florida to help register the 1.3 million Black men with a felony record who had been barred from their democratic right to vote. A ballot referendum and court fight have now won the fight to restore voting rights which could make the difference in Florida's close elections.
Vereen said that last fall a team of union members went to Florida to register voters and bring the new voters to the polls. She recalled several who did not think their vote would make a difference but got surprised and inspired when the turnout elected a people's candidate.
Also on the panel was a Wilbur Cross High School student who joined with her classmates and teachers to organize support for junior Mario Aguilar when he was detained by ICE for two months. She called on those who are eligible to vote to go to the polls and vote out Trump and fight to change immigration policy.
Judge Clifton Graves, professor of African-American History at Gateway Community College, startled the crowd when he said that only three students in his entire class raised their hands when asked who is registered to vote. He called for a massive registration drive before November's election.
Graves praised Steinberg for his courage as a young man going to Mississippi and recounted the story of Fannie Lou Hamer's leadership in organizing the Mississippi Freedom Democratic Party to challenge the all-white, all-male delegates to the Democratic National Convention held in Atlantic City, New Jersey, in 1964. Although their attempt to be recognized and seated as the rightful delegation did not succeed, the national spotlight on the brutality of white supremacy in Mississippi and continued organizing led to the passage of the Voting Rights Act of 1965.
Stacey Abrams, who was robbed of election for Governor in Georgia in 2018 by blatant voter suppression measures, is now leading Fair Vote, a national organization that is challenging disenfranchisement of voting rights across the country.
As Ice the Beef youth performed a rendition of "Glory," participants headed home with "Dump Trump" pledge cards and a new sense of unity and determination to uphold democratic voting rights for African Americans and all people in 2020 and beyond.