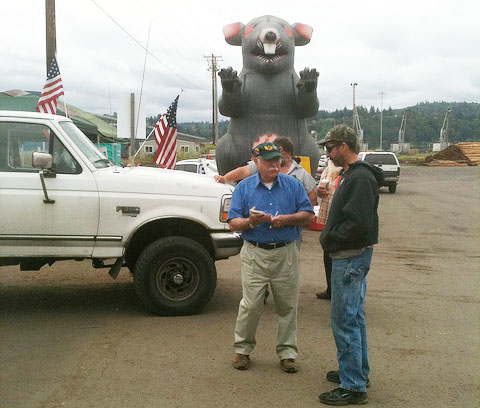 On September 9, family and friends plan to honor Baltimore's "Renaissance Man" – veteran Peoplesworld.org journalist Tim Wheeler.
The event will take place from 3:00-7:00 pm at the Knights of Columbus Hall in Northeast Baltimore. Dinner and drinks (one complimentary) will be offered, and tickets are $30.
Tim was the Washington correspondent and later editor for the Daily World and its successor, the Peoples' World, for 45 years.
During Tim's career he wrote about the most important stories of the day, from Watergate and Nixon's impeachment to the Iran-Contra scandal to issues making today's headlines. You were as likely to find Tim on the picket line or at a demonstration as you were at his office on Capitol Hill.
Tim knew instinctively that the needs and views of working people weren't reflected in the mainstream press.
He saw the need to report on those stories that would never find a place in the New York Times.
This is what defined him as a working-class journalist.
But to family and close friends, Tim is much more than a journalist and activist; he is a Renaissance Man, able to do many things well and enjoying every challenge.
Tim is a musician and singer. He would often sit on his front porch, playing the autoharp and singing folk songs. The neighborhood kids would gather around to listen. When a neighborhood boy named Gerald died tragically in a fire, Tim wrote a touching poem celebrating the boy's life.
Many a living room in Baltimore is adorned by one of Tim's pastels, which he would give away or have auctioned at a fundraiser for his favorite newspaper.
Long family road trips across the country gave Tim all the landscapes any painter could desire.
Unlike some "artistic types," Tim is more than adequate with a power saw, hammer, or electric drill, doing much of his own repair work around the house, always with a project when time allowed.
At a birthday party at his Northeast Baltimore Home, the whole neighborhood joined Joyce and the family out on the back porch for hot barbeque and a cold beer or soda. One of the treats was a slice of Tim's made-from-scratch peach or rhubarb pies.
Though gentle by nature (often deferring to Joyce when it came time to discipline his sons and daughter), Tim wasn't afraid of confrontation.
One day two tall FBI agents came to the house, banging on the door, trying to intimidate the family.
Tim pulled up a chair, jumped up on it and gave the agents what for until they left with their tail between their legs.
Proceeds from the Sept. 9 Tribute event will benefit the Peoples' World. This event will be a worthy and overdue tribute to a man who has dedicated his life to the struggle for peace, jobs, and civil and workers rights.
Tickets for the event will be available through Sept. 2. Ads in the Tribute book are still being accepted through Aug. 20. Information on Facebook can be found at http://www.facebook.com/TimWheelerTribute and how to purchase tickets on Tim Wheeler Tribute Dinner event page. For more information, please call 410-433-3269 or email mbaldridge@verizon.net, Wheeler Tribute in the subject line.
Photo: Tim Wheeler interviews a longshore worker on the Longview, Wash., picket line July 25, 2011. (PW/Teresa Albano)