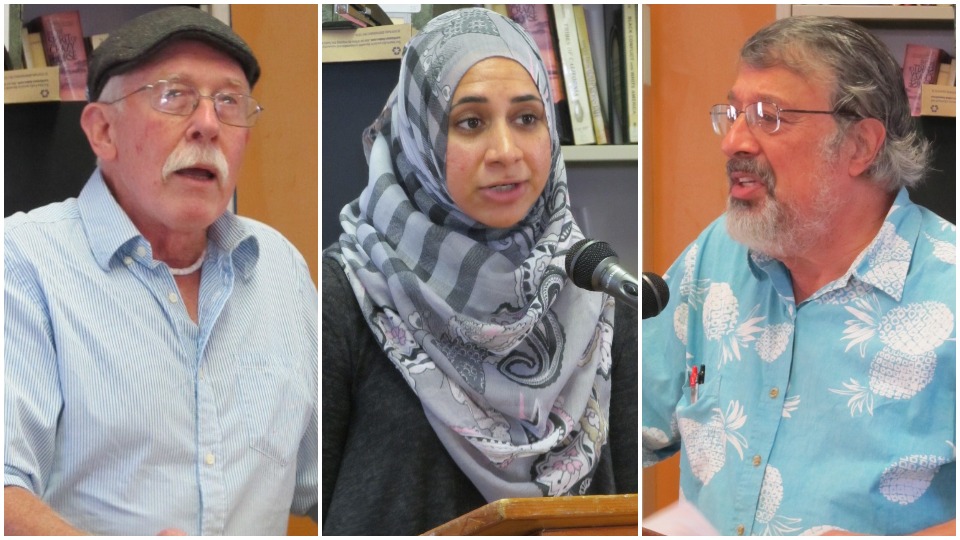 OAKLAND, Calif.—Sanctuary for All Californians was the theme as People's World/Mundo Popular supporters gathered at the Niebyl-Proctor Marxist Library here July 4, demanding "No Ban, No Wall, No Mass Incarceration."
The keynote speakers—photojournalist David Bacon; Zahra Billoo, executive director, Council on American-Islamic Relations-San Francisco Bay Area; and Leo Mercer and Zay Coleman from the Oakland-based Urban Peace Movement—shared insights about urgent issues in today's struggles for human rights, democracy, and social and economic justice.
Juan López, speaking for the People's World/Mundo Popular, warned of the grave danger to democracy posed by the policies and actions of Donald Trump and his Republican allies, and called on all present to engage fully in the 2018 and 2020 elections.
Bacon focused on the problems faced by migrants attempting to come here from Central America and the conditions underlying that harrowing journey.
The current migration from Central America began with the civil wars of the 1970s, and the ways the U.S. was relating to the region, Bacon said. "Our taxes didn't just pay for war and maquiladoras—this whole thing evolved into an even larger strategy of encouraging foreign investment through privatizing state utilities, services, and assets, and then negotiating free trade agreements in Mexico and Central America."
Migrants are now seeking to reunite with families divided by war and previous migration, fleeing threats of violence caused by criminalization and deportations of previous migrants, and looking for economic survival.
While immigrant rights advocates and their allies demand an end to deportations, mass detentions, a militarized border, and criminalizing the undocumented, he said, it is also essential to deal with immigration's root causes, including trade agreements and economic "reforms" that force people into poverty and make migration the only way to survive.
Reminding the audience that massive pressure from the Civil Rights Movement forced Congress to pass the Civil Rights Act in 1965, as well as to end the highly repressive bracero immigrant worker program and to establish the family preference immigration system, Bacon said, "We have changed our world before, and we can do it again!"
Zahra Billoo, executive director of the Council on American-Islamic Relations, San Francisco Bay Area, recalled her growing-up years in a middle-class family that had emigrated from Pakistan, with parents who easily obtained U.S. citizenship. Sept. 11, 2001, she said, "was when we realized, as a Pakistani-American family, that we were not seen as welcome here."
When Billoo and others at CAIR examined the factors behind the continuing growth of anti-Muslim sentiment, she said, "We found 'an Islamophobia industry.' From 2009 to 2013, 33 groups spent $205 million" donated by wealthy individuals and large foundations to spread anti-Muslim hate, including training law enforcement on how to spot "terrorists, and every image they showed of a terrorist looked like me and my family."
During Trump's campaign, Billoo recalled, he urged a complete ban on Muslims entering the U.S. And in the 10 days following his election, "we saw more hate crimes targeting the Muslim community than in any other period since 2011."
She called attention to the current administration's targeting of others as well, including people of color, women, the undocumented, and the LGBTQ community. Meanwhile, the U.S. Supreme Court has just approved the third version of Trump's travel ban, and the "zero tolerance" immigration policy has led to separation of over 2,000 children from their parents at the border.
Billoo urged all present to "use today, July 4, to commit, to be courageous, to take risks and to fight alongside each other, "because we are talking about a system that won't be fixed with band-aids, it's going to take actual abolition…. We know that when we fight, we can win."
Speaking for the Urban Peace Movement and its DetermiNation Black Men's Group, Mercer and Coleman relayed a message from UPM's program and policy campaign coordinator, Dr. Prince White, who was unable to participate. And they related the challenges they themselves face as young black men growing up in Oakland's poor working-class communities and confronting the devastating social and economic injustices youth and others in the black community experience daily.
In his message, White urged support for "the leadership of youth of color. We have to listen to them," he said, "bring them into spaces, and let them take leadership roles."
White observed that July 4th "has always been a complicated holiday for black people," adding that in his view, "the major forces shaping the world" since World War II have been white male supremacy and capitalism. Fighting against those forces is "the best thing one can do with one's life."
Calling his generation "angry and upset," Mercer said that he believes older generations haven't fully transmitted the values young people need to succeed in today's world, and "as young people, we have to move forward for all the things that have been happening in the last 300 to 400 years."
Young black men who live in the 'hood "are going to be scary, they're going to be intimidating," he told the crowd. "But you've got to build a bridge, start talking to some of us, because we have a lot of intellect that could benefit this world."
Coleman turned the audience's attention to a series of incidents in Oakland and nearby communities. "I've been seeing more and more people call the police for small things. Stop calling police on black people," he said. "Build bridges, talk to people."
Both young men called for building "unconditional" relationships of love, communication, mutual respect, and support across races and generations.
Juan López warned that the Trump administration is "out to destroy the rights our people have won since before the birth of the nation," as well as the social and economic advances of the 1930s New Deal and Congress' passage of the Voting Rights and Civil Rights Act in the 1960s.
He called for full engagement in the 2018 and 2020 election campaigns, at both national and state levels. "Already this year, the early races are showing a new crop of candidates running and winning in Congressional districts that have been controlled by Republicans," he said. "They are women, youth, smart, tenacious, multicolor, multi-generational, with different political views, all progressive.
"We are moving in a good direction, but we're at a crossroads now," López added. "One road leads to an authoritarian, anti-democratic, and even fascist regime; the other leads to the extension of democracy like we've never seen before, and a new society where we the people become masters of our own destiny."
MCs Michelle Kern and Alex Farr presented the keynote speakers with certificates from area Assemblymember Tony Thurmond, expressing appreciation for their work.
Akberet Hagos' performance of "This Land is Your Land," by the great 20th century American folk singer Woody Guthrie, had everyone helping to fill the hall with the classic ballad's soaring refrains.
Cassandra López, known affectionately in the community as "Mama Cassie," offered the Niebyl-Proctor Marxist Library as "the place for the people" to meet and hold events.
Like free stuff? So do we. Here at People's World, we believe strongly in the mission of keeping the labor and democratic movements informed so they are prepared for the struggle. But we need your help. While our content is free for readers (something we are proud of) it takes money — a lot of it — to produce and cover the stories you see in our pages. Only you, our readers and supporters, can keep us going. Only you can make sure we keep the news that matters free of paywalls and advertisements. If you enjoy reading People's World and the stories we bring you, support our work by becoming a $5 monthly sustainer today.