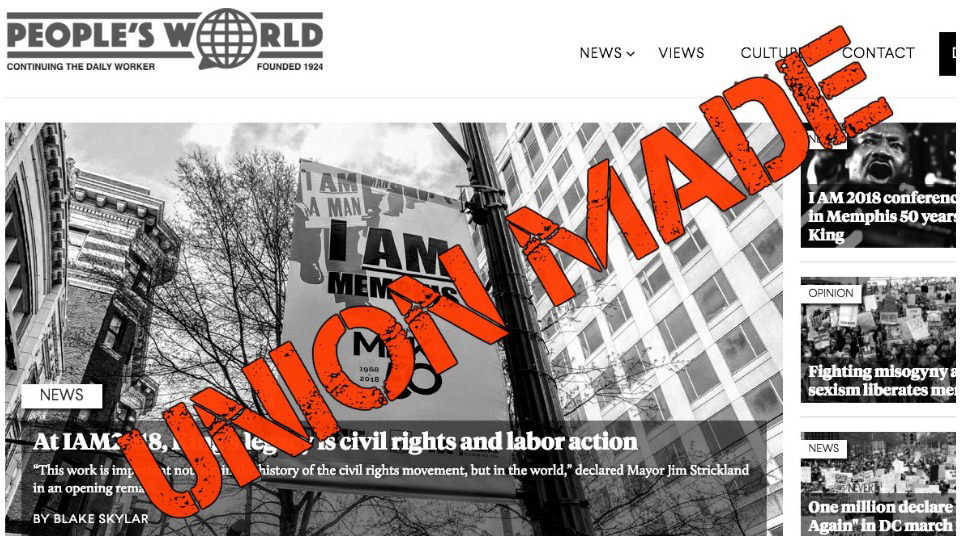 CHICAGO—After a nine-month negotiation process, the 11-member bargaining unit at People's World has voted unanimously to ratify the first union contract in the socialist publication's 94-year history. The contract commenced on March 24 and will expire on March 31, 2021.
Long View Publishing Co., the publisher of People's World, voluntarily recognized the union last year after a card check at the offices of Arise Chicago. People's World is part of an explosion in newsroom organizing that has taken place over the last two years and which has come to include the Los Angeles Times, VOX, and Vice.
"This is a very principled group," said Craig Rosenbaum, executive director and staff counsel of the Chicago News Guild. "At every turn, they demonstrated the unity and willingness to fight that any union needs to secure a great contract."
And a remarkable contract was secured. Provisions include an approximately 20 percent raise across the board with two percent cost-of-living increases each year for the duration of the contract, 13 paid holidays (including May Day), and increases in travel and telephone reimbursement costs.
"I'm a modest donor to charitable organizations and to progressive political candidates," said Eric A. Gordon, cultural writer and lead copy editor. "This raise will help me be a little more generous, especially in this crucial 2018 mid-term election cycle. Also, the increase on the per diem will allow me to eat lunch and dinner after I've paid for the breakfast special."
Michelle Zacarias, reporter and member of the negotiating committee, walked away from negotiations most proud of the fact that the whole People's World staff will be "getting what they need to sustain a healthy lifestyle" for years to come.
John Wojcik, editor-in-chief at People's World and member of Long View Publishing's negotiating committee, says he looks forward to a productive relationship with the union. "We are all committed to the goal of putting out a publication supportive of all the people's movements as they combat the terrible effects of the Trump administration on the livelihood of the American people," he said.
"This contract signals a joint commitment by the staff and management to continue producing the quality advocacy journalism that People's World—and its predecessor, the Daily Worker—have always been known for," said D.C. Bureau Chief Mark Gruenberg. "It's great to see both sides live up to the publication's principles, and truly serving the people: our readers."
Members of the People's World bargaining unit plan on maintaining a Facebook presence in order to promote their articles and keep the public informed about union business.