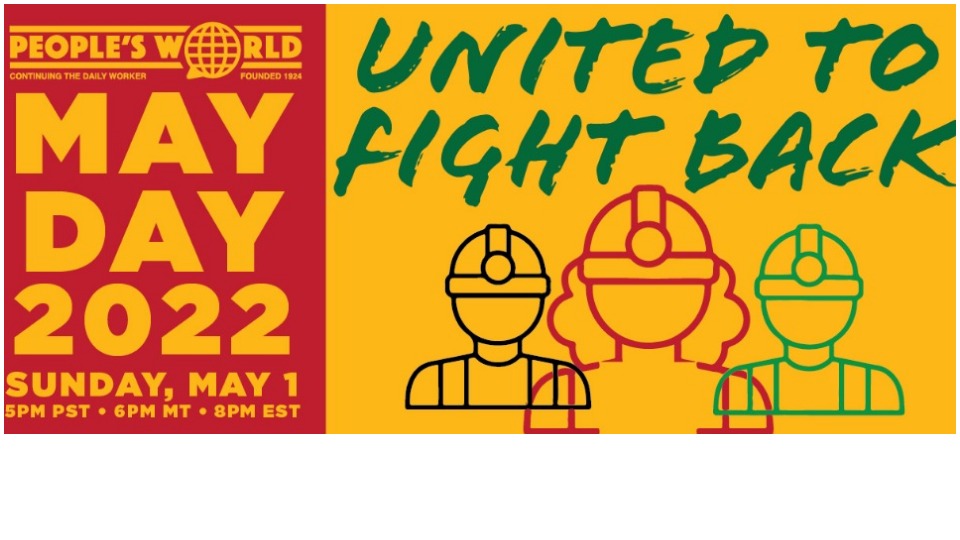 SAVE THE DATE!
MARK YOUR CALENDARS!
SET YOUR ALARMS!
Sunday, May 1st @ 5pm (PST), 7pm (CST), 8pm (EST)
Support People's World, Support Worker's Voices
Since 1924, People's World has been a voice for progressive change and socialism in the United States. By May Day, People's World must raise $75,000 to protect its future funds, without cutting back on the work of our newspaper. As a working-class institution, People's World is only able to continue its work and widen its influence because working people have dug deep into their pockets to support its mission.
That is why we're combining efforts on May 1st, in our May Day United to Fight Back event, to enjoy musical performances from across the country, cameos from workers around the world, and help meet our fundraising goal for People's World. This virtual event will be a celebration for the masses and we hope you can join us!
We hope you'll join us for this virtual celebration fund drive in honor of May Day and the People's World.
Wrap up your May Day activities with some music, trivia, and more!