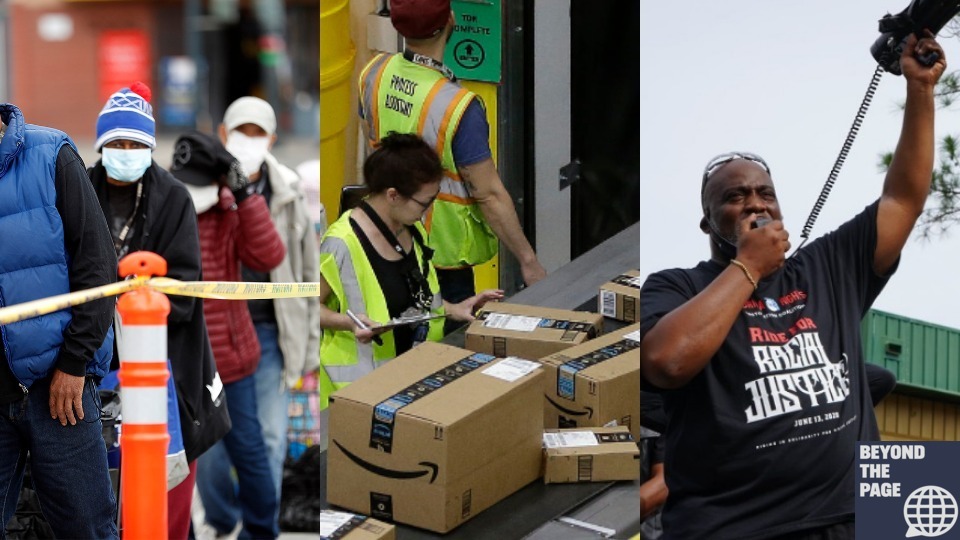 Welcome to the inaugural episode of Beyond the Page: A People's World Podcast!
Beyond the Page is a companion podcast to the award-winning publication People's World. With every episode, we'll take you deeper into the topics covered at PeoplesWorld.org. Our program brings you in-depth interviews with journalists and activists on the most pressing stories in progressive politics, labor, and the struggle for socialism in the United States.
The fast-approaching 2020 election is arguably the most important of our lifetime. Hundreds of thousands of people are already casting their ballots, and millions more will do so in the coming weeks leading up to Nov. 3. Due to this election's importance, it is imperative to grapple with what working people have to gain and lose in this election.
In the weeks leading up to November, we're diving into a variety of topics on the economy, COVID-19, organized labor, and more. This week, we speak with journalist Mark Gruenberg on the current state of the economy and economic health. Gruenberg, who wrote the piece "Latest jobs data give the lie to Trump's 'great economy'," holds back no punches when dismantling the rose-colored view of unemployment that is being pushed by those in power.
Journalist Al Neal, who co-wrote the article "Nearly 20,000 Amazon workers infected with coronavirus," explains the details on the struggle of Amazon workers to win a safe workplace. Neal dives into what it will take for true change on the job, not only at Amazon but for workers everywhere wanting safety during this global pandemic.
Finally, journalist John Bachtell, who investigated the Florida campaign that's underway to pay 'poll taxes' for the formerly incarcerated, tells us about the danger of voter suppression. Bachtell gives us a view of how activists are fighting back against the ring-wing attempt to steal the election, along with what voters need to know in order for their voices to be heard.
Listen below and make sure to tell us what you think!
You can listen directly on Spotify or iTunes.