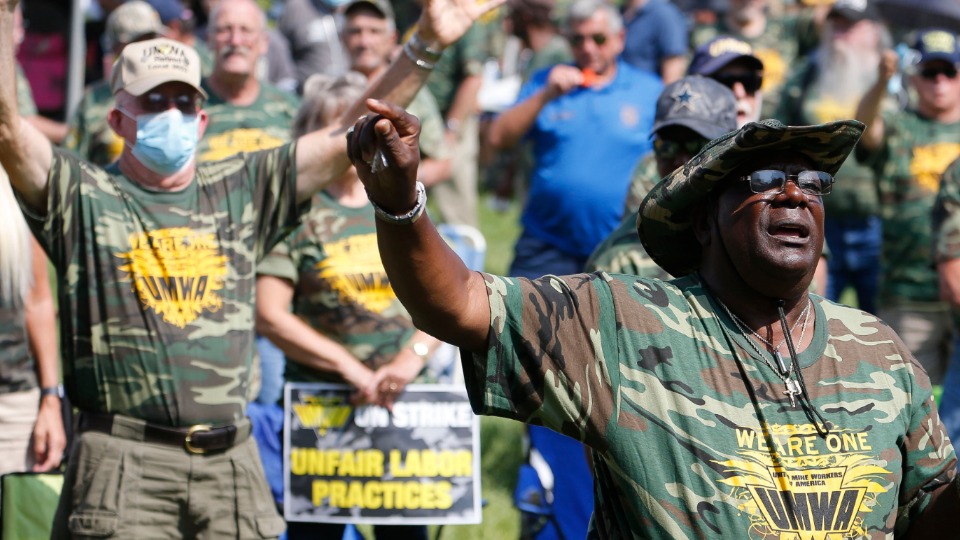 BROOKWOOD, Ala.–Forced to strike since April 1, some 1,100 United Mine Workers at Alabama's Warrior Met mine are gaining solidarity around the U.S. and abroad and new visibility in the Nation's Capital.
The national solidarity will come to the fore when People's World, the South Dakota AFL-CIO and the Coalition of Labor Union Women and other sponsors host a massive on-line event for the miners, scheduled for Feb. 22 at 8 p.m. Eastern time. Anyone wishing to participate can register here.
The sponsors also seek donations to aid the miners and their families.
TUESDAY, FEB. 22, 2022 – 8 P.M. EASTERN

Click here to make a donation that goes directly to UMWA mine workers strike fund.
Meanwhile, the Mine Workers, led by union President Cecil Roberts, have been taking their message to Warrior Met's Wall Street backers with peaceful picketing of financiers' offices there every day for months—and, now, with a Senate Budget Committee hearing scheduled for Feb. 17 at 11 a.m.
Convened by committee chair Bernie Sanders, Ind-Vt., the session takes direct aim at the financial behemoths, led by Black Rock, who finance the mine owners who forced their workers to strike. Its title: "Warrior Met And Wall Street Greed: What Corporate Raiders Are Doing To Workers And Consumers."
"We've leafletted outside Black Rock headquarters every day," telling consumers and denizens of the financial district of the misdeeds of the hedge fund and its allies, says Mine Workers Legislative Director Phil King. Now, they'll tell the whole country.
"We've been motivated to aid them since the strike began" last April 1 after the owners refused to budge from their low-ball "last and final" offer to UMWA, Kooper Caraway, president of the South Dakota AFL-CIO, said in a telephone interview.
The South Dakotans' motivation includes staging their own 72-hour phonathon fundraiser for the Warrior Met workers, several trips by Caraway to Alabama to speak at workers' rallies and plans for a supportive resolution at the state federation's upcoming legislative conference.
The South Dakotans have also been in touch with other progressive and labor groups about backing the Warrior Met workers. Those backers include Jobs With Justice, the Chicago Federation of Labor, the International Labor Communications Association, the Sioux Falls, S.D., AFL-CIO,  Operation Push and the Steelworkers' retirees.
"This is an ongoing struggle they're having," adds the News Guild's Elise Bryant, president of CLUW. "We'll activate our members who are in the Mine Workers who are nearby, to join in in solidarity."
The national AFL-CIO also strongly supports the Mine Workers at Warrior Met. Indeed, last Aug. 4, then-AFL-CIO President Richard Trumka, a former UMWA president, interrupted a family vacation nearby in Alabama to speak the Warrior Met workers. It was his last speech. He died the next morning.
That solidarity extends overseas. There have been pro-UMWA demonstrations abroad. Many occurred after hearing from the South Dakota Federation's International Solidarity Commission. Caraway noted the South African miners' union stepped up after hearing from the South Dakotans.
The senators will hear from Roberts and Warrior Met worker Braxton Wright, a member of Mine Workers Local 2368,  on Feb. 17. The financiers, last month, already heard from Sanders and Sens. Elizabeth Warren, D-Mass., and Tammy Baldwin, D-Wis. They laid out the case for settling with the Mine Workers in their January letter to Black Rock CEO Larry Fink.
"There will be no real social progress in this country unless we have the courage to take on Wall Street, the insurance companies, the drug companies, the fossil fuel industry, and all other forces of greed," Sanders said in a recent tweet.
"Workers have been on strike…in the middle of a deadly pandemic, going without wages and health insurance," the three wrote Fink. "This strike has affected workers and their families, as well as Warrior Met and its shareholders," since owners have spent $35 million and counting to try to defeat UMWA.
"It is time for the company to come to the table and bargain in good faith to adopt a new collective bargaining agreement. Given BlackRock's stake in the company and your position within BlackRock, we are asking you to do the right thing." Black Rock is Warrior Met's largest shareholder.
The lawmakers also denounced exploitative conditions at Warrior Met's mines, including 24/7 schedules except for Thanksgiving, Christmas Eve  and Christmas.
"Jeopardizing their own health and safety, the miners worked tirelessly throughout the pandemic, never shutting the mines. Yet workers can face termination for missing more than four days of work," the three noted.
Warrior Met bosses offered the workers a 50-cents-an-hour raise, spread over a multi-year contract, while forcing them to pay more for health insurance—in an industry whose workers are afflicted by black lung disease.
That raise far from covers the 20% pay cut the private equity firms forced workers to take in 2016 when they bought Warrior Met from the bankrupt Jim Walter Company. That  cut netted big bonuses for bosses, and $1.1 billion for Warrior Met. Combined with on-site revenues, Warrior Met has doled out $1.4 billion in dividends since then. Most of that went to the private equity firms, the senators added.
"This is precisely the type of corporate greed the American people are growing increasingly disgusted with," the senators wrote. "BlackRock and other Wall Street investment funds have got to understand they cannot have it all. The workers at Warrior Met are the reason this company returned to profitability. All they are asking for is a contract that is fair and just."
While UMWA gained labor solidarity and senatorial attention, it hasn't gotten much help from the National Labor Relations Board, so far.
Its latest complaint was the mine's bosses were " condoning, authorizing, and/or permitting employees, officers, agents, contractors, and others acting in concert with them to exit and enter the employer's facilities in automobiles and trucks at high rates of speed or in a reckless and/or unsafe manner and direct their vehicles in such a way as to endanger picketers while pickets were engaged in protected concerted activity" five times since Warrior Met forced the workers out.
On Dec. 21, the NLRB's Office of Appeals turned the complaint down.