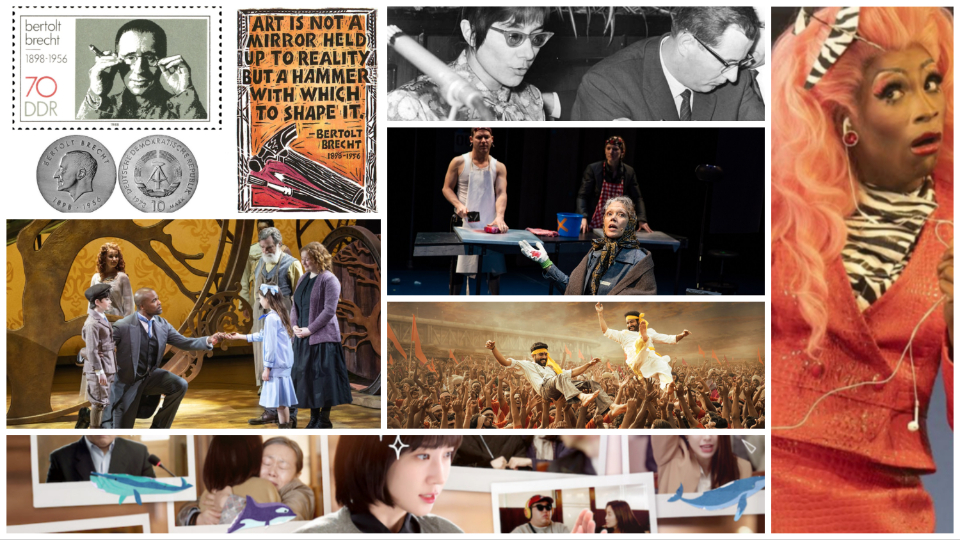 People's World has already posted several appeals for our readers to join this year's drive to keep us publishing for the coming year. They come from various points of view—how vital PW is for its labor coverage, its political analysis, its way, so different from the corporate media, of connecting up all the critical issues into a larger vision for a democratic socialism that we know is necessary and achievable.
In the end, these appeals all say the same thing: People's World makes a critical contribution to the American mediascape, covering issues that no one else touches, or if they do, certainly not with the clear vision we provide.
PW has been my literary home since I joined the staff in 2014, though I've written for it off and on since 1979(!). It's where I contribute whatever talents I have, perspective I possess, critical skills I command. I read any number of other publications on the left/progressive side of the spectrum, and I say this, as the PW Cultural Editor, with total confidence: No one covers the cultural front in the conscientious way PW does—film, TV, books, music, theater, art, museums—with a multicultural outlook and a commitment to real people's issues and struggles.
Partly this is because we're an online newspaper and have the space to do it: A print magazine of general interest can only publish one, two, or at most three culture pieces in any given issue. We have four up on our homepage every day, and if you click "See all" at the bottom of each of our department sections, you'll get the entire history of the (digital) paper at your fingertips. We could always do better, of course, but I think we're pretty damned good!
People's World has earned your support! Time and time again! Every year, every day!
People's World receives NO corporate donations (no surprise there)! We are entirely reader-supported. Perhaps I could make myself clearer: No money from the arms industry, from the high-tech sector, from fast-food brands, from drug companies, from law firms or hedge funds, and no ads for multi-platform media conglomerates. NO corporate money!
I have opted to be a monthly Sustainer of the paper. You probably know that in the non-profit world sustainers are the lifeblood of an organization. Whether it's $5 or $500 a month, or anywhere in between or beyond, knowing we have X amount of dollars that we can count on for the year makes all the difference in whether or not we can send a writer to cover a labor convention or a mass demonstration or strike, an out-of-state electoral campaign, or an academic conference. And of course, the annual budget covers salaries for the small professional staff that bring you all these journalistic riches every day.
In my case, speaking personally, I'm of Social Security age, so my monthly Sustainer over a year's time adds up to less than one month's SS payment. I think of this as payback received (for my life of working) getting paid forward for the work of the future. Even $10 a month is barely the cost of coffee and a muffin these days!
Our country and our world, our cities and farmlands, our states and communities, our schools, libraries, hospitals, and workplaces, face enormous challenges. I can't say if Donald Trump is washed up now or not, but the fascist MAGA influence in Congress and in our statehouses is absolutely toxic. I'm sure you know that.
But I want to reassure you that People's World is among the most consistent, reliable, clear-headed, and sober publications you would ever find that fights back every day to build the kind of multinational, multiracial, interfaith, labor, and gender solidarity and unity among all these distressed groups that will put us permanently on the road to real progress and peaceful coexistence with the world.
There's a big red DONATE button at the top of our homepage (if you didn't use any of the links I've already included), and I urge you to use it. It can be a one-time donation if you wish, or my suggested Sustainer support. Our goal is $125,000 by May Day and $200,000 for the year. Please stand with us in a concrete, material way, and help push us way over the top!
Thank you very much. As you know, a luta continua, the struggle continues….
People's World has an enormous challenge ahead of it—to raise $200,000 from readers and supporters in 2023, including $125,000 during the Fund Drive, which runs from Feb. 1 to May 1.

Please donate to help People's World reach our $200,000 goal. We appreciate whatever you can donate: $5, $10, $25, $50, $100, or more.