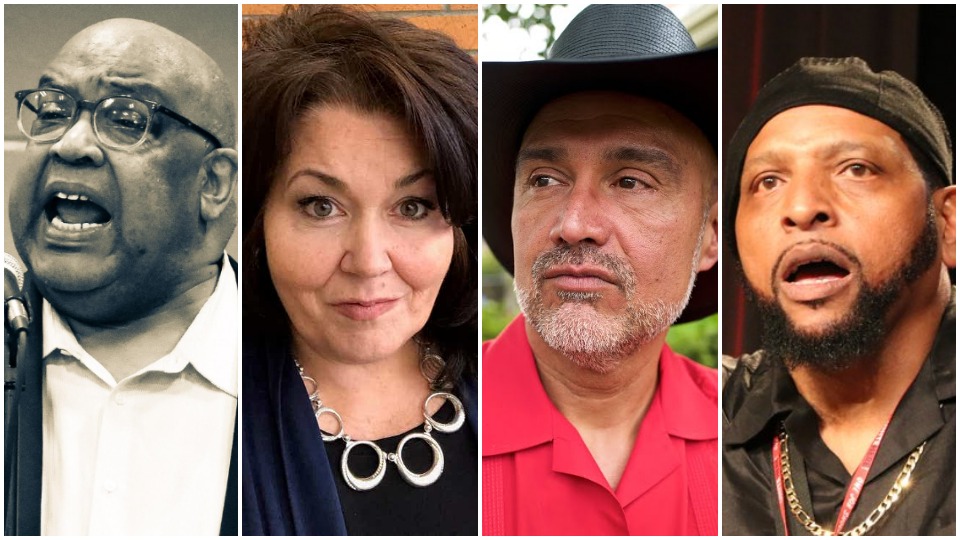 Voters, especially voters of color, are highly motivated to oust GOP occupant Donald Trump from the Oval Office this fall, speakers at a special People's World "People Have The Power Town Hall" said Sunday night.
And that includes actions to protect U.S. democracy from the dictatorial threat of Trump and to protect voters against white supremacist intimidation and violence both at the polls and afterwards, they added.
"We have to ask ourselves: 'Is this Republican president going to kill democracy?'" Steelworkers Vice President Fred Redmond declared. Motivation to stop him is driving get-out-the-vote efforts, the unified coalition against Trump and moves to protect the vote, and voters, he explained during the Oct. 25 session, organized by People's World.
Trump's a motivator in another way, added Chuck Rocha, president of Solidarity Strategies and executive director of NuestroPAC, the nation's largest Latino independent campaign finance committee. Trump reminds him, he said, of bosses at his first job—at a unionized tire plant in Tyler, Texas—whose actions led the workers to unionize. That's a common pattern union organizers find.
"This crazy president is the best Get Out The Vote director of any [political] campaign I've ever worked on," Rocha commented. "So far, one million more new Latinos have voted than did" at a similar point in 2016, he added. And that includes Latinos aged 18-30. Four times as many have already voted in advance, compared to four years ago.
But it's not just communities of color who are voting early in order to beat Trump and the GOP. More than 1.2 million Minnesotans have already mailed in ballots, said Howard Kling, telecommunications director for Workday Minnesota. That's up 370% over 2016, added Kling, a past top officer of the International Labor Communications Association. Minnesota is more than 80% non-Hispanic white.
The forum's other speakers told similar stories of high and motivated turnout, especially in swing states such as Florida, Pennsylvania, and Arizona. But everywhere around the U.S., Trump's misogyny, racism, extremism, embrace of white nationalism, and hatred of unions, their members, women, Black people, Latinos, and Muslims have energized the opposition.
The high turnouts reported by Rocha and the other speakers at the event also mirror the millions who have hit the streets against the Trump regime ever since he entered the Oval Office on Jan. 20, 2017.
From the women's marches to Black Lives Matter's millions, from campaigners for listening to scientists to airport protests against the Muslim ban, to resistance to ICE raids to campaigns against Trump's agents ripping babies from their mothers' arms at the U.S.-Mexico border, the resistance has been wide, deep, and continuing.
"Out of the George Floyd protests, there are different coalitions to 'Stop the coup,'" by Trump "and that's the words they use," said Kling, referring to the Memorial Day killing of Floyd, an unarmed unresisting Black man, by a white Minneapolis cop.
"There are nine social justice organizations and others gearing up" and planning on how to resist should Trump lose and refuse to yield the White House peacefully, he added.
The organizing and motivation of People Have The Power will continue after the election, said Rocha, Kling, Redmond, Montana Democratic Party Chair Sandi Luckey, and New Haven, Conn., Rev. Scott Marks, chair of the UNITE HERE Black Leadership Committee. And that'll be regardless of who wins, all the speakers declared.
Organizing communities of color can make a big electoral difference, and not just in the presidential race. Luckey noted that in 2018, Montana Democrats made their first concerted push ever to organize, motivate, and drive around to collect absentee ballots from Native Americans, who now comprise 7% of the state's electorate. She said they provided the winning margin for Sen. Jon Tester (D) in a state Trump handily won in 2016. Tester won by about 18,000 votes out of 504,000 cast.
This time, however, "we've had to get creative in campaigning" due to the coronavirus pandemic, she admitted.
That means, speakers said, communicating by phone banks, Zoom calls, and, when leafleting, dropping off flyers and then social distancing as mask-wearing volunteers answer voters' questions. "We hold drive-in feeds for people to register" to vote, Luckey said. "We even did a virtual pow-wow" involving Montana's eight tribes.
And the pandemic's toll in deaths, illnesses, and joblessness is another motivating factor to oust Trump.
In the latest indication of his refusal to combat the coronavirus, Trump's chief of staff, former right-wing GOP Rep. Mark Meadows, admitted to CNN, that "We are not going to control the pandemic."
Disproportionate numbers of Blacks, Latinos, and Native Americans are among the 8.638 million people in the U.S. who have tested positive for the viral plague so far, and the 225,239 who have died, as of 8:30 am Eastern Time on Oct. 26. That virtually equals the initial combined death tolls of the U.S. atomic bombings of Hiroshima and Nagasaki in 1945.
Joblessness is also high among Black and brown people, who lost service industry jobs due to coronavirus-caused closures. Between 25 and 26 million workers currently draw federal or state jobless aid, depending on the week. The Census Bureau's latest household survey, ending Oct. 12, calculated Latino joblessness at 40% and Black unemployment at 42%.
The joblessness has particularly hit Marks's union, as UNITE HERE represents workers in hotels, restaurants, gaming, and theme parks. At one point, more than 95% of the members of its largest local, the 50,000-member Culinary Workers Local 226 in Las Vegas, were laid off.
Disney, which employs tens of thousands of UNITE HERE members at its theme parks in Florida and California, announced mass layoffs there early in October. The gaming meccas employ a majority-minority workforce.
The union's response? Consult with health and safety experts on how to safely campaign, then seek volunteers to canvass in key swing states, including Arizona, Nevada, Florida, and Pennsylvania. Thousands, though jobless, answered the call.
The mass movement will also be there to protect voters from racist intimidation. Kling noted Minnesota DFL State Attorney General Keith Ellison, a progressive leader nationally, has already stopped one white nationalist group from enlisting ex-military to be "observers" at the polls there.
"With all due respect" to GOTV efforts, "we're galvanizing people," notably in Philadelphia and around western Pennsylvania "to be at the polls to ensure people will not be intimidated," Redmond reported. Marks added his union's organizers "are going where our members are," even into Philly neighborhoods where bullets fly.
"If they want to go down Trump Hill, we in the labor movement and among progressives are ready to have this fight," Redmond said. And the speakers expect to reap the rewards, too, if Democrats win—not leaving the battlefield or the string-pulling to white establishment Democrats, campaign operatives, pollsters, and lobbyists.
"We expect to have a seat at the table," if the 2020 Democratic slate of former Vice President Joe Biden and Sen. Kamala Harris, D-Calif., triumphs and especially if pro-worker forces take back the Senate, said Redmond. "That's not to say we'll agree on everything, but we'll have a seat….Our voices will be heard. We will not be ignored."
Rocha went even farther. Referring to insurgent and successful challenges to establishment Democrats by now-Rep. Alexandria Ocasio-Cortez (D), a Democratic Socialist from the Bronx, and Cori Bush, a Black Lives Matter activist and RN from St. Louis, he added his PAC empowers "Black people and brown people, not just in having a voice, not just in having a seat, but in running the whole thing."
Luckey, a former union organizer, added Native Americans to the mix. As Montana Democratic Party chief, she's going to add eight extra seats—one for each tribe—to the state committee.
And the mass movement, they added, will continue resisting Trump and his racist Republican allies in the unlikely event—at least according to national and state polls—the GOPer pulls another election upset.
"Our contingency plan has already started," Marks reported. "Our young people are taking to the streets in an infusion of organizing for the things we need….And in Phoenix," where Unite Here has sent canvassers, "we're planning to hit the street, the day of [the election], the day after and all the way to the inauguration…in a safe way."
Unions and their allies are also deploying legions of lawyers to monitor and halt intimidation at the polls and other Republican anti-voter moves, the panelists said. Poll-watchers to prevent intimidation, too, Marks added.
Kling reported coalition-building in Minnesota among unions and progressive groups, notably CTUL, the workers' rights group there for Black and brown people.
"If Trump steals the election, it's a five-alarm fire," Kling said. "The first American republic is over and we'll just have to build something new with a coalition of women, Black, brown" and progressive people. "We'll have to figure out what to do in an emergency because Trump has shown us what he'll do," he'll attempt a coup.
---
Like free stuff? So do we. Here at People's World, we believe strongly in the mission of keeping the labor and democratic movements informed so they are prepared for the struggle. But we need your help. While our content is free for readers (something we are proud of) it takes money — a lot of it — to produce and cover the stories you see in our pages. Only you, our readers and supporters, can keep us going. Only you can make sure we keep the news that matters free of paywalls and advertisements. If you enjoy reading People's World and the stories we bring you, support our work by becoming a $5 monthly sustainer today.