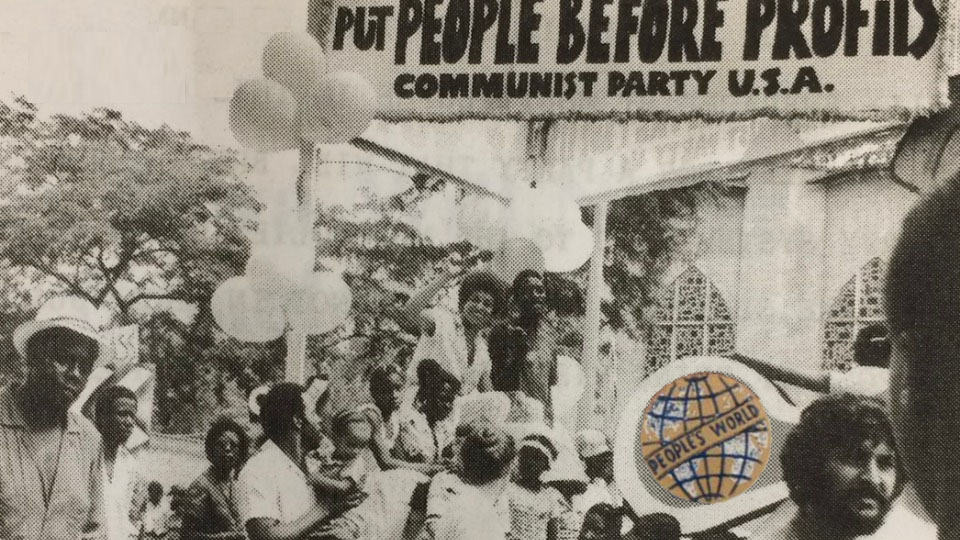 I first encountered the Daily World at a rally to free Angela Davis in 1971. An elderly Black gentleman wearing a suit and tie offered me a paper and we chatted a while. I worked in the Chicago Loop and happened upon the rally. Other papers were handed out, but the Daily World was the only real newspaper. The others I looked at went in the trash.
Over the years, I became a regular reader, subscriber, and financial supporter. I handed out thousands of papers at rallies, at plant gates, on neighborhood routes.
I remember the bundles of papers we loaded on buses, in car trunks, into shopping bags. I remember getting up at the crack of dawn to head to the Southside steel mill plant gates. We had teams at several gates at shift change. I remember elderly Black workers, bleary-eyed and walking slowly out but stopping to get a paper and sometimes offering us a few coins. We always accepted donations but never required them. Once in a while, on cold mornings, we were brought cups of coffee.
I remember riding on buses with other supporters heading to Washington D.C or Detroit or North Carolina for huge rallies where we distributed tens of thousands of papers. I remember the enormous crowds at Chicago's famous Bud Billiken Parade going down King Drive from about 35th Street to Washington Park. We had volunteers at every intersection distributing papers—special editions for the event. In the 1970s, I worked at a small community art center where we produced banners and signs for many of the groups marching in the parade: Chile solidarity, anti-apartheid solidarity, civil rights, disarmament, and peace. We also constructed parade floats including two that Angela Davis rode on!
I remember how the plant gate distribution dwindled as the huge mills and electrical plants closed down and public housing buildings were replaced with expensive, even gated, communities. None of this happened without a fight, but we didn't always win.
From time to time, there were reader conferences, and we rode buses to these. We made plans for training new writers and photographers and for innovative fundraisers for our reader-supported paper.
In Chicago, we had neighborhood holiday bazaars, summer cookouts, awards banquets, and a Unity Fest to raise money and broaden our outreach. We sold buttons, T-shirts, mugs—even clocks and music boxes with our logo!
Back in March 2003, I joined the staff at the then People's Weekly World print edition. My work since has been mostly behind the scenes, editing, vetting, designing, and, at first, producing pages for the printer. We had an online presence for years, but in January 2010, we launched our daily online edition replacing the weekly print edition.
We are now and have always been reader-supported, which leads me to ask: Will you support our work? We have many supporters who make rather small monthly contributions, but those really add up! These days, I live in a HUD senior building for low income residents, but it's not hard to set up a monthly sustainer as part of my budget. I want all of our readers to do this too!
To paraphrase the words of Tom Joad in The Grapes of Wrath:
"We'll be ever'where — wherever you look. Wherever they's a fight so hungry people can eat, we'll be there. Wherever they's a cop beatin' up a guy, we'll be there. We'll be in the way kids laugh when they're hungry an' they know supper's ready. An' when our folks eat the stuff they raise an' live in the houses they build — why, we'll be there!"
Make your donation so we'll always be there!
Barbara Russum
Production and Program Support