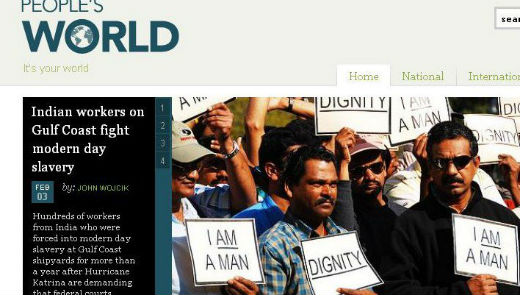 Peoplesworld.org has an opening for a full-time managing editor. The position is based in Chicago and could begin immediately.
Working with the co-editors, the managing editor has primary responsibility for overseeing daily production for peoplesworld.org and its social media outlets.
Description of duties:
Reporting to co-editors, help develop content and long-term planning
Supervise staff, both on-site and in several bureaus
Report to co-editors and, in consultation with them, help develop content and longer-term planning.
Oversee writing assignments. Correspond with writers on assignments and story changes.
Manage copy editing, headline writing, fact-checking
Undertake occasional writing assignments
Keep on top of world and U.S. news, political developments and social-economic issues
Qualifications:
Strong writing and editing ability. At least one year of journalism and/or daily editing/writing experience; knowledge of social media strongly preferred.
Familiarity with labor or other social movements.
Willing to take individual initiative while also being a team player and creating a collegial atmosphere.
Demonstrated ability to work with a diverse team of people.
Friendly, outgoing personality with a willingness to "meet people where they're at."
Strong ability to motivate people, coordinate volunteer activity and delegate responsibility.
Proficiency in word-processing, spreadsheets, email, online research, social media, etc. Basic knowledge of desktop publishing, WordPress, and Salsa are a plus.
Ability to work long hours and travel frequently.
Compensation and benefits: This is a full-time staff salaried position. We offer health benefits, a flexible health spending account, vacation, paid holidays, and 401k with employer contributions.
Peoplesworld.org is a daily news website offering news and analysis on the movements for jobs, peace, equality, democracy, civil rights and liberties, labor, immigrant, LGBTQ and women's rights, protection of the environment and socialism. The direct descendant of the Daily Worker, peoplesworld.org is part of the People Before Profit Network and enjoys a special relationship with the Communist Party USA . Peoplesworld.org and its Spanish language edition, Mundo Popular, are published by Long View Publishing, Inc.
People's World is a member of the International Labor Communications Association and is indexed in the Alternative Press Index. Staff members belong to The Newspaper Guild/CWA, AFL-CIO.
To apply: Please send a resume and cover letter explaining why you would like to work at People's World to rwood@peoplesworld.org. Three references will be requested.