LOS ANGELES—I had the unexpected pleasure of attending a private Jan. 11 screening of this unusual 26-minute documentary film at an event sponsored by the Los Angeles Press Club. Hosted by Sophia Bush and Poorna Jaganathan, it featured a Q&A afterward with director Rayka Zehtabchi, moderated by film commentator Shaniqua McClendon.
Period. End of Sentence. takes place in a rural village some 60 kilometers outside Delhi, India, a place called Kathikhera, located in the Hapur District. The women there are leading a quiet revolution, fighting against the deeply rooted stigma of menstruation. The film tells their story. Since time immemorial, these Indian women, like most women until fairly recent times, had no access to sanitary pads or napkins. Women commonly used discarded rags, which sometimes led to health problems, and often had to walk far outside the village to attend to themselves away from the prying eyes of men.
Girls just beginning to menstruate would miss school or drop out entirely from shame and disgrace, often having no prior clue that this natural biological phenomenon—neither an illness nor a disease—would become a regular, though badly understood feature of their lives. At that age, many men figured, girls were old enough to rape or marry. In many cultures, in a version of the "blood libel," women were not permitted at any time to enter holy places or handle sacred books for fear of contaminating them, turning into a vast caste of untouchables. Ironically, in India, many of the temples which they could not enter were dedicated to female deities.
When a sanitary pad machine is installed in the village, the women learn to manufacture and market their own pads, empowering the women financially as workers and as a sales force, and also in terms of self-confidence. Their growing independence garners them a new level of respect from the men of their community, and the taboo on mentioning a woman's period is disappearing. They name their brand "FLY" because they want women to soar. The pads are 99 percent biodegradable.
Their flight is in part enabled by fundraising efforts of high school girls—bake sales and yogathons—half a world away in Los Angeles, who raised the initial money for the machine, began a nonprofit called "The Pad Project," and are listed as producers of the film. Their Oakwood School chapter of Girls Learn International (GLI), an offshoot of the Feminist Majority Foundation, helps to educate and lift up the status of girls worldwide. As Sophia Bush says, "Teenage girls saw a problem in the world, they saw suffering, and acted on it."
Eventually, they hope, the stigma surrounding menstruation can be eliminated everywhere.
An Indian man by the name of Arunachalam Muruganantham invented the machine that transforms the cellulose in pine wood from local trees into a fluffy white mass that will become the absorbent innards of each pad. It is covered by layers of cloth and sealed, and all at a cost of about five cents apiece. The inventor himself often goes to villages to install his machine and teach women how to operate it. Poorna Jaganathan says, "A simple product can give birth to a revolution."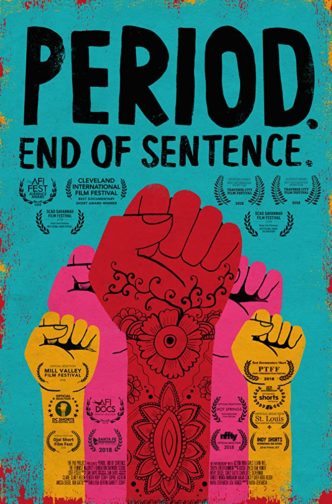 The film gives us scenes of awkward young women and men interviewed as to what they actually know about menstruation. The documentarians returned to India six months after their initial filming sessions, and in that short time the level of comfort talking about such intimate subjects had visibly risen. When so much of the world's narrative around the period revolves around shame and secrecy, the Pad Project transforms it into a source of enlightenment and female pride.
In the Q&A one of the young high schoolers who produced the film remarked that we should be cautious about thinking the ignorance about periods is limited to underdeveloped parts of the world. It's also a factor in many cities, neighborhoods and regions of the United States. There is currently an active conversation as to whether or not feminine hygiene products should be considered a necessity of life, and thereby not subject to taxes, and even if they should simply be provided free.
Since its release in April 2018, Period. End of Sentence. has been featured at numerous film festivals and has won twelve awards; it also made it to the 91st Academy Awards shortlist in the Documentary Short Subject category.
Rayka Zehtabchi is an Iranian-American film director based in Los Angeles. She graduated from USC in 2016 with a degree in film production.
Music in the film is by Osei Essed, Giosuè Greco and Dan Romer. Cinematography and editing are by Sam A. Davis, with sound by Kevin Dippold.
For further information on the film, see the IMDb website. An informative article about the Pad Project in Ms. Magazine can be found here. Watch the trailer. For press inquiries about viewing the documentary, and for information about forthcoming screenings, please contact: AshleyM@dishcommunications.com.