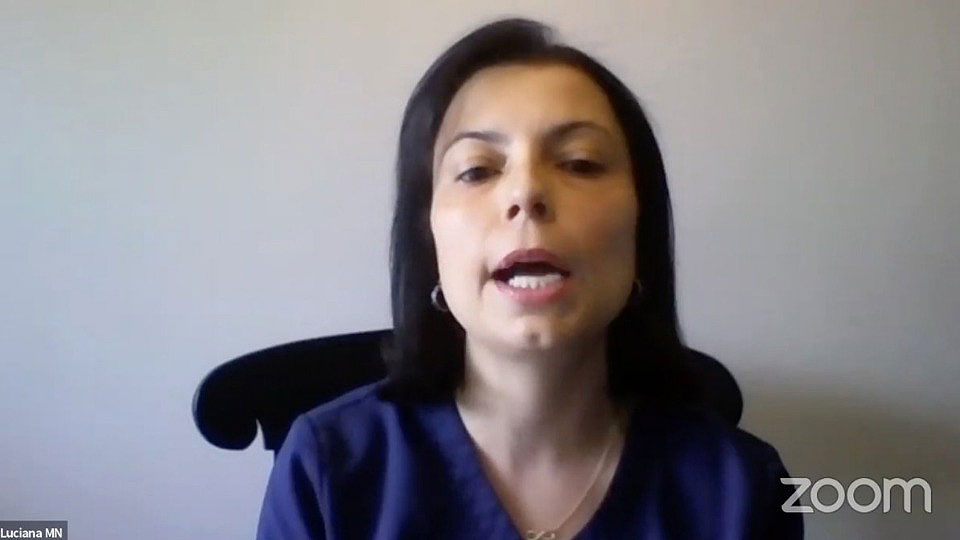 MINNEAPOLIS (PAI)—In mid-March, Luciana Herr, RN, an inpatient psychiatry nurse at Abbott Northwest Hospital in Minneapolis, went to a patient's room to rescue a co-worker whom a manic patient was assaulting. She came out much the worse.
"I was kicked and punched in the face," Herr, of the Minnesota Nurses Association/National Nurses United, told an April 19 press conference on violence in the workplace. "I had a black eye the size of a pancake. It was the second time I had been assaulted in a few months.
"The first time, it took two weeks for me to recover," from being beaten and thrown against a wall by a violent patient "and I didn't know if I would be hit again…Now I get home and my kids ask 'Mom, are you OK?'"
Herr isn't, and not just because she is one of the thousands of health care workers, primarily registered nurses and social service workers, who suffer assault—or worse—on the job every year. Federal studies show those two groups of workers are victims of 73% of all workplace assaults every year. In the last five years, 58 have died.
She's also not OK because her hospital didn't do anything to protect its RNs and its other workers after the first assault, after the second assault, or, in between, after an active shooter walked into an Allina, Minn., clinic and opened fire. One worker died and four more were injured.
And without an Occupational Safety and Health Association anti-workplace violence rule, it doesn't have to. If National Nurses United and their allies have their way, OSHA will write a rule within a year, and Abbott Northwest will have to protect its workers.
They may get that, now that the Democratic-run House passed HR1195, mandating OSHA write a temporary anti-violence rule within a year and a permanent one within 42 months. The measure passed 254-166 at midday on April 16, with 38 Republicans joining all 216 Democrats voting for it.
The legislation tells OSHA to order health care facilities to, in agreement with workers, write site-specific violence prevention plans and take basic measures, such as erecting plastic partitions and hiring more security officers. They also have to train their workers in those anti-violence plans.
Now the measure, pushed by NNU and veteran Rep. Joe Courtney, D-Conn., heads for the evenly split U.S. Senate, armed with the personal testimonies at the press conference and strong letters from the Teachers (AFT), the Service Employees, the Steelworkers, and the AFL-CIO.
It's also armed with the bipartisan vote and strong support from Democratic President Joe Biden's Office of Management and Budget, which urged "swift passage of this legislation."
"Workplace violence often causes both physical and emotional harm. Victims of these incidents often suffer post-traumatic stress that undermines their ability to continue their employment in that sector. This burdens a stretched health care workforce that has been severely impacted by the Covid-19 pandemic," OMB added.
"This puts OSHA on a clock," Courtney explained, adding the average OSHA rule takes more than a decade to write and implement. Some, such as the one covering worker exposure to beryllium, took almost twice as long.
Left unsaid, in either the zoom press conference or the House floor debate before the measure passed: Corporate opposition to regulations and worker protection in general and to OSHA rules—and sometimes even its existence—in particular, produced the delays.
As long as rules are delayed, and enforcement with them, the health care facilities, and other businesses that manage to stall OSHA rules continue to make money without being mandated to protect their workers.
But if proponents didn't finger the costs, the House GOP majority and the American Hospital Association did. The GOP screamed it would cost businesses $1.8 billion, which prompted Courtney to note that with 200,000 health care facilities being covered, it works out to an average of $9,000 each. Small offices are exempt.
The hospital lobby raised the specter of rural hospitals going out of business as the industry overall is losing money. The anti-violence rule's costs, combined with another emergency standard organized labor is campaigning for—against the coronavirus—would push them over the side, AHA warned.
Whether those arguments will prompt the Senate GOP to filibuster HR1195, which then-Senate Majority Leader Mitch McConnell, R-Ky., pigeonholed in the last Congress, is unknown. This time, Courtney noted, the vote was much more bipartisan, with 62% of the House favoring the anti-workplace violence bill. And this time, he graciously said on the floor, even the GOP recognized there's a problem.
The unions are preparing to lobby lawmakers again.
"We'll be doing the hard work of organizing and telling our very real stories" of workplace violence, said Bonnie Castillo, RN, NNU's executive director. "The pandemic of workplace violence has been going on for decades and the pandemic of Covid has only intensified it."
"It's time to stop begging them to act," AFT President Randi Weingarten said of the health care institutions. Added Sherri Dayton, RN, of Backus Hospital in Norwich, Conn.: "Work shouldn't hurt."