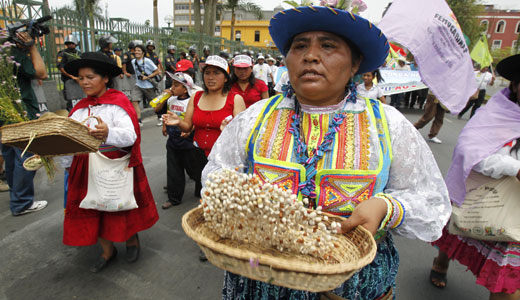 Joined by local government authorities, organizations representing inhabitants of Espinar Province in southern Peru's Cuzco region launched a strike on May 21 against the nearby Tintaya copper and gold mine. The action, emblematic of conflict throughout Latin America between local people and multi-national mining corporations, resulted in violent confrontation.
Two days later, police reacting to 500 demonstrators at the mine entrance made arrests and wounded 13 people. By the third of June, police and soldiers had killed four protestors and wounded at least 80. Peruvian President Ollanta Humala declared a state of emergency for Espinar Province and suspended constitutional guarantees of civil rights for a 30-day period.
On May 30, 150 police barged into the Espinar municipal offices to arrest Mayor Óscar Mollohuanca, a strike supporter. He'll remain in "preventative detention" for at least five months.
The strike announcement on Apr. 18 set forth the strikers' intention to pressure the Anglo-Swiss owned Xstrata Corporation, owner of the mine, into negotiating with community people over what they see as environmental and human rights abuses.
They are demanding more jobs at the mine for local residents and a hike in Xstrata monetary contributions to the municipality. Strike leader Sergio Huamaní warned mine officials that without dialogue, strikers would close down the mine. Xstrata is set to begin mining operations later in 2012 at its Antapaccay site located five miles from the Tintaya mine.
Huamaní told a reporter, "Thirty years of living with the mine has only brought poverty, divisions, environmental contamination, and social and political meddling."
Rates of birth defects and adult lung cancer deaths are abnormally high in the area, he said.
A Catholic Church report in 2011 identified elevated levels of arsenic, aluminum, cadmium, copper, and cobalt in Espinar soil and water, particularly in the nearby Salado and Cañipía Rivers. Water was characterized as unfit for human consumption or agricultural use.
A 2011 government public health report detailed mine-related heavy metal contamination of humans, water, food, and soil in the area. A worrisome number of those tested showed elevated blood levels of mercury, arsenic, and cadmium.
Trying to ward off threats to their survival, the poverty-stricken, indigenous people of Espinar contend with rich and powerful forces. The Conacami organization of mining victims blames the Peruvian government for 14 deaths and hundreds of people wounded in conflict over mines since President Humala assumed office nine months ago. Mining products make up 49 percent of the Peru's export total.
Xstrata Corporation represents a higher order of size and wealth. Operating in 19 countries, Xstrata is the world's fourth largest copper producer, the world's largest producer of ferrochrome, and the world's largest seaborne exporter of high-energy coal.
With $33.9 billion in income in 2012, and $5.78 billion in profits, Xstrata operates 30 coal mines worldwide and nickel processing operations in seven countries. Xstrata recently merged with giant Swiss commodity trader Glencore to form a conglomerate valued at $90 billion. As part of the deal, Xstrata CEO Mick Davis receives an extra $14.8 million annually for three years and 64 top Xstrata officials share $71.5 million in bonuses.
Xstrata's outsized presence in Peru is matched by the Newmount Mining Corporation in its effort to set South America's largest gold and copper mine in motion in Peru's northern Cajamarca region. In Nov. 2011, environmental groups and marginalized inhabitants of that Andean region demonstrated against the so-called Conga project and thereby forced Newmount to halt the $4.8 billion project. Work has since yet to resume, and sporadic protests have triggered violent repression.
May 31 was marked by marches and blockading of highways. Opponents of the Conga project say the mine in full operation would cause five high-altitude lakes to disappear, headwaters of five rivers to dry up, some 7,500 acres to become desert, and flora and fauna to disappear. Newmount is the largest U.S.-based mining corporation.
The Peruvian Communist Party proclaimed on its website: "No to criminalization of protests; Yes, to dialogue; [and] No to repression." "Raise the state of emergency," the Party demanded. Find a "solution to the demands of the Espinar and Cajamarca people."
Mario Huamán, general secretary of the CGTP labor federation, condemned impunity enjoyed by Xstrata and Newmount's Peruvian affiliate Yanacocha. In a piece posted on the same website, Huamán stated that in electing Humala, Peru had voted to terminate mining abuses. He called for mining policies responsive to the population's needs and for "true national development," "preservation of natural resources," and respect for human rights. A "national day of struggle" is planned for July 12.
Photo: Peruvian mining protesters shake corn and beans in baskets to make noise. Martin Mejla/AP