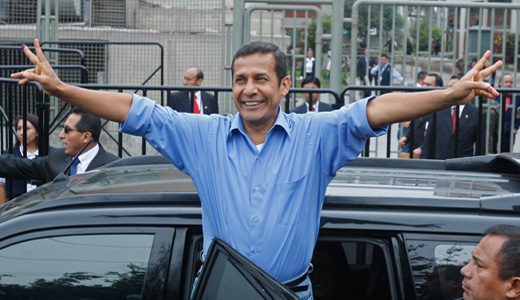 In Sunday's runoff elections for the presidency of Peru, left-wing candidate Ollanta Humala of the "Gana Peru" coalition won by a nose over Keiko Fujimori, the daughter of disgraced strongman Alberto Fujimori. (After the former president divorced, Keiko Fujimori carried out the official role of First Lady.)
Humala, a former army officer who years earlier led an attempt to overthrow the elder Fujimori, took 50.1 percent of the presidential vote, while Keiko Fujimori won 49.9 percent. In recent weeks, polls had shown the election to be too close to call.
In the first round on April 10, Humala won 32 percent and Fujimori 23 percent. Humala also ran for president in 2006, but was beaten in a runoff by current president Alan Garcia of the right-wing populist APRA party.
Once again, dirty tricks, red baiting and smears characterized the campaign to stop Humala, whose coalition includes the Communist Party of Peru (not to be confused with the terrorist Shining Path, which also uses the "Communist Party" name). Both Washington (according to Wikileaks) and the ruling classes of Latin America were afraid of a Humala victory, because they assumed that it would advance the process of Latin American integration led by left-wing governments such as those of Ecuador, Bolivia and Venezuela, and is aimed at achieving greater regional independence from the United States.
However, the prospect of another Fujimori in power in Lima was also frightening to many who were not enamored of Humala. Although Keiko Fujimori promised to let her own father rot in jail (where he is serving a long sentence for various acts of violence, corruption and unconstitutional abuse of power), Peruvian commentators noted that a number of members of the former president's entourage had shown up as advisors to his daughter's campaign. For this reason, even some right-wing public figures, such as the novelist Mario Vargas Llosa and former President Alejandro Toledo, had guardedly endorsed Humala.
Peru has shown positive economic indicators in recent years, but Garcia's government has left many unsatisfied, so much so that APRA ended up not even fielding a candidate in the presidential elections. Large sectors of Peru's indigenous population, including both Andean farmer, descendants of the Incas, and Amazon forest people, are disaffected because they have not been pulled out of poverty by the prosperity in the cities and because they feel excluded and abused by those in power. Militant Aymara indigenous protests against concessions to the Canadian Bear Creek mining company in the Puno region preceded the runoff elections, for example.
Rather than presenting a radical socialist platform, Humala said he would build on Peru's existing prosperity by promoting anti-poverty and social justice initiatives that expand the internal market by providing jobs and economic opportunities for all.
In his June 5 victory speech, he also reiterated this promise and added that his new government, which will be inaugurated in July, will "seek integration with all the countries in the region."
Ollanta Humala in Lima, Peru, June 5. (Karel Navarro / AP)