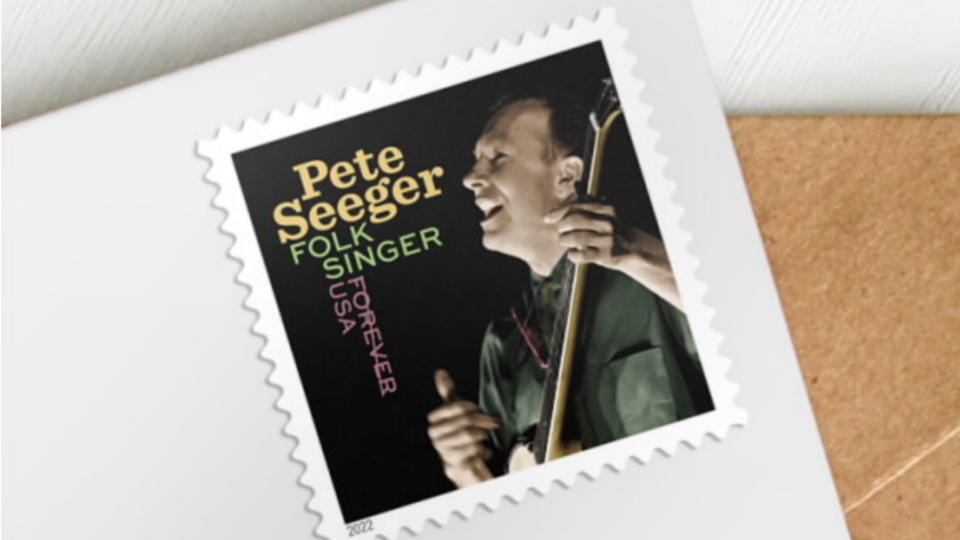 The new Pete Seeger "forever" stamp will be officially unveiled on Thursday, July 21, with a special USPS stamp ceremony hosted by Newport Folk Festival at the Jane Pickens Film and Event Center in Newport, R.I. After that date it will be available in post offices across the land.
The 10th stamp in the Music Icons series honors Pete Seeger (1919-2014), a champion of traditional music and its power to inspire activism. Pete Seeger's clear tenor voice, iconic banjo and enormous charisma transformed concerts into sing-alongs.
The stamp art features a color-tinted black-and-white photograph of Pete singing and mid-strum on his banjo in the early 1960s, by Dan Seeger, Pete's son.
Pete joins Lydia Mendoza, Johnny Cash, Ray Charles, Jimi Hendrix, Janis Joplin, Elvis Presley, Sarah Vaughan, John Lennon, and Marvin Gaye in the Music Icons Series.
During the Blacklist years, Seeger pieced together a living by performing for small organizations, schools and summer camps that were not afraid to sponsor him. His presence, his music and his inspiration were formative in the lives of children, young adults and movement activists for generations. He also authored and edited many volumes of songs and memoir.
One of his most memorable appearances was the grand concert in Washington, D.C., in 2009, the day before the inauguration of Barack Obama as the 44th President of the United States.
In celebration of this well-deserved honor, the following video features Pete, at age 87, sharing some of his most beloved folk classics and his views on hope, passionate activism, the importance of thinking for oneself, and how music can unite us all. Between performances of works such as "Turn, Turn, Turn" and "We Shall Overcome" (both with uplifting audience accompaniment), Seeger comments on his ideas for the future, and starts off with some of the familiar absurdities of the English language.
As a passionate environmentalist, Seeger was the principal figure in the restoration of the Hudson River to good health. He had been a Communist Party member in his younger days and after he left the Party never disassociated himself from its goals and from the close friendships he had established with its members. He continued to make annual contributions toward the Party press, including People's World.
Experience Pete Seeger and the power of his songs in the video below.