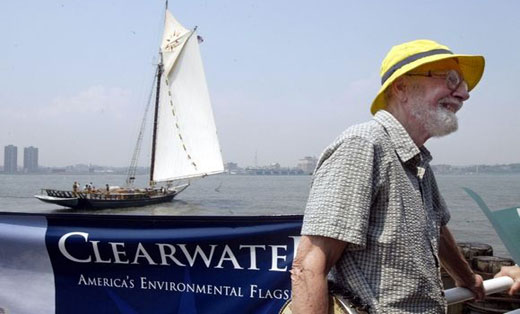 When the famous folk singer and activist died on Jan. 27 at age 94, the Internet was set abuzz with articles documenting various aspects of his life and his many contributions. Few have touched upon the environmental part of his life, however. But it, too, has had its impact on many people.
Jeff Tittel, executive director of the New Jersey Sierra Club, remembered Seeger through his parents, who knew and befriended the singer throughout their own days of political activism. "You got used to him being a part of your life," said Tittel. "I'd see him a few times a year, sometimes at the Jewish YMCA in Newark, New Jersey where he'd play, or when I was a kid, I went at the 1963 March on Washington and saw him play there." He became inspired by Pete Seeger's crusade for conservation and environmentalism as he took on his own role as an environmental activist.
Many people don't know, he said, that Seeger did much for New Jersey, taking a stand against ocean dumping and fighting for a cleaner Meadowlands.
"In the early days," Tittel remarked, "he would come here and play to help draw attention to clean up the Jersey Shore back in the days when they were dumping garbage off our coast and raw sewage and medical waste, and that helped draw attention in New Jersey to the need to clean up our beaches and our coast, as well as our bays. So he was a big part of that. He was also dedicated to preserving the environment in [the state's] Highlands and Meadowlands."
In mentioning New York, Tittel referred to Seeger's even larger role in the environmental struggles over there. During the time when Seeger lived in New York City, the Hudson River was notoriously filthy. Grist.org writer Michelle Nijhuis wrote that the musician responded by ordering up "a big wooden boat, which, at first, made sense to just about nobody. But Pete thought that a graceful, old-fashioned boat – like the sloops that sailed the river in the 18th and 19th centuries – would draw people to their forgotten riverfronts, and that from the riverfronts they could imagine a different future for the Hudson."
So it was that Seeger sailed down the river in the 106-foot long boat in the spring of 1969, even though the water's bacterial concentrations were 170 times the level that was considered safe. The Hudson River's Clearwater sloop, with its tall mast and notable singer, got the attention Seeger had wanted. This garnered such a response that it helped contribute to the passage of the federal Clean Water Act in 1972. That bill regulated discharge and funded sewage treatment, causing the pollutants in the Hudson to slowly decline, eventually allowing fish to come back and the water to become healthier, little by little.
It didn't stop there, noted Nijhuis: "The sloop kept sailing, and Pete kept playing, and when I was a kid in the 70s and 80s, it was almost impossible to avoid the Clearwater sloop and its creator. No matter their class or race or the politics of their parents, most Hudson Valley kids of my generation heard Pete's banjo at some point, and most of them got to walk around on the deck of the sloop. The boat sailed regularly up and down the river, most memorably in October, when it was piled with pumpkins to sell at the waterfronts."
In the Garden State and the Empire State alike, said the Sierra Club's Tittel, Seeger was a near-constant presence. He was "a key part of the New Jersey environmental movement, and we looked to what he had done in New York as a sort of training for what we needed to do in Jersey."
He concluded, "His legacy is not just music, but also when you see the mountains in the Highlands, the gleaming wetlands in the Meadowlands, and the clean water in the Hudson River. That is also part of his legacy."
Photo: The Clearwater sloop sails along the Hudson River beside Seeger during a celebration of the ship's placement on the National Register of Historic Places on May 13, 2004 in New York. AP