WASHINGTON (PAI)—Petitions to Democratic President Joe Biden and Congress' Democratic leaders to replace the Trump-named U.S. Postal Service board with a new one that would in turn fire Trumpite Postmaster General Louis DeJoy have passed 1.12 million signatures combined. And that figure may be low.
The American Postal Workers Union reported their petition is just short of 30,000 signatures, but they also added in several others from outside groups and came up with approximately 400,000 names before delivering those petitions to Congress on Feb. 24.
That day, union President Mark Dimondstein joined other witnesses—including DeJoy—for a House Government Reform Committee hearing on legislation to pull the USPS out of its constant financial hole.
All the witnesses, including Dimondstein and DeJoy, agreed that a 15-year-old GOP-imposed mandate that USPS pre-pay $5.5 billion for future retirees' health care costs was a big reason for the decade of red ink that inundates the agency's budget.
Where Dimondstein's APWU and other postal unions, including the Letter Carriers and the Mail Handlers/Laborers, split from DeJoy is the impact of eliminating that onerous sum. Dimondstein said doing so would eliminate 84% of the USPS's structural deficit. DeJoy said it would be far less.
"The union believes in the law" that established the independent USPS 51 years ago, Dimondstein testified. That law sets a goal of "prompt, reliable, and efficient service" to all 161 million postal addresses in the U.S. "It breaks our heart and angers our workers" when they can't perform that.
USPS needs to deal with not just the problems the petitions cite, but "with chronic understaffing" which the coronavirus pandemic has worsened, he added. Some 20,000 USPS workers are sick or quarantined at any one time, out of a total of 630,000.
"And they"—USPS—"should expand providing other services" such as charging stations for electric cars, internet access, and postal banking and financial services, he said. That would bring in money, too.
That's not what DeJoy envisions. The former corporate executive's solution: A business plan, which he told one lawmaker would be out in two weeks and told another would be out by the end of March. He divulged some of its details, while lawmakers brought up others. One, which he refused to confirm or deny, would solve USPS's failure to meet its own requirement that 90% of first-class mail take one to three days to reach its destination, by changing delivery time to two to five days.
That did not satisfy Dimondstein, who wants Biden to replace the entire USPS Board of Governors—all white men with no USPS background or experience—with members committed to the Postal Service. The new board could then dump DeJoy, a major Republican campaign donor and corporate executive.
"The USPS is a national treasure. The severe delays affecting the country's critical postal services are unacceptable," Dimondstein said. "This must be fixed, and we have a rare window of opportunity now to make the necessary changes."
The petitions reflect the widespread disgust at DeJoy's reign over the agency. In the name of "efficiency," DeJoy, whom Trump, through Treasury Secretary Steve Mnuchin, foisted on the board, has engaged in a wide range of destruction—including attempts to sabotage mail-in voting during the 2020 election.
The top petition, posted on MoveOn.org, drew 983,388 signatures. Petitioners blamed DeJoy for ripping out and destroying postal sorting machines that handled extra-large envelopes, such as those containing ballot materials, and removing the USPS's ubiquitous blue mailboxes from Democratic-run heavily minority central cities, using the excuse they didn't have enough volume.
DeJoy denied he ripped out the mailboxes, and caterwauling right-wing Republicans said Democratic President Barack Obama removed mailboxes, too. DeJoy also retorted more than 99% of election mail arrived at its destination in fewer than two days. But the holidays were another matter, USPS's Inspector General reported, as 63% of first-class mail arrived on time in the week preceding Dec. 25.
DeJoy also banned overtime, forced postal trucks to leave mail on the floor by mandating the drivers finish their runs by 5 pm, and slowed down delivery standards. All those moves were designed to, among other goals, slow mail delivery, especially of mailed-in ballots for last November's election.
Under pressure from constituents and Congress last August, DeJoy suspended his depredations but didn't undo his prior damage. He also promised to resume his wrecking-ball tactics after the vote ended.
But even when he cited positive developments, such as returning big postal sorting machines, he got called on it. Rep. Rashida Tlaib, D-Mich., who represents one of the areas with the worst delays, Detroit, told him four such machines are standing idle there because USPS regional managers haven't received orders to turn them on. DeJoy said he didn't know about that.
The newest petition is from Stephanie Apollon of the Save The Post Office Coalition. On Feb. 15, she cited a report in the Washington Post just days before revealing DeJoy's new schemes: Different postage rates depending on how far pieces of mail travel and more delays for bills and correspondence in particular, which would result in late fees imposed on consumers. She's picked up 69,268 of the 75,000 signatures she sought.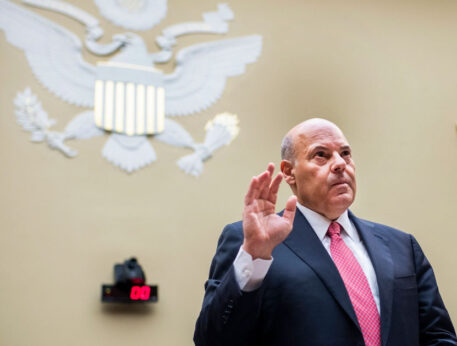 "DeJoy is one Trump crony who didn't leave on January 20," her petition says. "In fact, the post office could be stuck with him indefinitely. Which is why we need President Joe Biden and the Senate to immediately fill the (board) vacancies…with appointees who will hold Louis DeJoy accountable for the damage he's done."
Trump, she said, selected DeJoy "to sabotage the post office in order to privatize it," a longtime goal of Republican right-wingers and Trump West Wing ideologues.
One witness at the hearing from the right-wing American Enterprise Institute said another solution to USPS's financial woes could be to let arbitrators who decide frequent contracts between USPS and its unions "take into account its financial condition" when ruling—code words for citing red ink to cut pay.
USPS delays "disproportionately targeted communities of color, which added insult to injury after decades of voter suppression" against them, Apollon added.
Apollon predicts DeJoy will demand "more price hikes and service cuts, more attacks against Black, Indigenous, Latinx, and rural communities, and other measures to carry out Trump's report calling for the post office to be privatized and sold for parts."
The MoveOn petition says "DeJoy is taking actions that are disrupting the mission of the United States Postal Service, which is to deliver U.S. mail to the citizens of the U.S. in a timely fashion.
"DeJoy has no experience or expertise that pertains to the USPS… In the midst of a global pandemic, when cases are surging and local officials are asking people to stay at home, it is imperative the timely delivery of United States mail be made a priority. DeJoy is a barrier to this necessity."
APWU's petition points out that Postal Workers, Letter Carriers, and other USPS workers overcame DeJoy's destruction—but the threat of DeJoy continues.
"Throughout the pandemic, postal workers have courageously and reliably fulfilled their mission to 'bind the nation together,'" APWU said. "From vital medicines to e-commerce and business mail, from distant greetings to holiday gifts, from Census forms to the 65 million mail-in ballots, the Postal Service has proven again to be an essential service to every person and community across the country.
"But those essential services—and hundreds of thousands of good postal jobs—are at risk if we don't act swiftly. We urge you to help save our national treasure, the public United States Postal Service." It demands Biden fill the board vacancies with "diverse and community-based members who will build back better" the USPS. And it provides a Sign the Petition link on APWU's website.