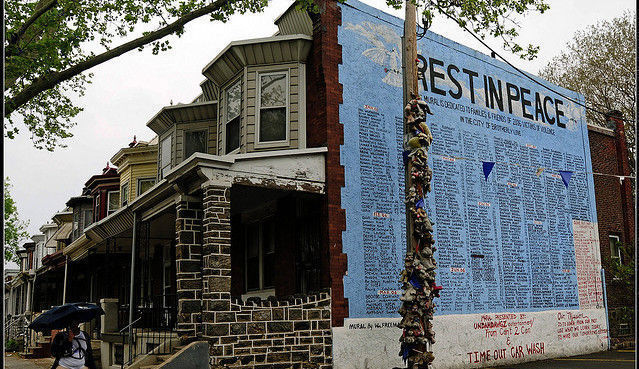 Since coming to Philadelphia in 1973, I personally have known at least six parents/grandparents who have lost a total of seven children/grandchildren to gun violence.
Some are close friends, some are people I worked with, or continue to see regularly.
* Two parents' children were caught in crossfire.
* One parent's two sons, ages 13 and 11, were cut down by a young man who robbed them for $7 and change.
* One grandfather's grandson was killed by someone robbing him and his two friends outside a corner store.
* Another grandmother's grandson was shot and killed – I don't know the circumstances.
* One co-worker, a young father, was shot and killed getting into his car to go to work one morning. They think it was mistaken identity.
* Another co-worker's husband was shot and killed on the porch of a VFW or American Legion Hall.
In addition, several students who attended schools where I worked were shot to death:
One was a girl whose friend held an "unloaded" gun to her head and pulled the trigger.
Numerous students were shot, but not killed. Some ended up with lifelong disabilities, often to spend the rest of their lives in wheelchairs.
I started this mental list while trying to fall asleep one night two weeks ago. I was STUNNED by the number. I am not sure why I started the list when I did. Undoubtedly it was brought on by the horror of the Newtown, Conn., bloodbath. Needless to say I didn't get much sleep that night.
I only lost a night's sleep, the victims and their families lost everything.
Yes, I stand with President Obama in tackling gun violence in America.
Photo: The "Wall" in Philadelphia. To Michael "MIC" Ta'bon and his friend Lionel Dunbar, the names are a measure of the social health of the city, and painting them on a wall in the Nicetown section of North Philadelphia is a way to make sure they are not forgotten.The men created a mural on Hunting Park Avenue near 19th Street known simply as "the Wall." It has no bold colors, no faces, no scenery – just the 406 names and ages of the homicide victims in Philadelphia in 2008. Tony Fisher Photography/CC 2.0