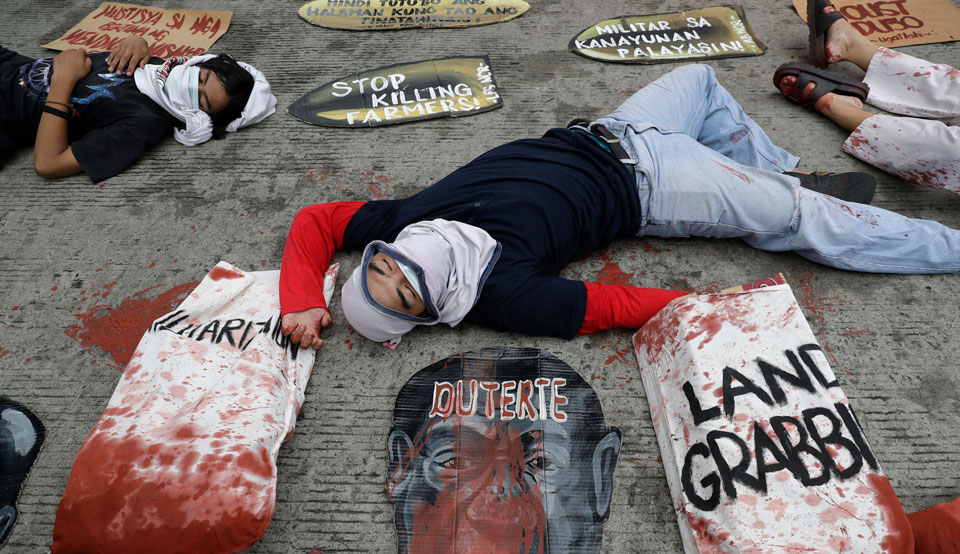 TORONTO—Progressive Filipino organizations in North America and Europe are warning that the government of Rodrigo Duterte is preparing to export its deadly campaign against left-wing activists to those regions.
Duterte's "National Task Force to End Local Communist Armed Conflict" (NTF-ELCAC) was formed in December 2018 to implement what he calls a "whole nation approach" for defeating the ongoing insurgency by the Communist Party of the Philippines (CPP) and its armed wing, the New People's Army (NPA).
The NTF-ELCAC has an annual budget of nearly 20 billion pesos (over $415 million USD), approximately the same amount as the government's Department of Environment and Natural Resources. While the task force is oriented toward the Maoist CPP and NPA, it has also targeted activists in the labor and peasant movements, women's organizations, youth, and students. It has also directed its violence against members of the Communist Party of the Philippines-1930 (PKP-1930), a Marxist-Leninist party that does not presently participate in armed struggle.
Duterte's anti-communist campaign includes widespread use of "red-tagging." This is the practice of labeling people deemed to be political opponents as communists or terrorists (the two are synonymous in the government's vocabulary), thereby opening them up to a range of repressive measures such as interception and recording of communication, detention without charges, restrictions on travel and personal liberties, examination of bank records, and seizure of assets. The campaign also includes outright violence—assault, kidnapping, torture, disappearance, and murder.
The NTF-ELCAC is a key component in Duterte's murderous spree, executed under the pretext of fighting terrorism and narcotics, in which an estimated 25-30,000 people have been assassinated by police and security forces.
In July 2020, the government passed the Anti-Terrorism Act, which extended the power of the task force to include warrantless wiretapping, surveillance, and arrest without warrant for up to 24 days of anyone accused of terrorism. This act goes into full effect this year, and it appears that part of the implementation will be expanding Duterte's campaign of violence to solidarity activists and movements around the world.
A statement issued Dec. 12 by the National Democratic Front of the Philippines (NDFP) warned that "the fascist regime is planning to set up NTF-ELCAC cells in North America and Europe to undertake surveillance and red-tagging of progressive compatriot organizations, foreign solidarity friends and entities, anti-Duterte individuals and personalities, especially open leaders of the NDFP and its peace panel, and possibly target them for neutralization and assassination."
Based on the red-tagging and harassment that has already occurred, groups that are expected to be targets of this globalized NTF-ELCAC campaign include religious organizations, solidarity movements, and groups providing humanitarian and development aid to poor areas of the Philippines.
A large number of people living in North America risk being targeted by the NTF-ELCAC. The 2016 Canadian Census indicated that there were over 850,000 people of Filipino descent living in the country, and many are involved in organizations deemed "communist" by the Duterte government's extremely broad definition. In the United States, the number is even higher, where the Filipino-American population is estimated at four million.
In the coming months, active solidarity with progressive Filipino organizations will be critical for ensuring the safety of those groups and their members and building global resistance to Duterte's campaign of violence.
People's Voice