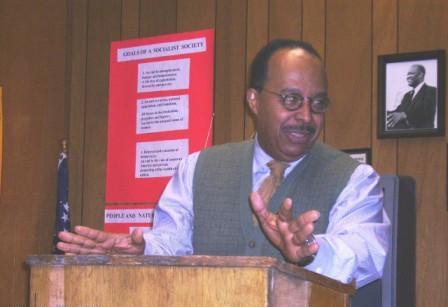 PHILADELPHIA — More than 50 people crowded into the Du Bois Center on Baltimore Avenue in West Philadelphia Feb. 19 to hear Anthony Monteiro, professor of African American Studies at Temple University, deliver a history lecture. He did that and more. His engaging and timely talk on the topic "The African American Tradition in the Fight for Peace: Du Bois, Robeson and King" riveted his diverse audience and stimulated a lively question and answer session.
Dr. Monteiro argued that the movement for African American liberation had always been a key part of the struggle for world peace and had always had, as one of its central aims, an end to violence and war. He traced the process from the Niagara Movement and the role of W.E.B. Du Bois through the 20th Century to Dr. King's 1967 speech at New York City's Riverside Church opposing the Vietnam War exactly a year before his death. King, he noted, had had to answer his critics inside and outside the Civil Rights Movement who told him he should stick to "safe domestic" matters and avoid criticism of U.S. foreign policy. He emphasized the central role of anti-Communism in the attacks on Civil Rights leaders who had the vision and courage to refuse to follow that advice.
Addressing the most urgent present day issues, Monteiro called for intensified efforts to build the people's movement at the grassroots to confront policies of war and militarism and the economic crisis facing the country. He cited, especially, the need for the labor movement to give attention to organizing the unemployed and to combat the devastating levels of joblessness in the African American community as well as across the country.
The lecture was the latest in the year long series of programs and panel discussions on Marxism, socialism and related topics sponsored by the Communist Party of Eastern PA and Delaware and the People's World. The February African American History program has become an annual event.
Photo: Anthony Monteiro addresses Feb. 19 Black History Month event. James Bradford/PW