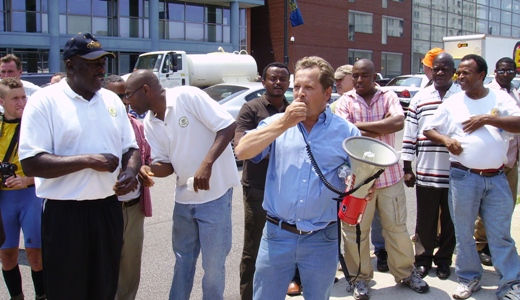 PHILADELPHIA–Close to 200 members and supporters of the Philadelphia Taxi Workers Alliance braved 100 degree heat and rallied outside the headquarters of the Philadelphia Parking Authority today, July 7, to protest the continuing detention of four of their members and the harassment and temporary detention of 21 others.
Weeks ago, the Parking Authority mailed notices to 100 drivers to report to headquarters to receive money they were owed for fares collected by credit card transactions. When they arrived on June 30, 25 drivers were "thrown up against the wall," searched and detained by ICE immigration agents. Twenty-one were released that evening after being held for several hours, and four were detained indefinitely. The Alliance, an ethnically diverse organization, includes citizens and non-citizens among its ranks, including many first generation immigrants.
Taxi Worker Alliance President Ron Blount told the World that the spirited rally was to protest the intrusion of the Philadelphia Parking Authority into the enforcement of immigration law, an area where they have no jurisdiction. He pointed out if only four of the 6,000 members of the alliance were being detained, then "there is not a problem," in the area of immigration. The great majority of immigrant drivers are in the country legally, and the Parking Authority was clearly out of bounds, he said.
Dave Bennion, an attorney with the Nationalities Service Center, said the Parking Authority is not even a law enforcement agency, and that its action undermines the ability of law enforcement officers to do their jobs.
According to the Philadelphia Daily News, their reporter was told "the Parking Authority worked with federal authorities on this operation."
This reporter spoke to two drivers who had been released but were wearing ankle bracelets pending a future court date. Soulieymane and Mamadou, both from Mali said they had been in the United States since 1995. Mamadou said, "You come here, you work, you try to do the right thing, and then you get arrested like this."
Steve Chervenka, a second generation American and a Vietnam veteran, is political director of the Taxi Workers Alliance. He told the crowd that an attack on first generation immigrants was an attack on all the members and that the Alliance was showing the Authority that "We do have a voice."
The rally drew support from a wide range of groups including clergy, labor, community and Jobs with Justice.
Photos: Ben Sears/PW