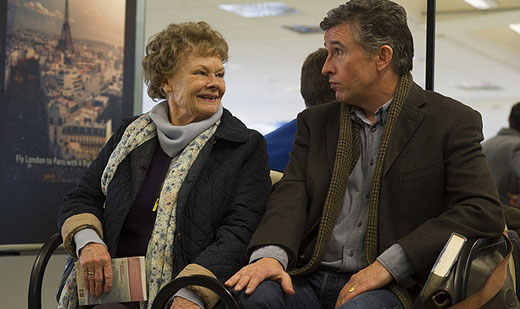 Philomena has every right to be cynical. In flashback to 1952, the movie shows her as a naive Irish girl, deceived and enslaved in a convent for four years, robbed of her child (born "out of wedlock"), and unable, fifty years later, to get any information or closure from the nuns. It's a true story from the book, "The Lost Child of Philomena Lee," by Martin Sixsmith.
The journalist she appeals to for help comes from a comfortable background. He went to Oxford, he was a high government official, he's comfortable traveling first class, martini in hand, around the world. He knows people in high places. But he's the cynic, not the terribly wronged Philomena.
It's something of a "buddy movie," one of many where two people with great dissimilarities are teamed together in some common objective over which they have no agreement. She's desperate to find any scrap of information about her child. He's just bored.
As the tragic story of Philomena is revealed, both of them change drastically. Judy Dench and Steve Coogan are superb. Director Stephen Frears and writers Coogan and Jeff Pope show uncommon sensitivity. (Frears is a master filmmaker who's made over 50 great films in his career, including Dangerous Liaisons, Dirty Pretty Things, The Queen and My Beautiful Launderette.) It isn't just the movie characters establishing, changing, and deepening their points of view. It's us, too. Our starting place, like that of the two main characters, depends on our preconceived emotions concerning Irish Catholic nuns.
I recommend "Philomena."
"Philomena,"
Directed by Stephen Frears,
Starring Judy Dench, Steve Coogan
Screenplay by Steve Coogan and Jeff Pope
98 minutes