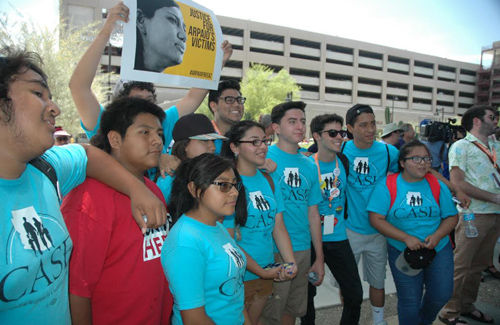 Netroots Nation, the gathering of progressive activists and bloggers, headed into its 10th year in Phoenix this week. The organizers selected cities to host Netroots very intentionally based on issues relevant to the people's movements. That isn't to say that they probably didn't get some sort of discount for utilizing Phoenix in the dead of summer.
Last year's Netroots took place in Detroit where the city was shutting off the water of its citizens. This year, heading into an election year, Phoenix was chosen because it is a battleground for the immigrant rights movement.
The progressive infrastructure that is being built in Phoenix, and Arizona more broadly is one that is fairly recent and born of crisis. Former Arizona House Minority Leader John Loredo points to Arizona's choice to pass term limits for their state officials in 1992 as the point where everything changed.
"The first cycle after term limits, half the legislature was gone. All of that experience and stability was gone. The cycle after that, the rest of them were gone. It destabilized the whole institution."
Among the groups to replace them were the progenitors of the tea party we see today, led by Russell Pierce. Pierce, according to Loredo, was an iconoclast who smashed every ethical tenant of the once stable institution of the House. A shrewd strategist, Pierce deftly took over the Arizona Republican Party.
"Every cycle, a whole new wave of them would knock off Republicans in the primaries and get more nuts elected. Very quickly, Russell went from the guy everybody hated in the Republican Party to the guy everybody feared," said Loredo.
Russell would go on to push through SB-1070, the infamous "papers please" law.
"SB 10-70 was the worst of all worlds for us, but it was also the seed through which everything that we have now grew. It developed a whole new generation of Latino leaders."
One of the first strikes against the right-wing regime ushered in by Pierce was the successful recall of Pierce himself. This was the first time in the history of the U.S. that a State Senate president was recalled.
Brandon Walsh of Central Arizonans for a Sustainable Economy, formerly of Unite Here, compared the coalition that has formed in Arizona to the coalition that turned Los Angeles from conservative to one of the most progressive and immigrant friendly cities in the country.
"That model of how you can build, by a combination of labor resources, labor power with Latino voting, to transform a city and a state was our theory of change for Arizona."
He highlighted another successful campaign where community and labor united to shake up the city council of Phoenix, hitherto dominated by wealthy developers. In a city of 40 percent Latinos, there had sat no Latinos on the city council for 16 years. Shortly after that, the fight against SB-1070 swallowed up all their resources.
Walsh joined Central Arizonans for a Sustainable Economy and engaged with other groups like Mi Familia Vota to engage 200,000 Latino voters in the 2010 election year.
"Now our civic engagement with Latinos includes, always, labor organizing and education on jobs because I believe the assault on our community starts with the labor question. People want cheap labor. The deflection onto politics or immigration enforcement is a way to keep us from going after these companies."
The movement for immigrant rights in the U.S. is as multi-faceted as the broader struggle. The variety of panels and trainings at Netroots highlighted that. From environmental panels like "Black Mess on Black Mesa" to "#AskaSista: Black Women Muse on Politics and Pop Culture," all issues were encompassed.
Netroots has also become something of a beacon for progressive national candidates. This week, Democratic candidates for president Bernie Sanders and Martin O'Malley had at least two engagements scheduled. Hillary Clinton had declined to attend.
With the action against Maricopa County Sheriff Joe Arpaio, Phoenix and its ascendant progressive movement ensured that its issues remain in the forefront at Netroots 10th conference.
Photo: Earchiel Johnson/PW