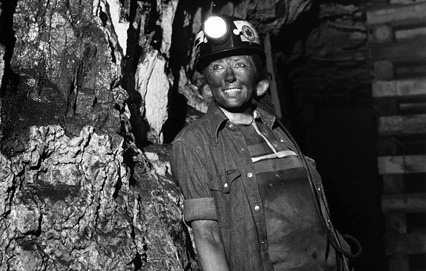 BUFFALO, N.Y. (AP) – Milton Rogovin, a social documentary photographer who built a life's work by looking through a lens at people who were invisible to others, died Tuesday, January 18, at age 101.
Rogovin was in hospice care after a brief illness and died at his home in Buffalo surrounded by family, said his son, Mark.
Rogovin, an optometrist, dedicated his life to photography after being blacklisted in the communist witch hunts of the 1950s. His pictures documented the lives of the poor, the dispossessed, the working class. "He referred to these people as the 'forgotten ones,'" his son said. "These were people who were not ever in the limelight."
Milton Rogovin's first project was a documentary series on Buffalo's black churches. Living on his late wife Anne's schoolteacher salary, they traveled to Appalachia, Chile and Mexico to take portraits of working people – always using a vintage Rolleiflex, a bare bulb flash, occasionally a tripod, and black and white film. Rogovin found "forgotten ones" on New York Indian reservations and in far-flung corners of China, Zimbabwe, France, Scotland and Spain.
In 1972, Rogovin again turned his lens closer to home – the Lower West Side of Buffalo, one of the most impoverished neighborhoods in the state, a home to Italian-Americans, and after World War II, Puerto Ricans, blacks, American Indians and poor whites.
Some were initially suspicious of a man with a camera , but Rogovin eventually gained their trust, shooting 1,000 portraits over three years and always making sure to get a copy back to the subject.
In 1984, he returned to the neighborhood, tracked down his original subjects and re-photographed as many as he could. He did the same in 1992 when he was 83 and recovering from heart surgery and prostate cancer. He remained working until 2002.
"Never ever once did he start a project thinking, 'Ahh, this is historic,'" said his son, a mural painter. "It was all because he saw a face of a Native American woman with all her lines and age and white hair as a beautiful face, a face he wanted everybody to witness.
"I think the thing that he would say is, 'I want people to use my photographs.' He wants his work to be used in a million educational ways. His desire was that these works would be learned from and enjoyed in the communities that he photographed in. It's beginning to happen."
Milton Rogovin's wife Anne, who taught mentally disabled children, died in 2003. "She was my father's PR agent," Mark Rogovin said. "My father was an activist since the Depression. My mother got involved in activities around the conclusion of the Spanish Civil War when, as my father says, he started to politicize her."
Rogovin also is survived by two daughters, Ellen Rogovin Hart and Paula Rogovin; five grandchildren and four great-grandchildren.
A master collection of 4,000 of his images are stored at the Center for Creative Photography at the University of Arizona in Tucson. In addition, all his negatives and contact sheets, plus 1,300 prints and 20,000 pieces of correspondence, are kept at the Library of Congress.
Associated Press writer Ben Dobbin in Rochester contributed to this report.
From People's World editorial board member, Barbara Russum:
Is there a more sensitive photographer than Milton Rogovin? Has anyone ever brought out the heart and soul of the camera's subjects the way Rogovin does?
To look at Rogovin's photographs is to travel through space and time to the front porches and living rooms and even the workplaces of people gracious and generous enough to meet us with unblinking honesty. Someone once wrote about "the shock of recognition" when we meet people like us in photographs from far away places. With Rogovin's work, it is more like finding friends and neighbors you didn't know you had.
Rogovin has been likened to the great social documentary photographers of the 19th and 20th centuries, Lewis Hine and Jacob Riis.
His photographs, now in the collection of the Library of Congress, speak of the humanity and dignity of working people, the poor and the forgotten.
I remember when back in the fall of 1975, a group of us piled into a station wagon and traveled from Chicago to Buffalo to view Milton Rogovin's first major exhibition, at the Albright-Knox Art Gallery. There were actually three openings that evening: Milton's series "Lower Westside Buffalo," some nice paintings by Arthur Dove, and a display by a "conceptual" artist.
Everyone crowded into the photography gallery. The viewers were four deep in front of some of the images. (A lonely security guard in the gallery with the conceptual exhibit spent his time asking people not to sit on the art, some white painted cubes on the floor.)
Besides the usual art crowd, many people from the neighborhood attended, folks who were in the photographs. I remember meeting Mariposa and her mother, and Papo's brother (Papo had to work that night and couldn't make it). I took my catalog around and asked them to autograph their photos. I keep it with my other family photographs.
In Chicago on Thursday evening the planned opening reception for a major exhibition of photographs by Milton Rogovin will also be a celebration of his life.
The opening and the exhibition, The Working-Class Eye of Milton Rogovin, take place at Gage Gallery of Roosevelt University, in the historic Gage building, 18 S. Michigan Ave.
The exhibition runs from January 20 through June 30, 2011.
www.roosevelt.edu/Home/GageGallery
Photo: Untitled, Appalachian series, www.miltonrogovin.com