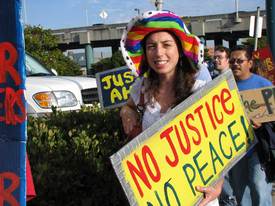 Jugglers, a stilt-walker, kids' games and bright summer gear livened the scene Aug. 14 as dozens of labor activists picketed the Woodfin Suites Hotel in Emeryville, Calif.
The carnival-themed demonstration organized by the East Bay Alliance for a Sustainable Economy called attention to the Woodfin workers' struggle to be paid some $250,000 in back wages owed them under Measure C, a hospitality industry living wage ordinance city voters passed in November 2005. The City Council backs the workers' demands; the Woodfin rejects them.
An Alameda County Superior Court judge ruled in April that Measure C is valid and Emeryville can require hotels to pay back wages for violations of the law, but said the city must hold a new hearing to address technical concerns.
Meanwhile, EBASE and the workers continue to urge a boycott of the hotel.
— Marilyn Bechtel, mbechtel @pww.org