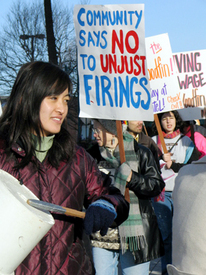 Community support continues for workers at the Woodfin Suites Hotel in Emeryville, Calif., threatened with firing after they called on management to obey the city's living wage ordinance.
In October, the hotel sent 21 workers, all immigrants, notices alleging their Social Security numbers were wrong. Last month the hotel announced the workers were being suspended and would be terminated.
Under an Alameda County judge's temporary restraining order, the workers returned to their jobs pending a further court hearing Jan. 23. But they report their hours have been sharply cut.
Supporters mobilized by the East Bay Alliance for a Sustainable Economy are picketing on Saturdays from 7-11 a.m., and Tuesdays from 3-7 p.m. They are asking people to call Woodfin CEO Samuel Hardage at (858) 794-2338, ext. 700, urging him to reinstate the workers with full hours and job security and to comply with Emeryville's living wage ordinance. Meanwhile, they urge a boycott of the hotel.
Immigrant rights advocates point out that under government regulations, so-called no-match letters are not a reason to fire workers.
— Marilyn Bechtel (mbechtel @ pww.org)